In our last article we looked at some top tips for successful kitchen renovation. One of the things we mentioned in that article was the importance of deciding what you want and need in your new kitchen before any work starts to take place.
Your kitchen design needs to take into account various different factors, including:
Your budget;

The composition of your household;

The size of the space available;

The style of your home;

Whether you want your kitchen to double as living or entertaining space.
In this article we take a further look at some bespoke kitchen design ideas. We hope that they will inspire you, and help you in the decision-making process about your new kitchen.
It is difficult to choose just a few design ideas to feature, but we are going to focus on three design ideas that we think you will love. 
Double island
Everyone can appreciate the value that a kitchen island can bring. It is both stylish and multifunctional. You can use a kitchen island for storage, seating and socialising, or as an additional work surface. All at the same time!
So why not double the benefit? A double-sized island, such as that pictured above, would still fit easily into most kitchens and could provide so much more additional space. It even has room for a cheeky wine fridge as well: the perfect finishing touch to your bespoke kitchen.
Pantries and larders
Pantries have been an essential feature of British kitchens for centuries. In recent years they have enjoyed a resurgence in popularity. Particularly during the Covid lockdowns they proved their worth in being able to store additional food and drink supplies. Many modern homes are now having pantries installed as a result.
Whilst pantries do have a practical function, and keep the rest of the kitchen blissfully free of clutter, they can also be stylish in themselves.
Our fabulous walk in-pantry pictured below is so lovely that you'll find yourself making any excuse to be in there. Maybe someone in your household will even try to adopt it as their home office! Gone are the days of a pantry being a dark and gloomy room, that is almost an afterthought to the main kitchen. This stunning pantry is boldly painted in Farrow & Ball Studio Green, and also features not only a bespoke gin dresser unit but also a Caple wine fridge.
Utility and boot rooms
If you have children or dogs, or simply enjoy the outdoor life yourself, then a boot room is a must-have when designing a new kitchen. And a Stone and Chrome boot room should be at the top of your wish list. Our bespoke handmade boot room, pictured below, is painted in Farrow and Ball Stiffkey Blue, and features beautiful satin brass handles from Armac Martin.
Another important aspect of bespoke kitchen design is to establish a separate area for laundry, rather than having it intrude into your kitchen living space. The laundry room pictured below provides plenty of storage and working space to get all your laundry chores done as happily as possible. The striking colour is Farrow & Ball Calke Green.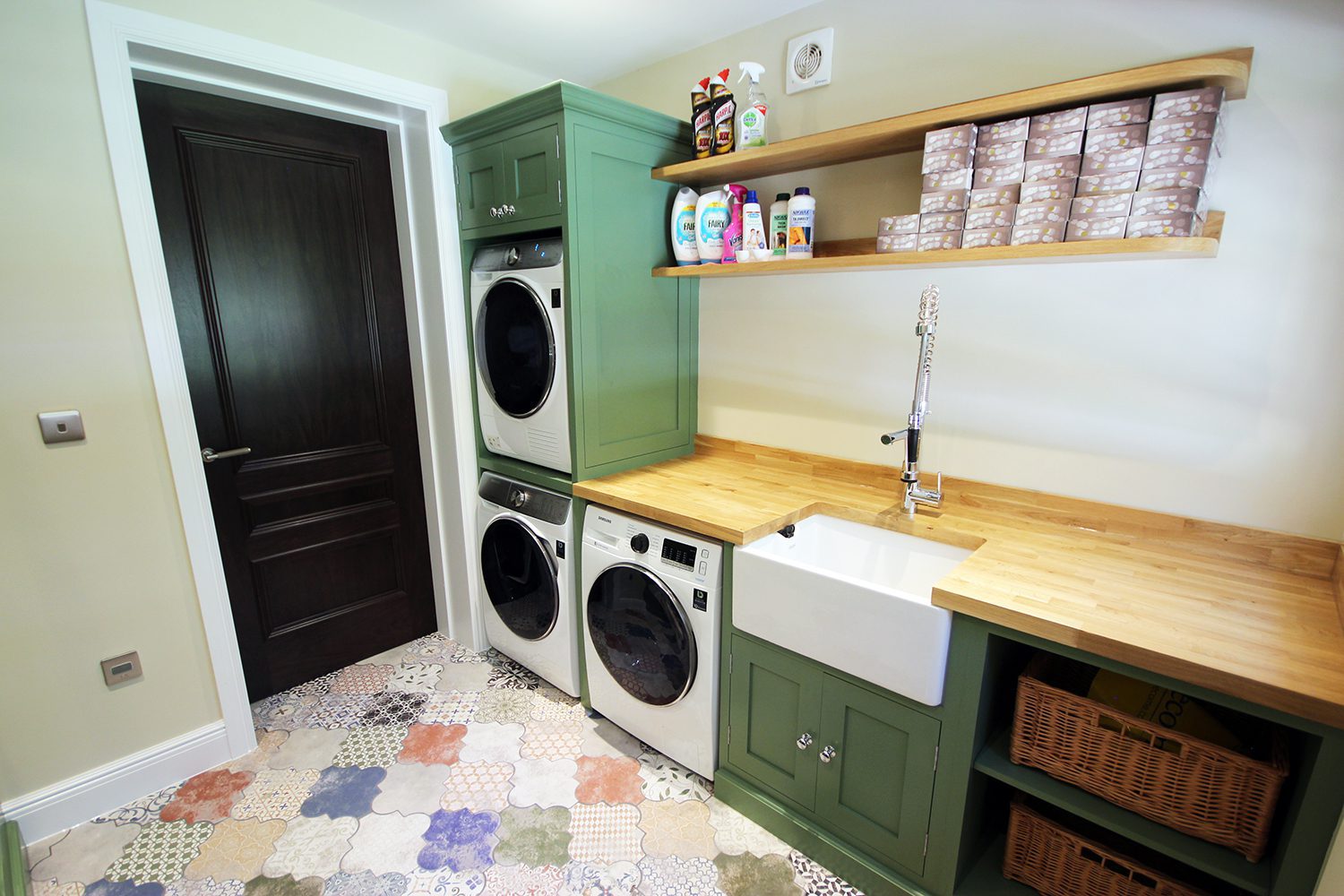 We hope that you love the above designs just as much as we do. Remember that these are just some examples of how Stone and Chrome can transform your kitchen. We have the passion and experience to make any kitchen dream come true, so if you are planning a bespoke kitchen design the best thing to do is to come and visit us at our Camberley showroom and we can start making your dream kitchen a reality.