Spring is in the air! It's the time of year when we feel like making positive changes in our lives and our homes. This is perhaps even more the case in amongst all the current uncertainty. More than ever, we need to feel in control of at least some aspects of our lives. So now might just be the right time to plan some improvements to your home; to give you something positive to focus on and look forward to.

If you are considering a new kitchen then one key thing to think about is the colour. It can be all too easy to fall back on safe neutral colours. And whilst these do look fantastic, why not also think about a more varied colour scheme? At Stone and Chrome we offer a wide range of distinctive and stylish paint colours for the best colourful kitchen designs.
On trend colourful kitchen designs

Colourful kitchen designs are very on-trend for 2020. Bright colours such as electric blue, emerald green, fuchsia pink, sunflower yellow and zesty orange are all proving popular. 
But with a Stone and Chrome bespoke handmade kitchen, you are free to have whatever colour – or combination of colours – in your kitchen that you want!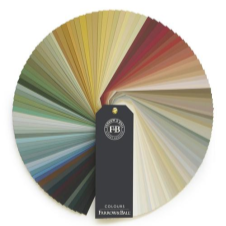 Bear in mind that when we are talking about colourful kitchen designs, we are not just talking about the colour of your walls, but the kitchen furniture as well. So when you see any of our kitchen images – such as the natural oak handmade kitchen pictured below – just imagine them in the ideal colour for you and we can make it happen.
Shaker-style kitchens

At Stone and Chrome we specialise in shaker-style kitchens, which just happens to be another key kitchen trend for 2020!
All our kitchen furniture – carcasses as well as doors – is completely handmade from sustainable solid timber which is sourced from well-managed responsible forests.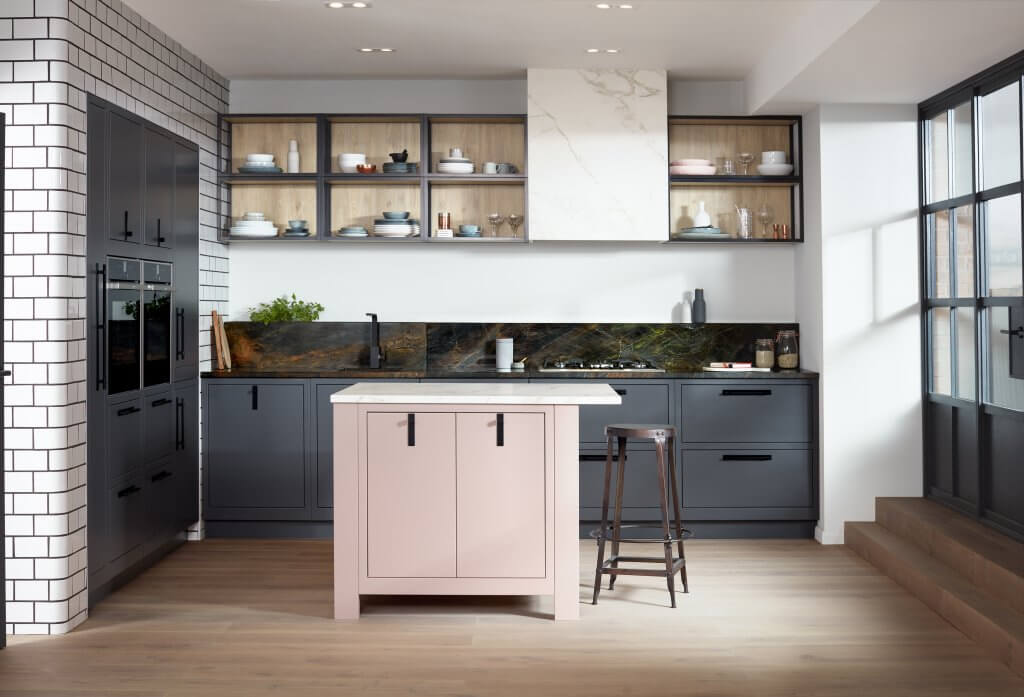 As you can see from the images above and below, the quality of our workmanship is very evident in a Stone and Chrome kitchen. Our bespoke hand-made kitchens are designed and built to last a lifetime.
The image below shows an example of a handpainted in-frame shaker style kitchen. We could create this style of kitchen in any colour of your choice.
Your kitchen: your colours

When you decide to have a Stone and Chrome kitchen in your home, you will literally be spoilt for choice in terms of colour. So take your time to choose the right colour, and choose colours that you like and that make you happy.
Also be aware of the impact that certain colours could have on the ambience of your kitchen. For example, blue is generally thought to convey calm and peace, green gives a sense of going back to nature, and brighter colours – such as red, orange or yellow – can really energise a room.

Your kitchen colour can be chosen and colour matched from a variety of colour palettes from different quality manufacturers such as Farrow and Ball, Mylands, Paint and Paper Library or Little Greene. We will work closely with you to make sure that you have the exact colour(s) that you want for your new kitchen.

When installing your kitchen we will prepare all the paintwork beforehand at our workshop. This means that you will not be inconvenienced by your kitchen having to be painted after installation. We will prime then spray coat your kitchen, before giving it a final loving hand-finished coat.

You can read more detail about the process of how we expertly create your new kitchen on the Stone and Chrome Handmade Kitchens page.
So to start planning your brand new Stone and Chrome kitchen why not either come and visit our Camberley showroom or make an appointment for a kitchen consultation? You will be able to visualise how fabulous a colourful kitchen design would look like in your home, and start the process of making your dream kitchen a reality.