Tomorrow is VE Day: 75 years since the end of World War 2 in Europe. That tremendous day was celebrated across the country, with street parties almost everywhere.
There were also great plans for celebrations and street parties this year, but most of these have had to be cancelled because of Covid-19. However, thousands of people are still planning to decorate their homes in red, white and blue, and do what they can to celebrate the day whilst still maintaining social distancing. 
There are also many WW2 recipes to be found online, such as on the English Heritage website. We particularly like Prue Leith's colourful flapjack recipe – see below – as featured on the Gov UK VE Day Toolkit. So why not enjoy having a go at some of these recipes in honour of the day?
VE Day kitchens
But the kitchens in which these VE Day recipes would have been made are very different from the kitchens of today.
Firstly in terms of the practicalities. There were no fridges, so food was kept cool in a larder or pantry. There were also no washing machines: clothes were washed by hand with soap and water. During the war, fuel rationing affected the amount of cooking that people were able to do. There was also food rationing, limiting items such as bacon, ham, butter and sugar and, later, meat.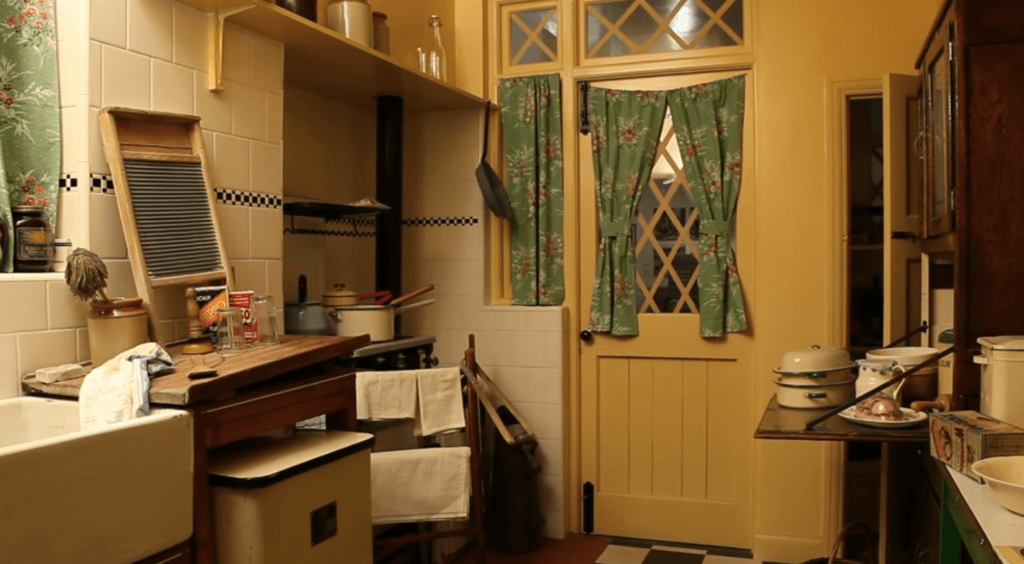 The image above is taken from The Imperial War Museum's video The 1940's House. As you can see, it is not just the practicalities that are very different from today's kitchen, but also the design. 
This kitchen is an abundance of different colours, and this is a trend that we welcome back into the 21st century. In our recent article – Colourful Kitchen Designs – we explored how different colours can affect the ambience of your kitchen.
With a bespoke Stone and Chrome kitchen, you can have any colour of your choice from a variety of colour palettes from different high end manufacturers. So if the above image inspires you in terms of colour choices, we can make it happen in your home!
Kitchen storage solutions
Another noticeable thing about the 1940's kitchen is the number of pots and pans, crockery and food storage items in open view. Today's kitchens tend to be much more minimalistic and clutter-free, but in a bespoke Stone and Chrome kitchen we can provide the perfect combination of kitchen storage solutions that works for you.
Let's look at two examples:
If you prefer to have everything tucked away out of sight then why not consider a pantry in your kitchen? Pantries are currently very on-trend, and The Daily Mail recently featured an article extolling their virtue!
So we are really proud of our hand made walk-in Shaker pantry, pictured below. It is painted in Farrow & Ball Studio Green and features not only our famous gin dresser unit but also a Caple wine fridge for all your favourite wines. Ideal for lockdown!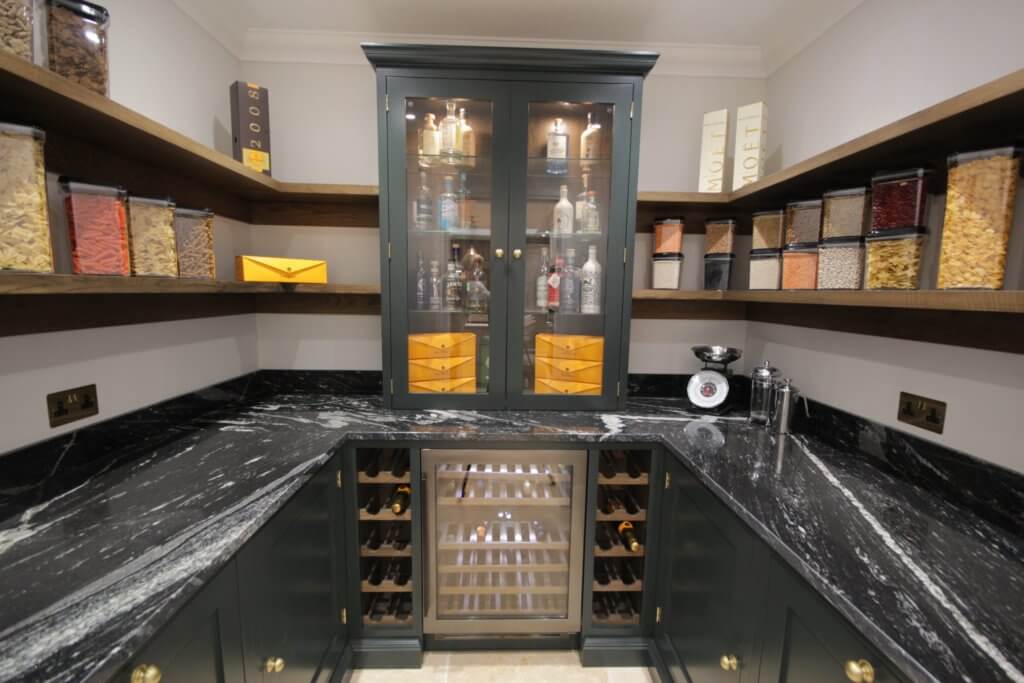 The image below is equally fabulous but also features more open storage solutions. So if you like to have certain items to hand – and indeed want to showcase some of those items around your kitchen – then this is another great design choice.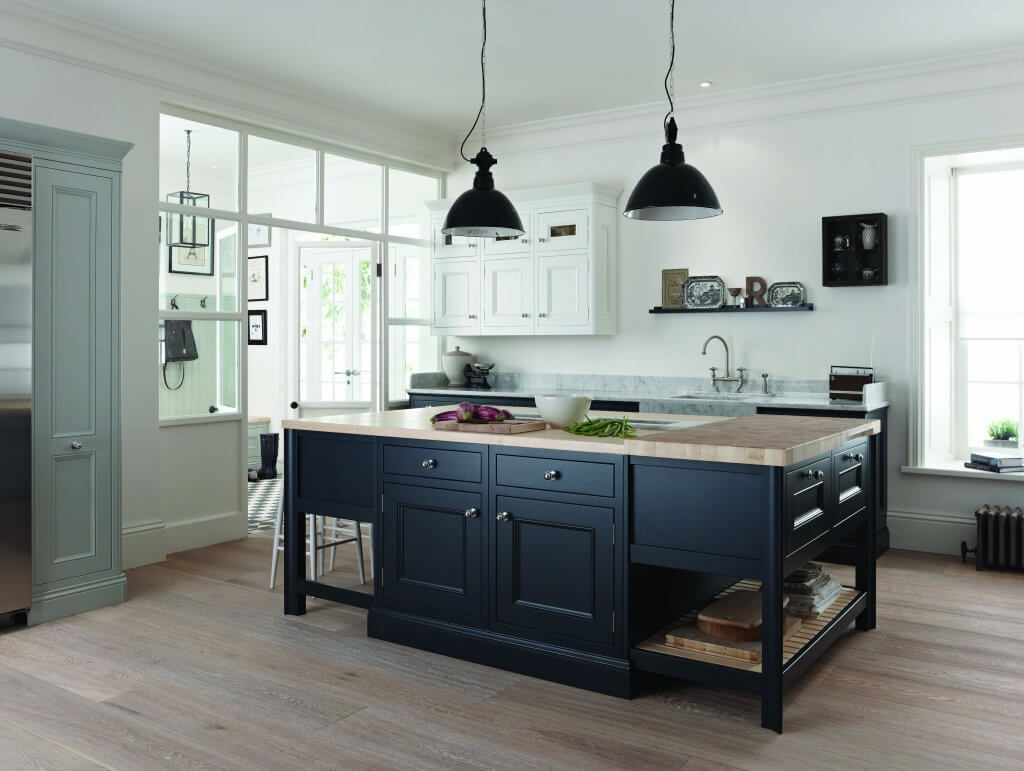 The best appliances for your kitchen
Unlike the 1940's kitchen, we now have an abundance of choice in terms of kitchen appliances. Not just fridges and washing machines, but many others too. At Stone and Chrome we work with a wide range of quality kitchen appliance brands, including Franke, Kaelo, Miele, Neff, Perrin and Rowe to name but a few. We are confident that one of our amazing suppliers will have exactly the right appliance for your needs.
The image below shows a recent kitchen installation in Camberley. It features some fabulous stainless steel appliances, including a Professional Plus 110 Induction range from Rangemaster and a Fisher and Paykel French door style fridge freezer.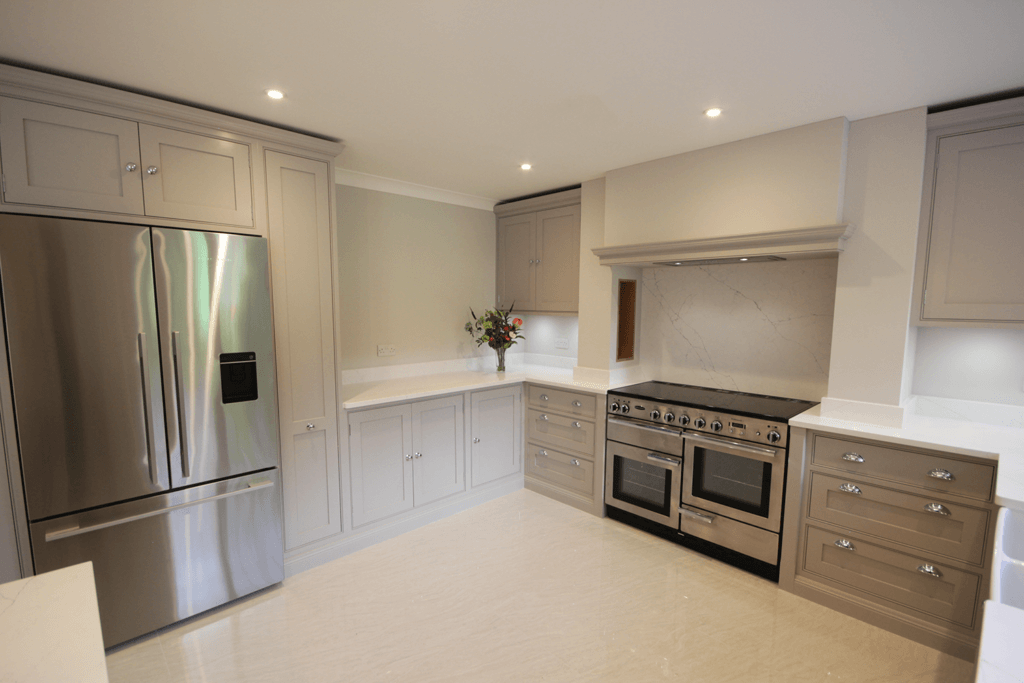 So if the VE Day celebrations have got you thinking it's time to update your kitchen then why not take a browse through the fabulous Stone and Chrome kitchen portfolio?
And when restrictions are lifted, we'd love to meet you at Stone and Chrome's kitchen showroom, to help you create your dream 21st century kitchen.  
Happy VE Day from all of us at Stone and Chrome!