There's an old saying "if you can't stand the heat, get out of the kitchen". And in the hot temperatures we've been having recently, that's probably something that we would all like to do.
But unfortunately life is not like that, and the daily rituals of buying, preparing, eating and clearing up food have to continue regardless of the weather.
So what can you do to keep your cool in the kitchen this summer? How can you create a kitchen environment that you don't want to get out of?
Well here are a few things that you can try for starters.
Five tips to keep your kitchen cool
Do more intense jobs in the coolest part of the day. Whether it's unpacking shopping, preparing food or cleaning up, try to do these jobs when it's coolest, for example early morning.
Use your oven sparingly. If you do have to cook hot food then do this as infrequently as possible and try to batch cook. Again, see if this can be done either early in the morning or later in the evening to avoid the heat of the day.
Keep lights off and blinds down. Anything you can do to reduce energy and light in the kitchen can really help to keep it cool.
Create a through breeze. Whether you leave windows or doors open, or decide to invest in a small fan, a gentle breeze through your kitchen will make things feel better.
Dress for summer. Don't fall into the trap of wearing your normal loungewear just because you're on kitchen duty. Remember it's summer and dress accordingly. Cool natural fabrics and loose fitting clothes that let your body breathe will make you feel so much better.
The best kitchen design for summer
Of course, the ideal solution to keeping your kitchen cool is to have a well-designed kitchen in the first place. One that takes into account the varying temperatures in this country and is designed to keep you comfortable whatever the weather.
This is where Stone and Chrome can help!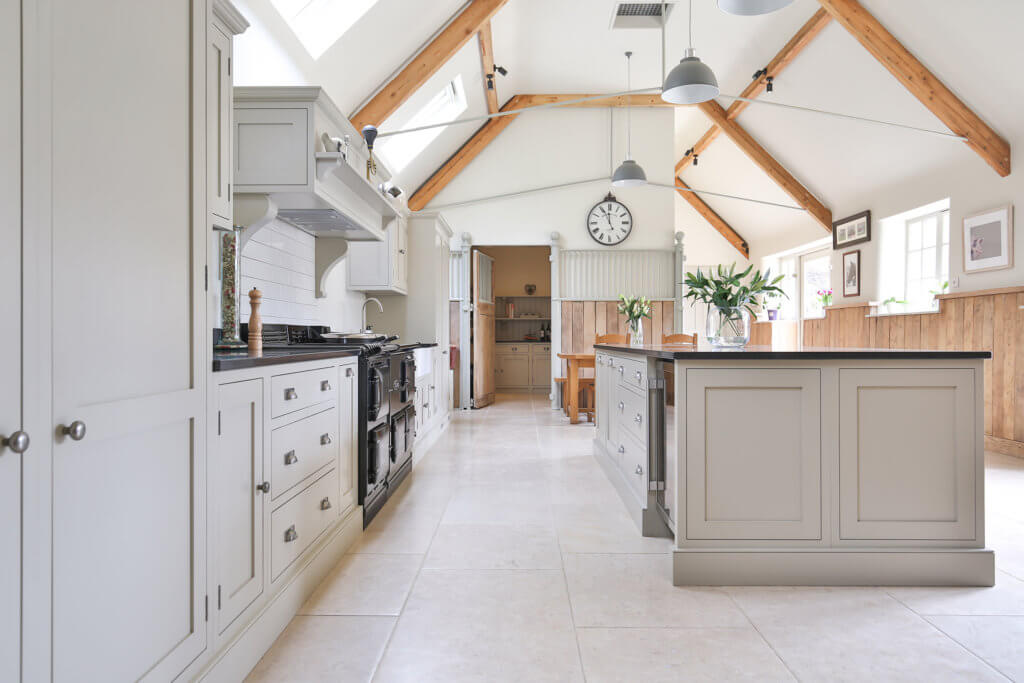 Our beautiful bespoke kitchens are constructed from sustainable solid timber, sourced from well managed responsible forests. For our work surfaces we use either natural stone or beautiful and durable man-made alternatives. The quality of our materials and our construction process means that you get a kitchen to last a lifetime.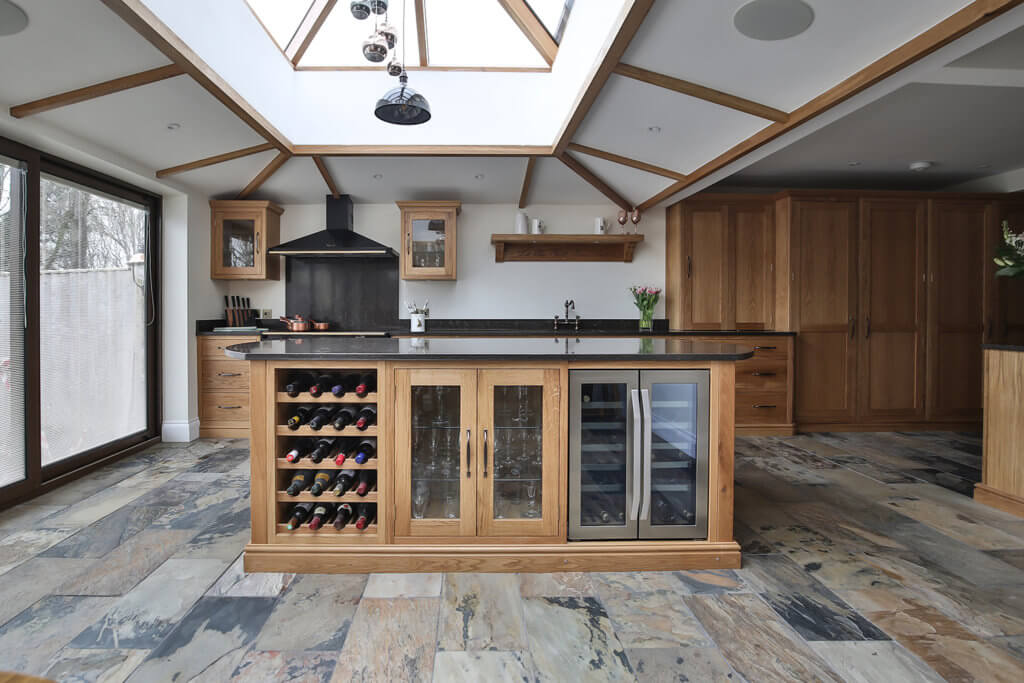 We love to design open plan kitchens. Not only are these so practical for daily contemporary family living, but they are so beautifully light and airy. This makes them cool in summer but with our skilful design they are also warm and cosy for all the family to enjoy in winter.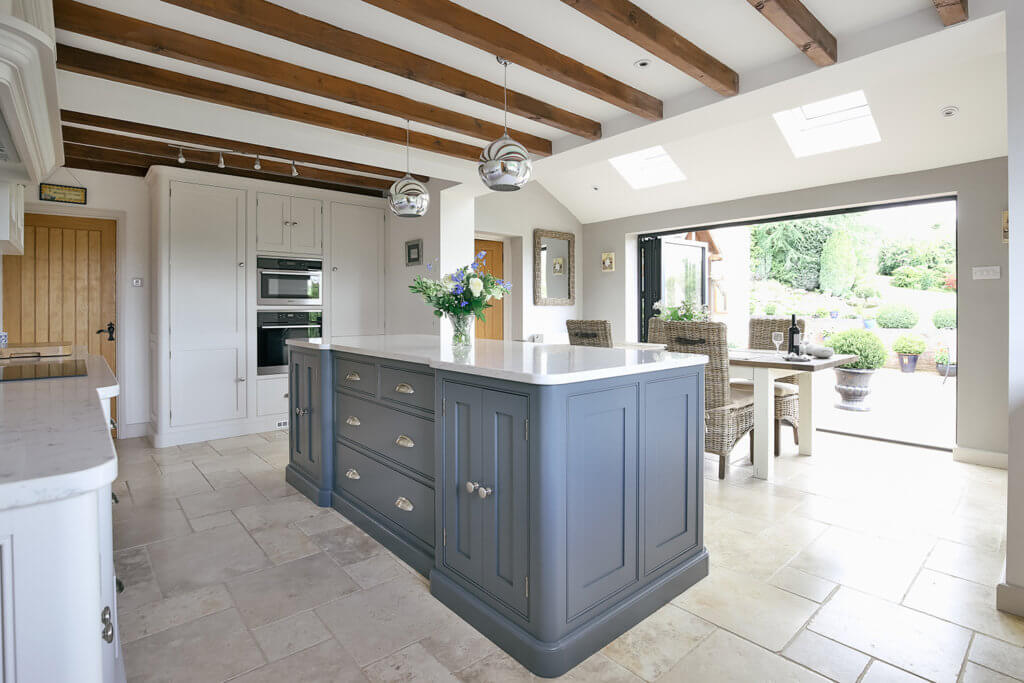 We also love to expand the space available by incorporating additional features. For example, the two images below show our bespoke boot room and handmade in-frame shaker walk-in pantry. Both add practical and stylish storage to your kitchen. And the pantry is the perfect environment for keeping things cool this summer – especially with the fabulous gin dresser unit and Caple wine fridge!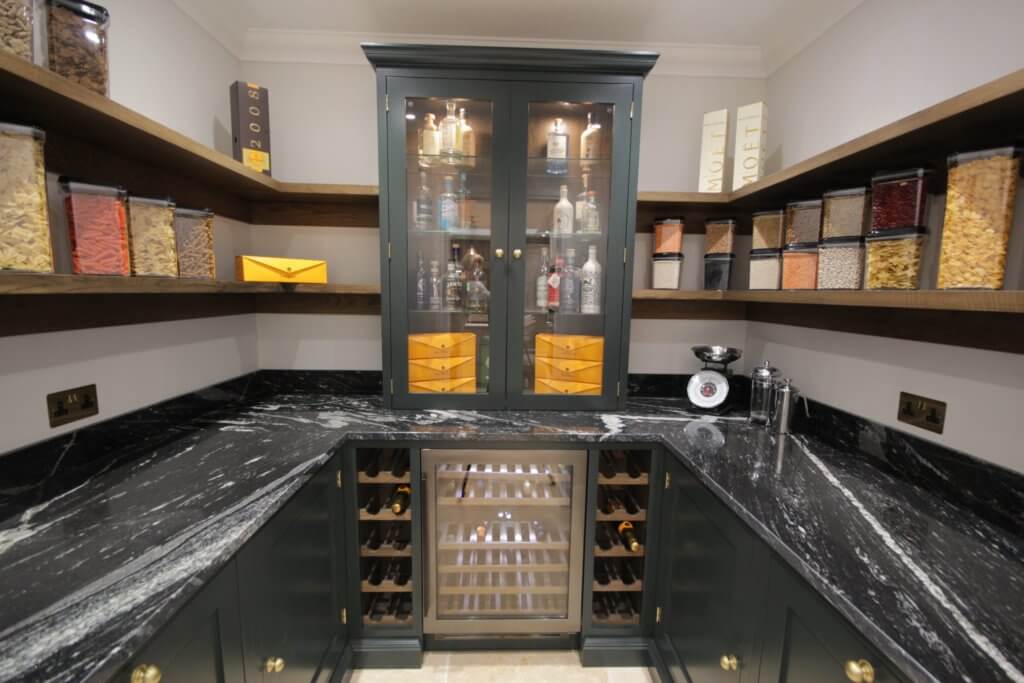 Come and visit Stone and Chrome
But why not come and see for yourself? At our kitchen showroom in Camberley we have two fully working lifestyle kitchen displays that show our two ranges of kitchens: a bespoke handmade in-frame shaker style kitchen and a custom in-frame slab.
Our showroom is now open – under strict Covid-19 safety guidelines – and we would love to meet you and help you to create your own dream kitchen.
So why not get in touch today to arrange to come and see us at Stone and Chrome – and discover kitchens that you really won't want to get out of!