We all love beautiful kitchens, and at Stone and Chrome our passion is to help make your dream kitchen come true. You can see some of Stone and Chrome's beautiful handmade kitchens in our kitchen gallery.
But what do you do if you have a small kitchen? Does that limit what you can do with it? Definitely not! 
We believe that small can be beautiful. We also know a few tips about how to make your small kitchen space feel bigger.
Let's take a look!
White and neutral kitchens
White or pale neutral colours work well in small kitchens because they reflect light and make your room feel more spacious and airy. It also helps if you coordinate the colours of your walls and surfaces because this then creates a seamless look and draws attention away from edges and boundaries. If you want to break up the colour a bit, you could use a contrasting colour for the cabinets, as shown in the in-frame shaker kitchen pictured below.
Reflective kitchen surfaces
Using reflective surfaces in your kitchen can make it feel bigger. Shiny surfaces enhance the effects of both natural and artificial lighting in your kitchen and make the room feel larger than it is. So consider incorporating elements such as stainless steel appliances, quartz work surfaces, and shiny floor tiles to reflect as much light around your kitchen as possible.
Natural light in kitchens
We have already mentioned the importance of light, and nothing can make your kitchen look larger than lots of natural light. So make the most of everything that you have, whether it's enlarging an existing window, or adding bifold or other full-length doors to outside space.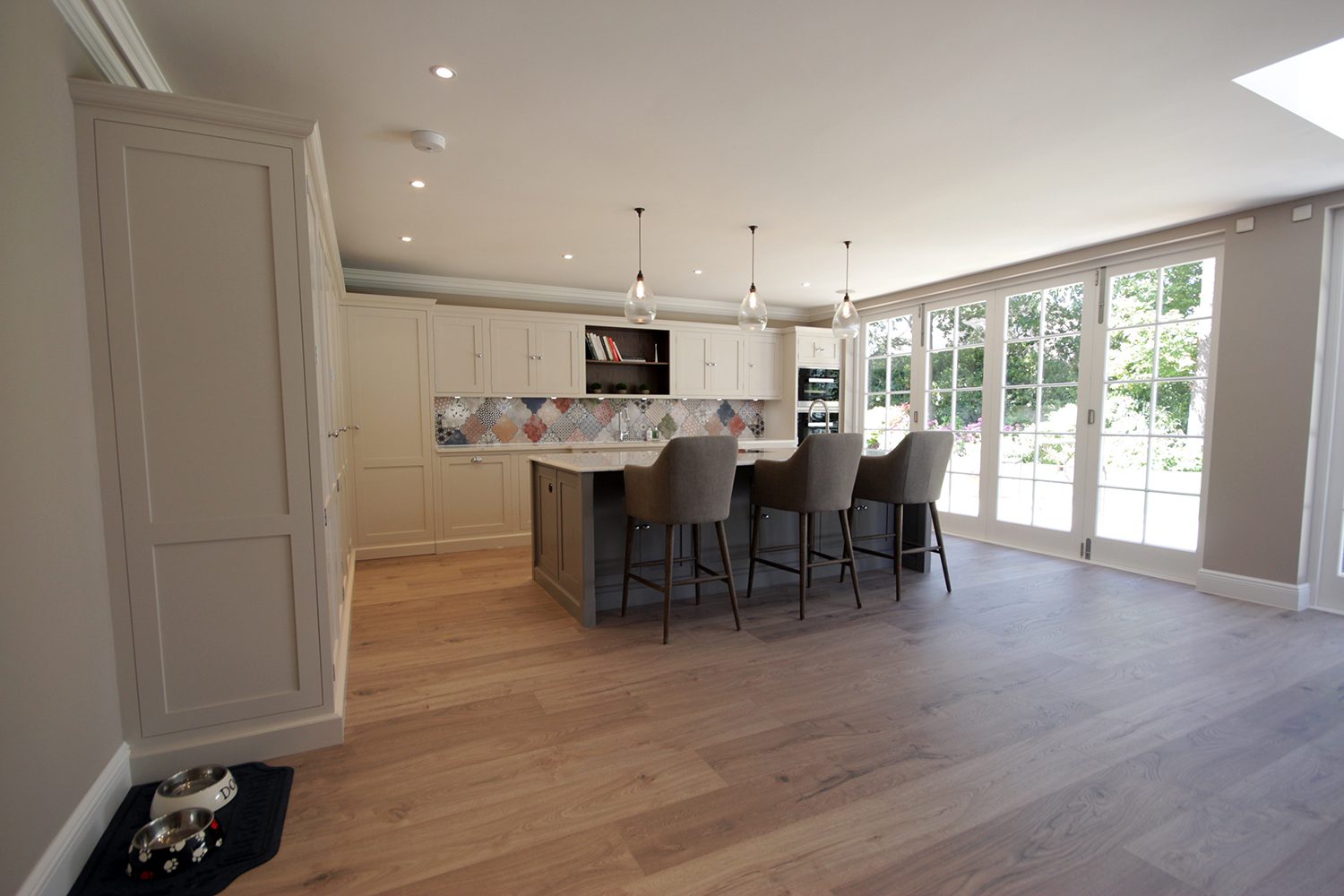 If you don't have much natural light, make the best use of good quality artificial lighting such as LED ceiling lights, spotlights and pendant lighting. Also see if you can augment the effect of your lighting by the use of glass doors, picture frames and mirrors.
Integrated appliances
Another design tip to make your small kitchen space feel bigger is to use integrated appliances. Integrated appliances with the same door fronts as your cabinets will give your kitchen a streamlined minimalist look. If you want to showcase some of your appliances then consider going for smaller sleeker appliances that don't dominate the space and detract from the overall look of your kitchen.
Also look at some of the technological trends in appliances. For example if you invest in a hot water tap, you will no longer need a kettle, which will free up space. The tap shown below is the amazing Quooker Flex with Cube: a five in one tap offering hot, cold, boiling, filtered chilled and sparkling water.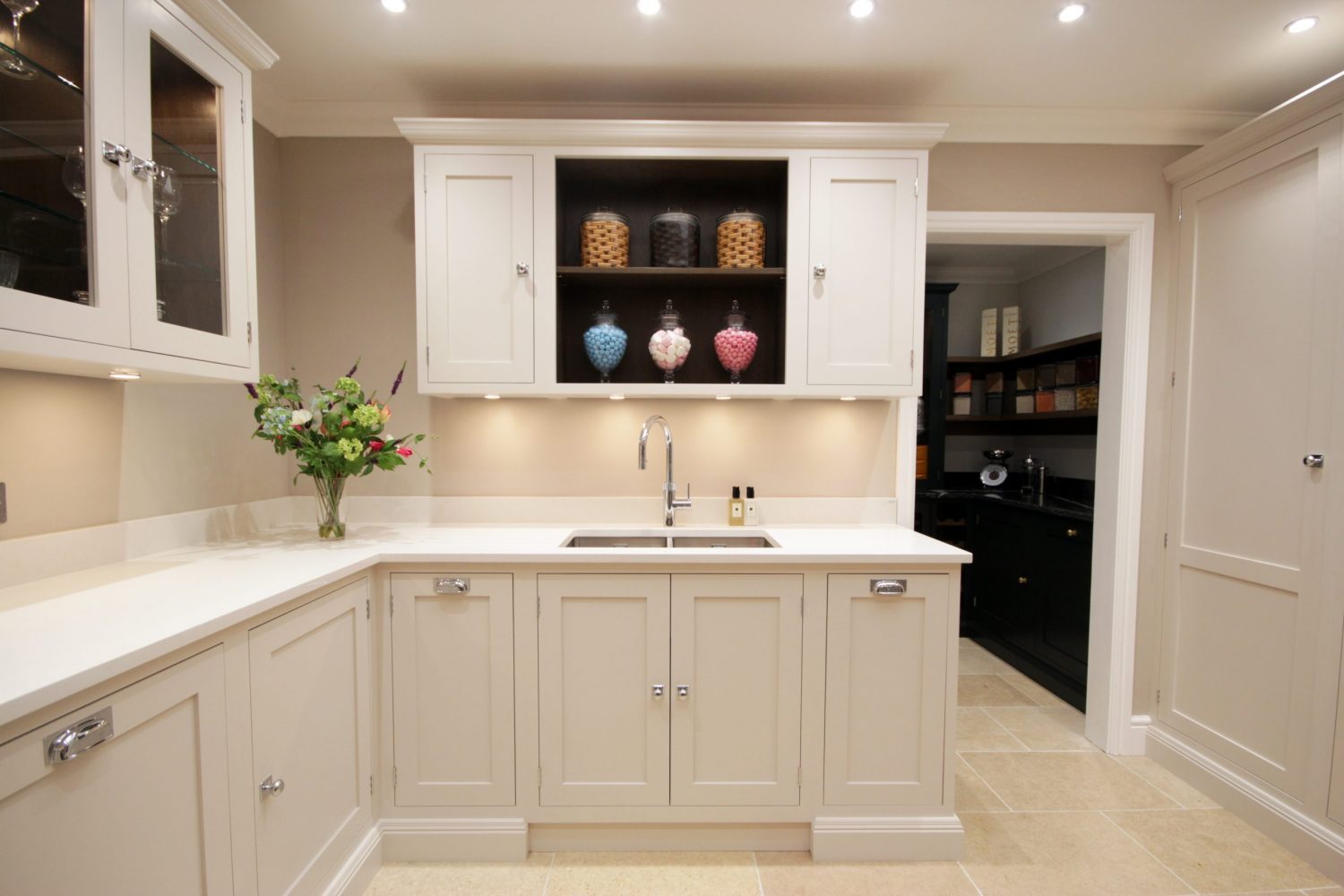 Hidden kitchen storage
Your kitchen will never look its best if it is cluttered, and this is particularly important for a small kitchen. One popular trend is to conceal small kitchen appliances such as kettles, coffeemakers, toasters and blenders behind a cabinet door. They are easy to access when needed but don't clutter up your surfaces. Decluttered surfaces really help to make your kitchen feel more airy and spacious. 
The smaller your kitchen, the more ruthless you will need to be about what you store in there. Everything needs to have its place, and cleverly constructed storage solutions – such as the stylish pull out larder pictured below – can be of enormous help in making it all fit together.
Open kitchen shelving
If you have spare wall space in your kitchen, then you could put it to use with some open shelving. This can add to the illusion of space, and can give you a sneaky extra bit of storage space, as long as you keep it uncluttered and tastefully curated. 
We love the wooden shelving shown in the kitchen below, but another idea would be to have some metallic  shelving such as copper,  which is very on trend and would add to the reflective element of your kitchen.
Whatever the size of your kitchen, do get in touch with us at Stone and Chrome. We have the passion and experience to make your hopes and aspirations for your kitchen a reality.