With the increasing focus on the impact of climate change, all of us are recognising the need to do what we can to cut carbon emissions. In the words of UN Secretary General António Guterres: "Time is running out, but it's not too late".

This doesn't mean that we need to go without a warm, bright and welcoming home. There are many things that we can do to save energy in our homes.

So if you have been planning to have a new kitchen in your home, what kind of things do you need to take into consideration to ensure that you make it as energy saving as possible? Here are a few ideas to try:
Using natural materials

At Stone and Chrome we love to use natural materials in our kitchen designs wherever possible. For example for your kitchen worktops we can create a one-of-a-kind piece of natural stone that is templated to your exact specifications. We also offer high quality man-made alternatives – for example Classic Quartz, Unistone, Minerva, Silestone or others – that make the best use of precious resources.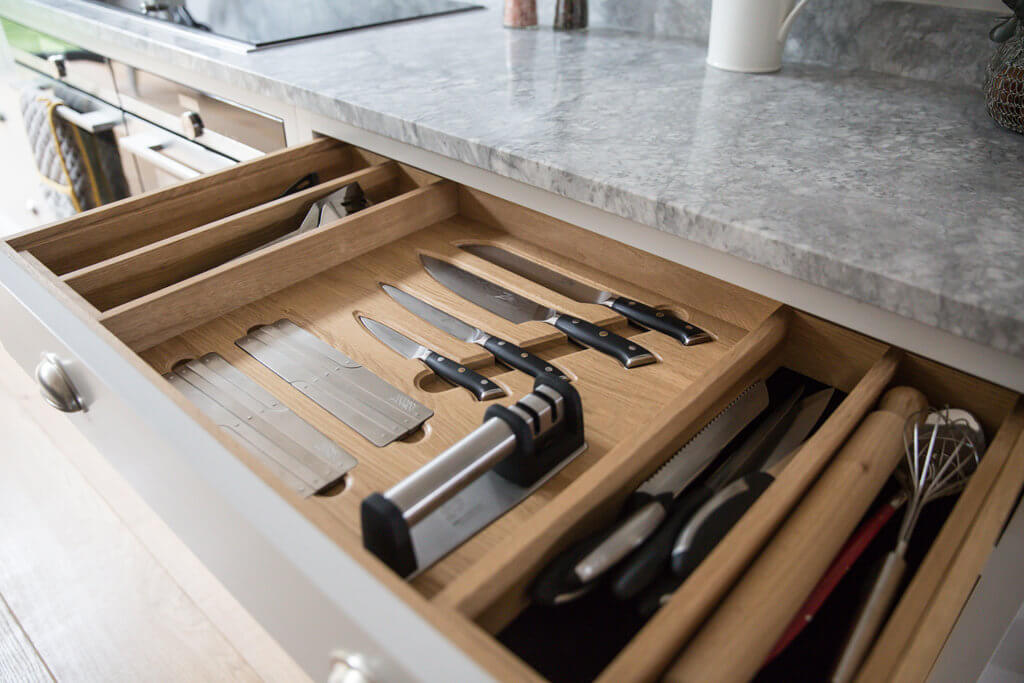 As the above image shows, we also love to use natural wood in various aspects of our kitchen design – such as the bespoke knife storage drawer shown here.
For the perfect finishing touch, natural stone tiling is also one of our specialities. Whether you choose it for your flooring and/or to cover part of your walls, natural stone tiling can give your new kitchen a distinctive and timeless appearance.
Using new technology to control appliances

One way to use less energy is to make sure that appliances are only left switched on when they are actually needed. We all know this but it can be easy to forget to do this on a day to day basis. New technology can help us to achieve this increasingly effectively. 

A new favourite appliance of ours is NEFF's unique Slide&Hide® oven. This stylish oven responds voice controlled commands – for example via Amazon Alexa – to turn the oven off or the temperature up or down, and can also send notifications to your mobile to remind you when the cooking time is coming to an end. 

LED Lighting

Creative use of LED lighting is a well-known trademark of Stone and Chrome. In our many years of bathroom design we love to use it to create just the right level of light and ambience for a room, and also to highlight different areas of a room such as recessed storage areas.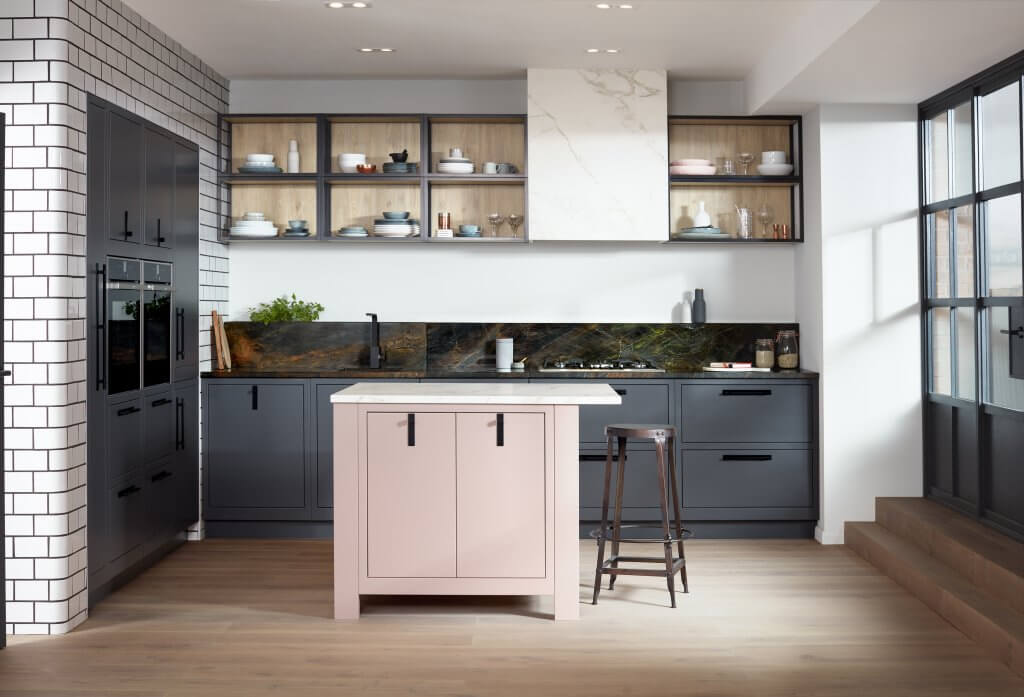 We plan to continue this trend in our kitchen design, particularly because LED fixtures also deliver a longer lifecycle and lower energy consumption. Win-win!
Only use water that you need

At Stone and Chrome Kitchens we love to use bespoke taps, for example multifunctional taps that can reduce water and energy usage, instant hot water taps that only heat the amount of water required – such as the Adobe tap pictured below. Also consider filter taps that mean no more need to buy bottled water. 

How Stone and Chrome can help

The good news is that at Stone & Chrome kitchens we are now taking kitchen installation bookings for January 2020. So why not come and visit us at our new luxury kitchen showroom in Camberley, Surrey? You can spend time exploring our two fully working lifestyle kitchen displays: a bespoke handmade in-frame shaker style kitchen and a custom in-frame slab door kitchen.

We would also be delighted to discuss your ideas and desires for your kitchen with you and advise how they can be implemented in the most eco-friendly way possible. Together we can create a dream kitchen that also saves energy and reduces your carbon footprint.