If you are planning a new kitchen, one of the really important things you will need to consider is the colour scheme. But what is the best way of doing this?
In this article we take a look at the factors that will influence your colour scheme, and the different kitchen features that you need to choose your colours for.
Factors that influence a kitchen colour scheme
Three of the key factors that influence a kitchen colour scheme are:
The size of your kitchen
Whatever the size of your kitchen, it can be beautiful. But a larger kitchen probably has more scope for different colours, particularly darker colours. If your kitchen is small, it may be better to opt for paler colours that can help to reflect light around your kitchen and make the space look larger. But never forget that pale can also be interesting. For example you may want to combine different shades of pale, as shown in the spectacular in-frame shaker kitchen below.
The style and ambience of your kitchen
Different colours don't just affect the amount of light in your kitchen, they can also give it a completely different feel. For example, blue tends to have a calming effect, green brings a back to nature feel, and bright colours such as red, orange or yellow create a vibrant sense of energy. You need to decide on the ambience that you want in your kitchen, and also whether you want the style to be traditional, contemporary or something in between.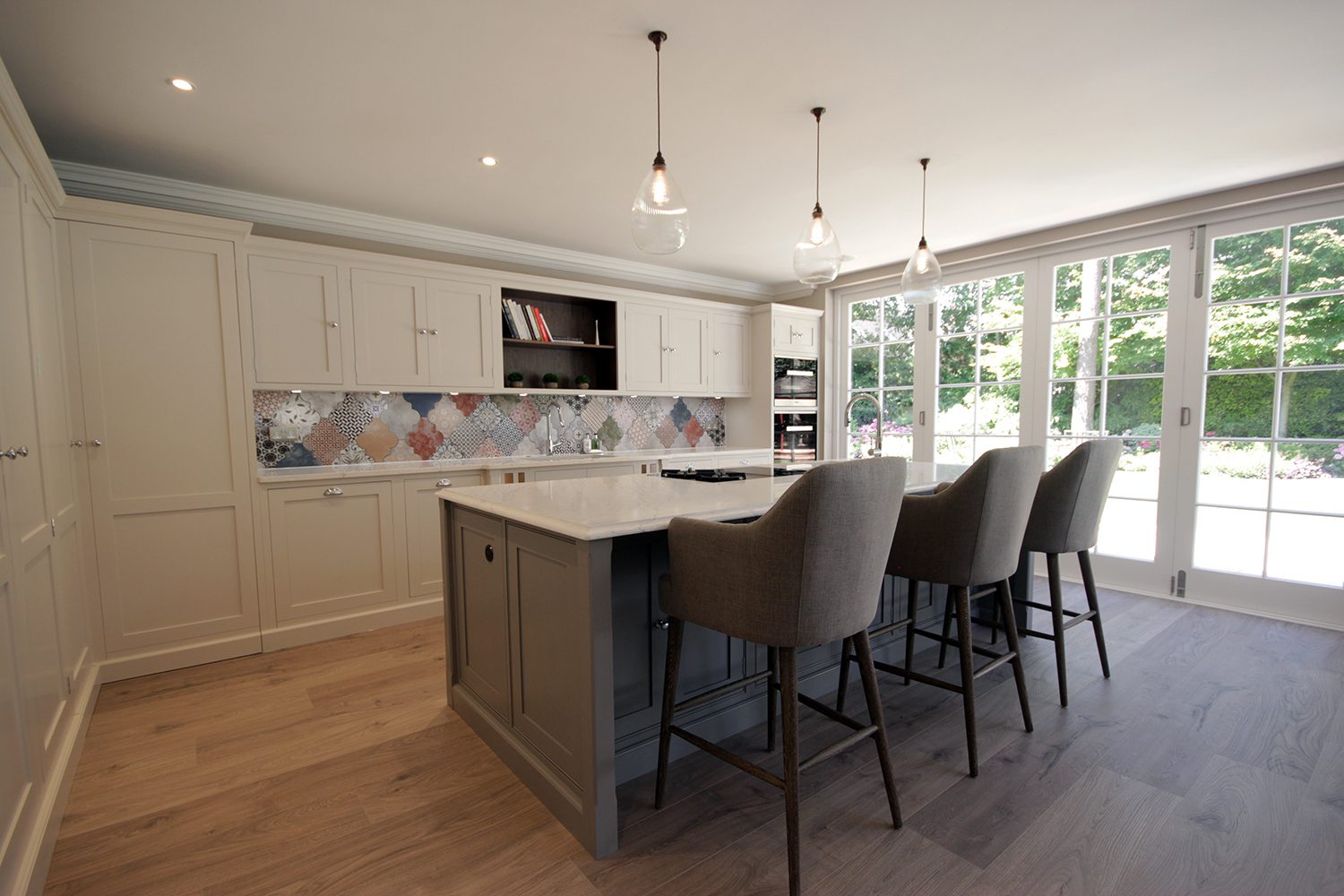 The colours you like best
Also when choosing the colours for your kitchen, bear in mind the colours you like best. On the one hand, this sounds fairly obvious, but it is easy to overlook your personal preferences if you are trying to keep up with current trends. 
So choose colours that make you happy. When you think of the amount of time you spend in the kitchen, you want to make sure that you are in the midst of colours that you enjoy. We love the Farrow and Ball Calke Green coloured cabinets in the utility and laundry room below, which would certainly make these chores a little less arduous.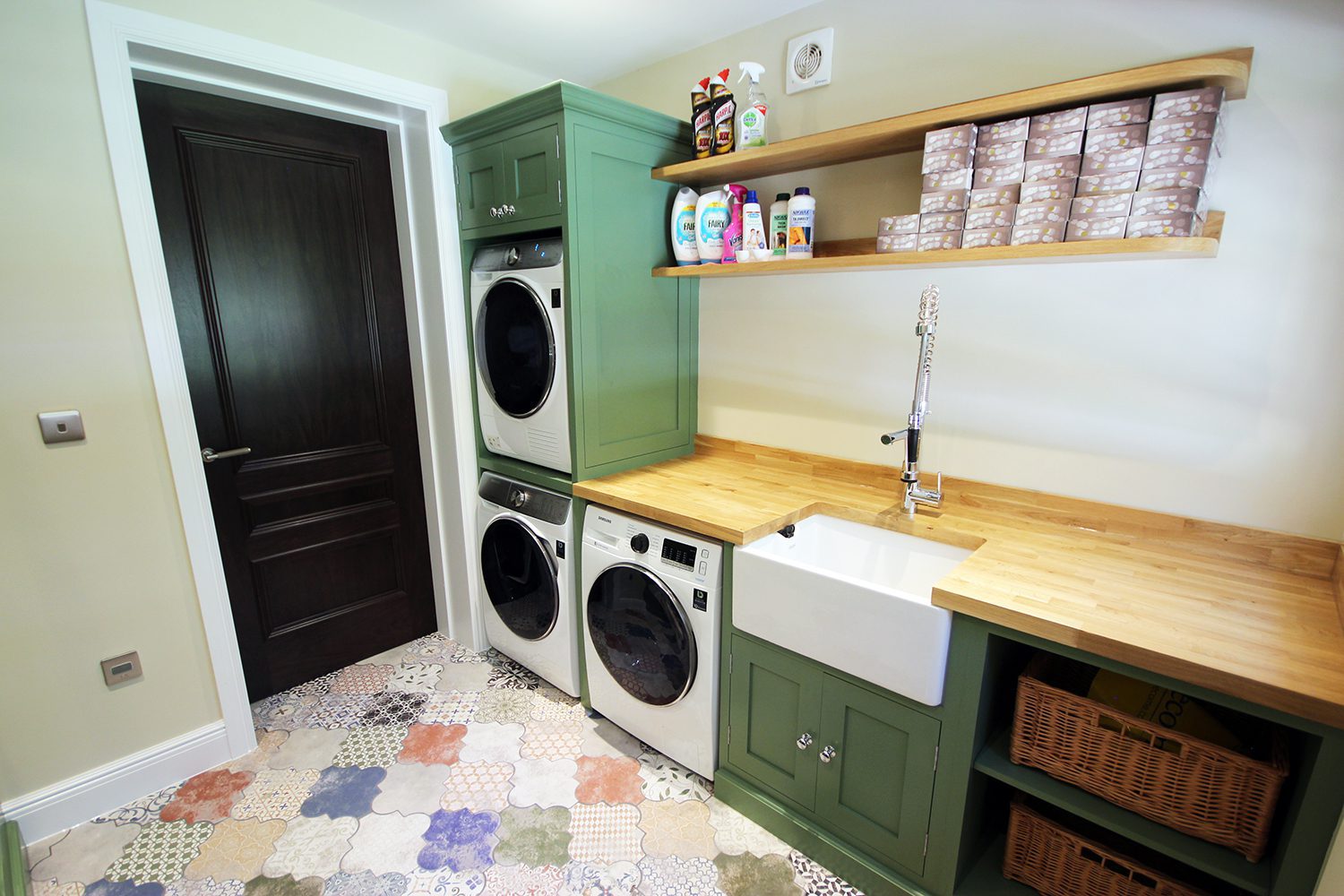 What do you need to choose colours for?
When you think of kitchen colours what immediately comes to mind? Because there are many different aspects of your kitchen that you will need to choose colours for, and they are not all obvious.
You may be thinking primarily of kitchen cabinets, or perhaps the paint colour for the walls. And yes these are both very important. At Stone and Chrome, we use a variety of well-known high-end colour palettes to create our bespoke handmade kitchens, for example Farrow and Ball, Mylands, Paint and Paper Library or Little Greene. 
Our kitchen cabinets are painted in our workshop before installation. This ensures that we can spend time creating beautiful hand-painted products for your kitchen without you having the inconvenience of your kitchen being painted after installation. 
But remember that as well as the kitchen cabinets and wall paint, you also need to consider colours for:
Kitchen appliances

Worktops

Flooring

Accessories – for example taps, handles etc
It is important to consider every aspect of your kitchen so that it all coordinates together and nothing is added on as an afterthought. You can mix and match, but make sure everything is as you want it to be.
If you have any additional areas in your kitchen, you may decide to choose a contrasting colour rather than keep exactly the same colour scheme as the main kitchen. A great example of this is the use of Farrow and Ball Stiffkey Blue as the stylish theme for the boot room shown below,
So when choosing the best colours for your kitchen there is certainly plenty to think about. To help get you started, why not come and visit Stone and Chrome's Camberley showroom? We would love to meet you and explain how we can transform your initial ideas into your dream kitchen.
To arrange your visit, email us at enquiries@stoneandchrome.com or call us on 01276 2061000. We look forward to meeting you soon.