So here we are, another year. Let's hope it's a good one in every kind of way.
If you have decided that now is the year to improve your home, you may be starting to look at ideas to get things moving. In this article we look at some potential kitchen trends for 2022 and explain how Stone and Chrome can help to design and install the kitchen of your dreams.
Kitchen trends for 2022
At Stone and Chrome we are passionate about all things kitchen-related! So we've enjoyed researching some of the up and coming kitchen trends that we think will be big news in 2022.
Five of these trends are:
Multi-purpose kitchens
The first Covid lockdown of 2020 led many of us needing to convert our kitchens to multi-purpose areas even if they weren't already. We needed space for home working and homeschooling as well as the pre-existing kitchen functions such as preparing, cooking and eating food, living, entertaining and socialising. 
Our recent article Are You Ready for the Six Zone Kitchen? explored the many different functions of a family kitchen, and ideas about how to incorporate them into your kitchen design.
Pantries
Stone and Chrome are specialists in pantries: in fact we reckon we started this trend in the first place! Over the last couple of years, pantries have become much more popular, and this trend shows no signs of stopping any time soon. 
Part of this is again due to the pandemic, when people were doing larger shops and needed more space to store groceries. And pantries are indeed very practical in that respect. But they are also oh so stylish! We love the walk in pantry pictured below, which even includes a gin dresser and wine fridge!
Green kitchens
Colour trends for kitchens come and go, but one rapidly growing trend we spotted last year was green. Dark greens and bright greens dominated last year, but we predict a growth this year in softer more muted shades, including forest greens and earthy tones.
Green can be used either as a main kitchen colour or as an accent colour. Either way, it brings a touch of warmth and peace to your kitchen.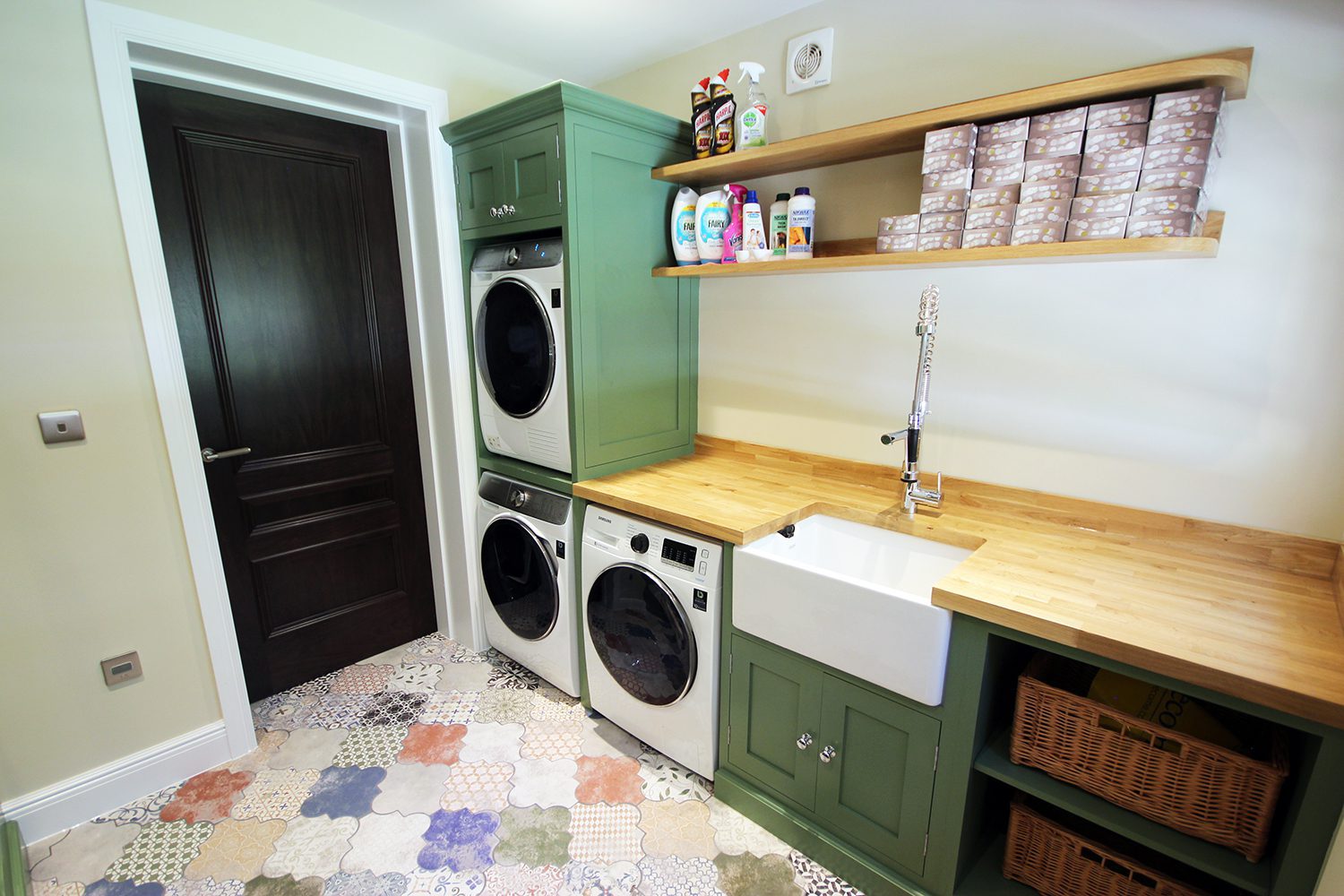 Metallic trimmings
Brass has been a very popular trim in recent years, and this trend looks set to continue. Gold is also becoming equally popular, and these metallic finishes look set to overtake more traditional finishes such as  stainless steel and brushed nickel. So when considering items such as cabinet handles, lighting fixtures and taps, think metallic. The bespoke handmade boot room pictured below features beautiful satin brass handles from Armac Martin.
Retro flooring
Last but not least, retro style flooring is making a big comeback. Whether you prefer flagstone tiles, parquet or herringbone flooring, or one of the latest patterned vinyls, flooring is making a strong statement right now. Choose something that is practical and durable as well as stylish, and you will add the perfect finishing touch to your new kitchen.
Your kitchen, your choice
We hope that the above ideas are already giving you some inspiration about your new kitchen. However, it's always important to make sure that you give priority to your own needs and preferences, whatever the current trends are. So our advice would be to by all means incorporate some of the new trends into your kitchen plans if you want to, but always have a clear idea about what is best for you and your family.
Our recent article Six Steps to Successful Kitchen Design explains more about ensuring that your new kitchen fully meets your needs.
How Stone and Chrome can create your dream kitchen
Creating your dream kitchen will necessitate you finding a kitchen designer and installer that you can trust to get the job done in the very best way. The way that you deserve. And we would love Stone and Chrome to be your kitchen designer of choice. Not only are we passionate about kitchens, but we have the skills and experience to make your dream kitchen a reality.
So why not take a browse through Stone and Chrome's kitchen gallery to see just a few examples of the beautiful bespoke kitchens we create. Then get in touch with us to arrange a visit to our Camberley showroom, so we can make the magic start to happen!
Happy New Year from all of us at Stone and Chrome, and we look forward to creating your dream kitchen in 2022.