No pain no gain, they say. And this applies just as much to kitchen renovations as any other area of your life. In fact, it's one of the things that can put people off moving ahead with their dream kitchen. They just can't face the thought of all that disruption.
If that describes you, then you've come to the right place! At Stone and Chrome we not only create beautiful kitchens but we put the needs of our customers first. We completely understand that the kitchen is the hub of the home and to be without it for any length of time is a massive inconvenience. 
So in this article we'll explain how Stone and Chrome take the stress out of kitchen renovation. We'll also give you a few top tips for how to keep everyone happy whilst the renovation is taking place.
How Stone and Chrome take the stress out of kitchen renovation
When you decide on a new Stone and Chrome kitchen you are in safe hands. We have over 30 years experience of creating beautiful bathrooms and kitchens, and are totally passionate about what we do. We guarantee that we will be just as excited about your new kitchen as you are!
There are three key ways in which we promise to make your kitchen renovation as stress-free as possible:
Planning your kitchen design
The key to success is in good planning. And that's one of the areas we excel in at Stone and Chrome. We will discuss your kitchen with you in depth. Not just the basic practicalities but your hopes and dreams for your kitchen. We want to give you what you really want, not just what you think you ought to have. Once we've done this we will begin to design your kitchen using our state of the art 3D design software.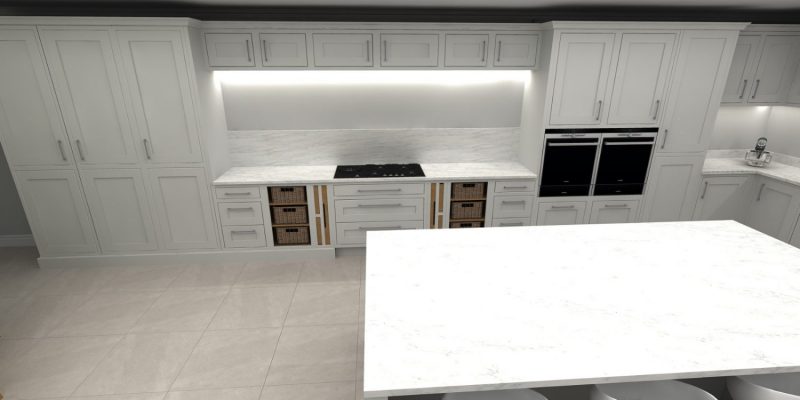 You will be involved at every stage of the process so that you can see exactly how the design is going to look. We also love adding little personal touches to your kitchen design. Whether it's custom designed cabinets, bespoke drawers to house your favourite implements or coffee pods, engraved names, or that one quirky feature item you really do want; we will do our very best to make it happen.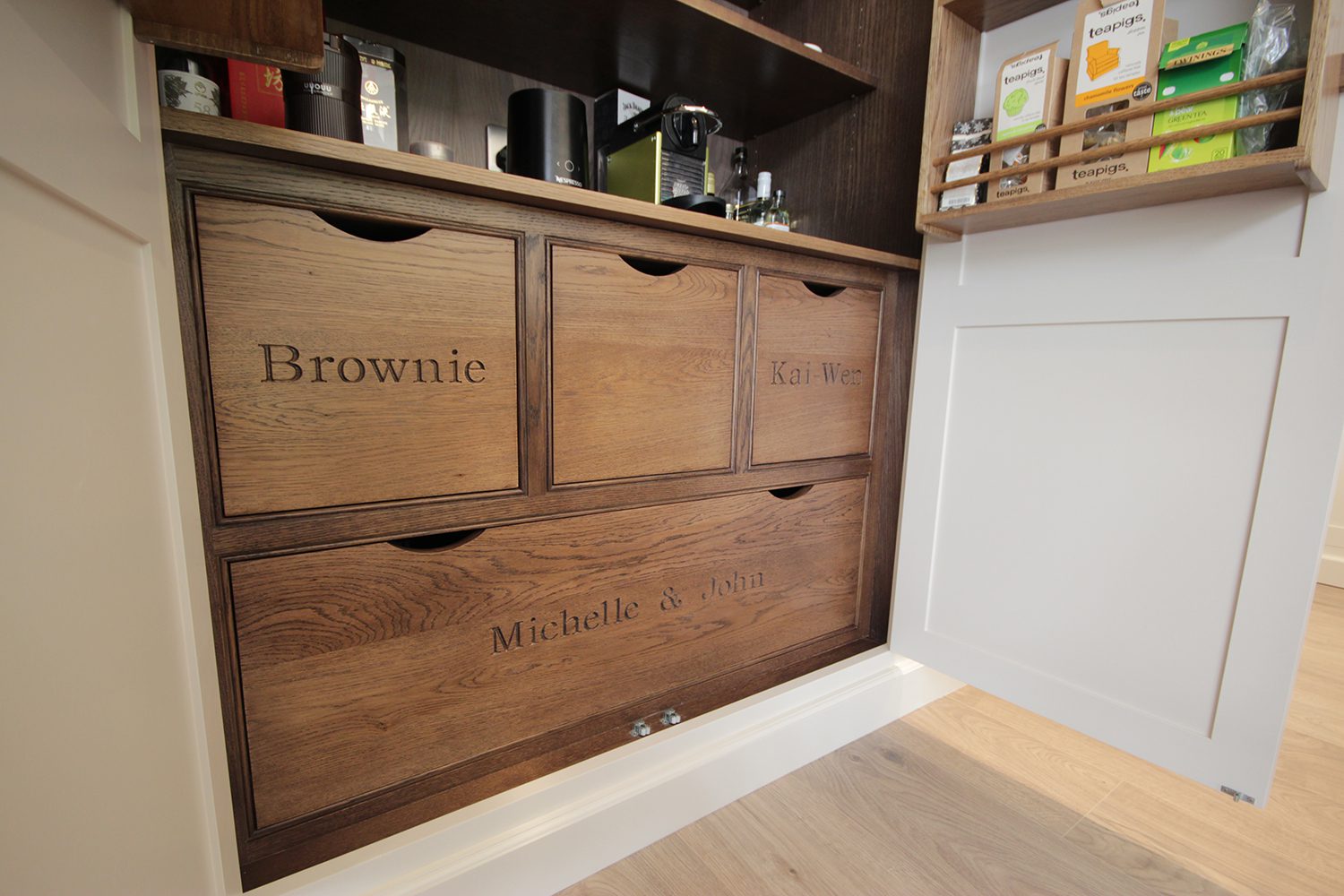 Managing your kitchen renovation
At Stone and Chrome we also believe in the personal touch. Your bespoke kitchen project will be fully managed every step of the way by one of our expert project managers. This continuity makes the whole kitchen renovation process as smooth and enjoyable as possible. 
There will always be someone for you to talk to and to make sure that you are happy. And to bring you that all-important bottle of bubbly once everything is finished!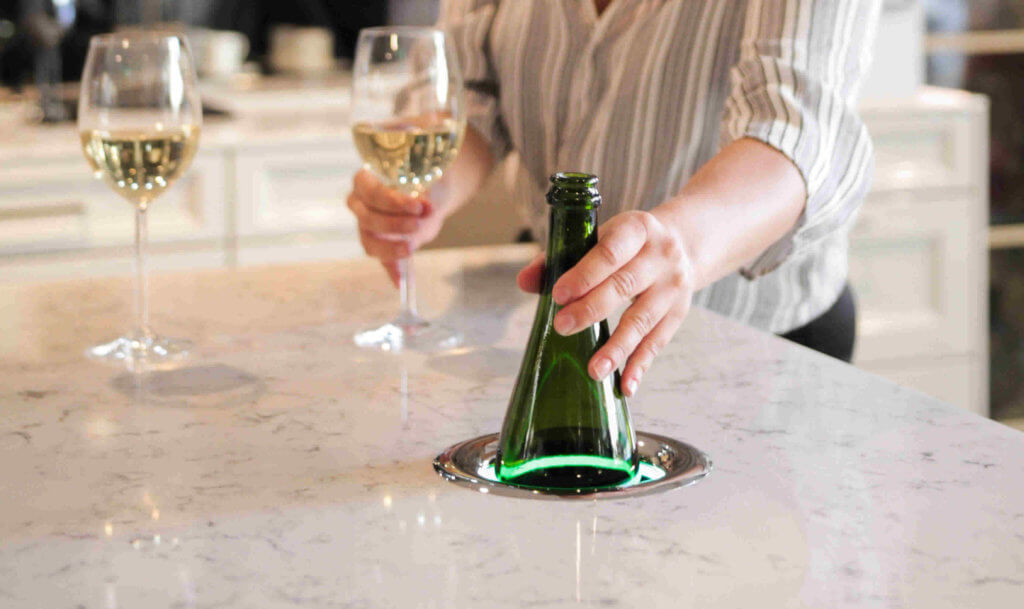 Creating your kitchen remotely
A Stone and Chrome kitchen usually takes between 5-7 days to install. We build our wood kitchens by hand in our UK workshop. Our workshop has its own spray booth so that we can also paint your kitchen away from your home. We spray the first coat, then hand paint the final coat to give your kitchen the distinctive finish it deserves.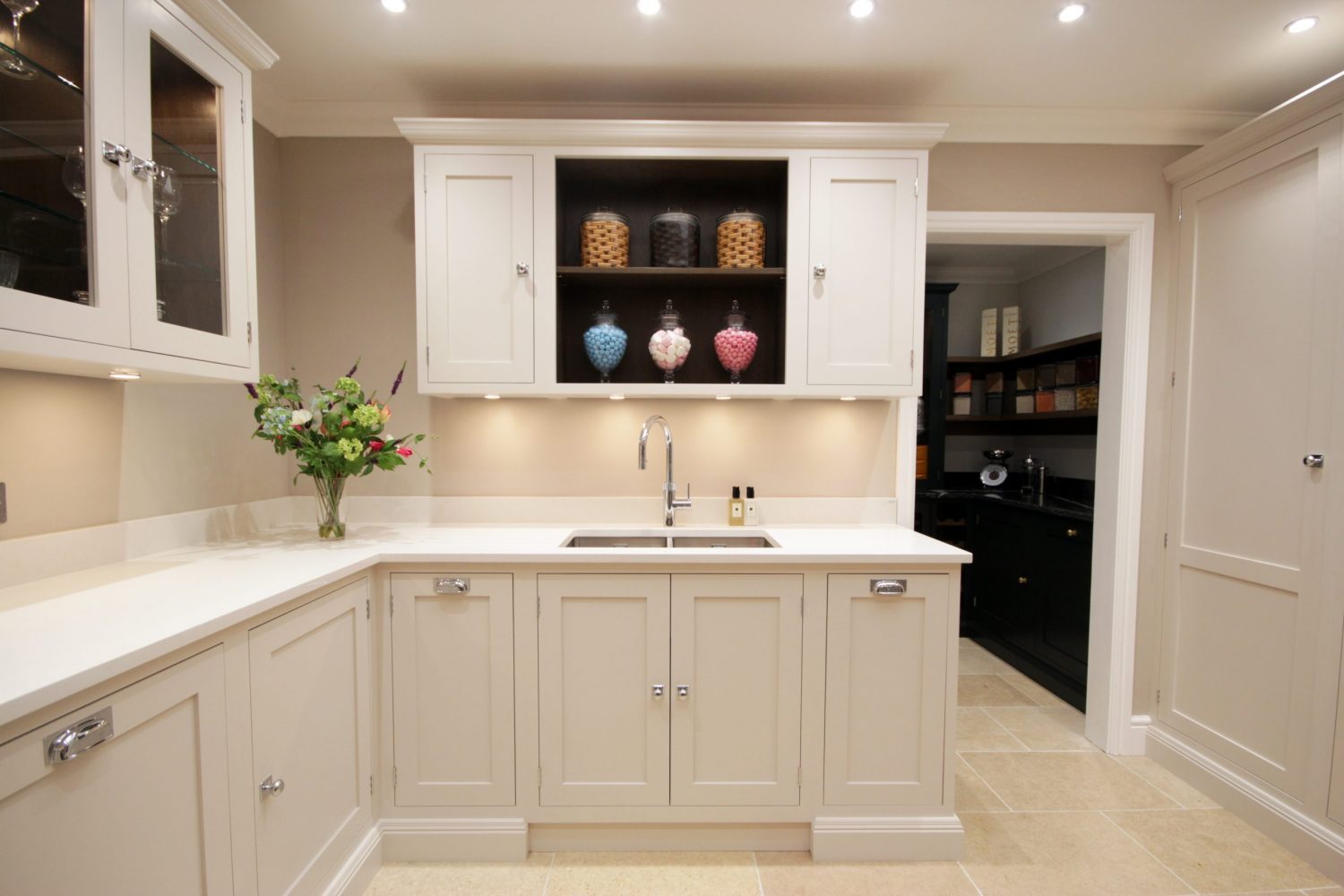 Painting your kitchen remotely cuts down the time that our installers are working in your home, and reduces the inconvenience for you and your family.
We find that the three steps above really do help to keep the stress of your kitchen renovation to a minimum. But there are also some practical things that you can do at the time of your renovation to keep everyone happy at your end. 
Let's take a quick look.
How to survive without a kitchen
Here are six quick tips for how to survive during your kitchen renovation:
Set up a temporary minimalist kitchen area somewhere else in your home. If you have a kettle, toaster, microwave and mini fridge you can survive for a few days.

Have a drastic declutter before your kitchen renovation. You don't want to take up storage space in your lovely new kitchen with things that you don't need or use. So be ruthless: if in doubt, out!

Also run down your food supplies in the weeks before your kitchen renovation. The less you have to store the better. But remember to have some essential supplies available for your temporary kitchen.

Stock up on disposable plates and cutlery if you are not going to have washing up facilities. You can now get many varieties of sustainable products which work really well whilst also being environmentally friendly.

Remember that your home will get very dusty, and dust gets everywhere. So it is worth either putting away or covering as much stuff as you can, to minimise cleaning time afterwards.

Look after each other. Your home will feel strange for those few days so be kind to yourself and to each other. And don't forget the pets. Try and get out and about as much as you can, and make time to have some fun too. Let's face it, this is one time when it is absolutely fine to have a takeaway every night. Because once you have your wonderful new kitchen, you will look for any excuse to be in there all the time!
So, if it's time for a new kitchen and you want the most stress-free experience possible, look no further than Stone and Chrome. Why not get in touch with us today, and we will help you to get things moving. 
We look forward to creating the kitchen of your dreams in 2021.