In our last article we looked at the issue of home schooling and how good kitchen design can be of great help at this difficult time. But over and above home schooling, this period of lockdown may have caused you to realise that it really is time for a new kitchen. A kitchen that can meet the evolving needs of your growing family.
So in this article we will look at some features of kitchen design that you may want to consider if you are planning to have a new kitchen sometime soon. Features that can help you decide on the best kitchen design for your home.
Here are five examples of Stone and Chrome kitchen design that you may want to include in your plans.
Open plan living
What could be a better heart of the home than a kitchen like the stunning example shown above? As well as the stylish and practical food preparation and cooking area, there is an informal dining table for family mealtime, with additional seating options as well.
This really is an ideal room for everyday family living and would also be perfect for all year round entertaining. Everybody would want to be in this kitchen at parties!
Stylish utility room
If you ever look at images of gorgeous clutter-free kitchens and wonder where these people put their "stuff" then now you have your answer!
The example above shows a utility and boot room that is way above merely functional. As well as coats and boots, there is a butler's sink and inbuilt white goods. There is room for everything yet it still manages to look stylish.
Clever storage solutions
Still on the subject of storing stuff, how about this fabulous kitchen larder, with integrated spice rack? It can house everything you would need to last through an extended lockdown and beyond: and once the doors are closed it all looks so streamlined and chic.
The beauty of an island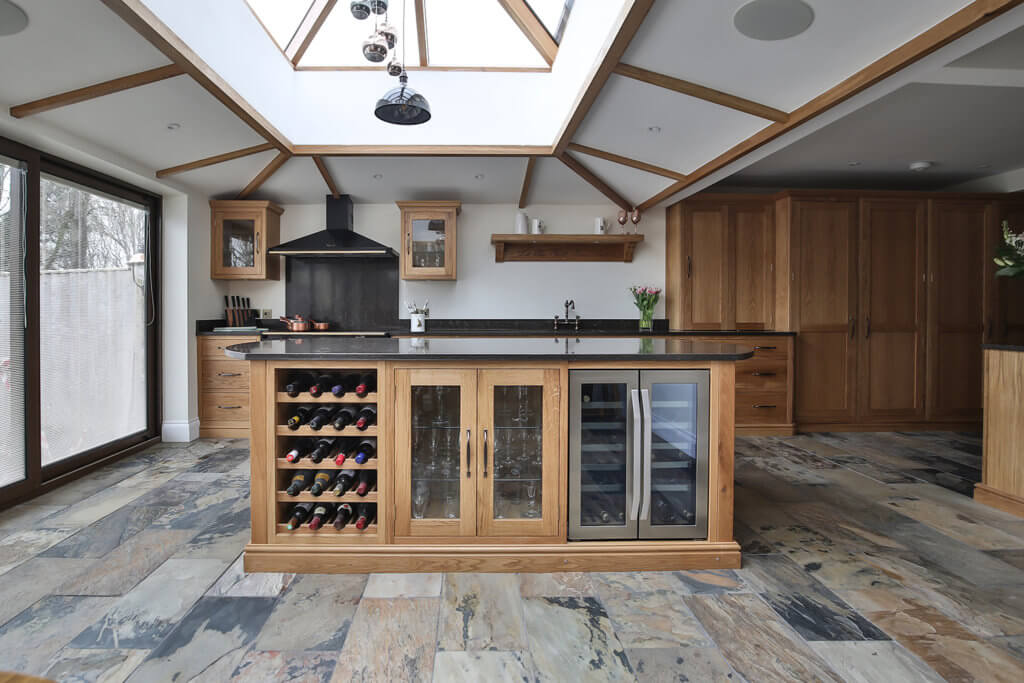 A kitchen island can really bring a magical touch to your kitchen. But if you are going to have an island then make sure it achieves what you want it to.
In your bespoke Stone and Chrome kitchen you can choose the ideal combination of features that are important for you to have on your island, whether that is shelving, cupboard storage, hob, sink, fridge, wine rack or additional seating.
Work surfaces with little extras!
Also when planning your ideal kitchen, don't overlook the potential of your work surfaces. Our recent article The best work surfaces for your kitchen explained about the importance of getting the right type of work surface, as well as introducing some of the fabulous work surface designs available.
But you can also choose to incorporate some clever little extras into your brand new Stone and Chrome surfaces. The above image shows the wonderful Adobe hot tap, for instant hot drinks. Whereas when it's time for something stronger, take a look at the ingenious Kaelo integrated wine cooler, shown below.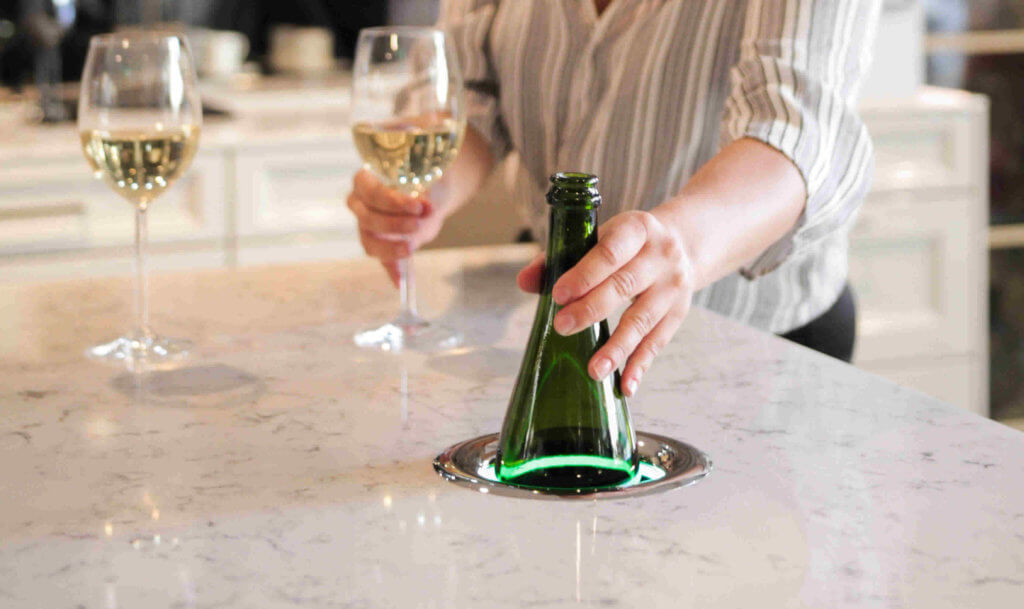 At Stone and Chrome we love to design bespoke kitchens that meet every one of your specific needs. Whatever layout, colour, work surfaces and kitchen equipment you want: you can be confident that Stone and Chrome will create your dream kitchen design, then make that dream come true.
Our attention to detail is second to none. So you will get the quality family kitchen that you deserve, and that works for you.
So once restrictions are lifted, do come and see us at Stone and Chrome. We would love to meet you at our Camberley showroom, and to start helping make your kitchen plans a reality.