So you're thinking about a new kitchen for 2020? How exciting! Stone and Chrome would love to help your dream kitchen become a reality. In this column over the next few weeks we'll be looking at different aspects of kitchen design and today we're going to show you some of the fabulous work surfaces available with your new Stone and Chrome kitchen.
Sometimes when planning a kitchen, work surfaces are one of the last things you think about. By the time you've considered the overall size and shape of the room, plumbing, heating and lighting requirements, the configuration of the furniture, sinks and white goods ….. work surfaces can sometimes feel like a bit of an afterthought.
But work surfaces are such an essential element of any kitchen! They are the place that you prepare and serve food, perhaps relax a little along the way with a nice cool drink, or even catch up with your online world. In today's trend for open-plan living they can also double up as dining or entertaining areas. So it's important to get them right.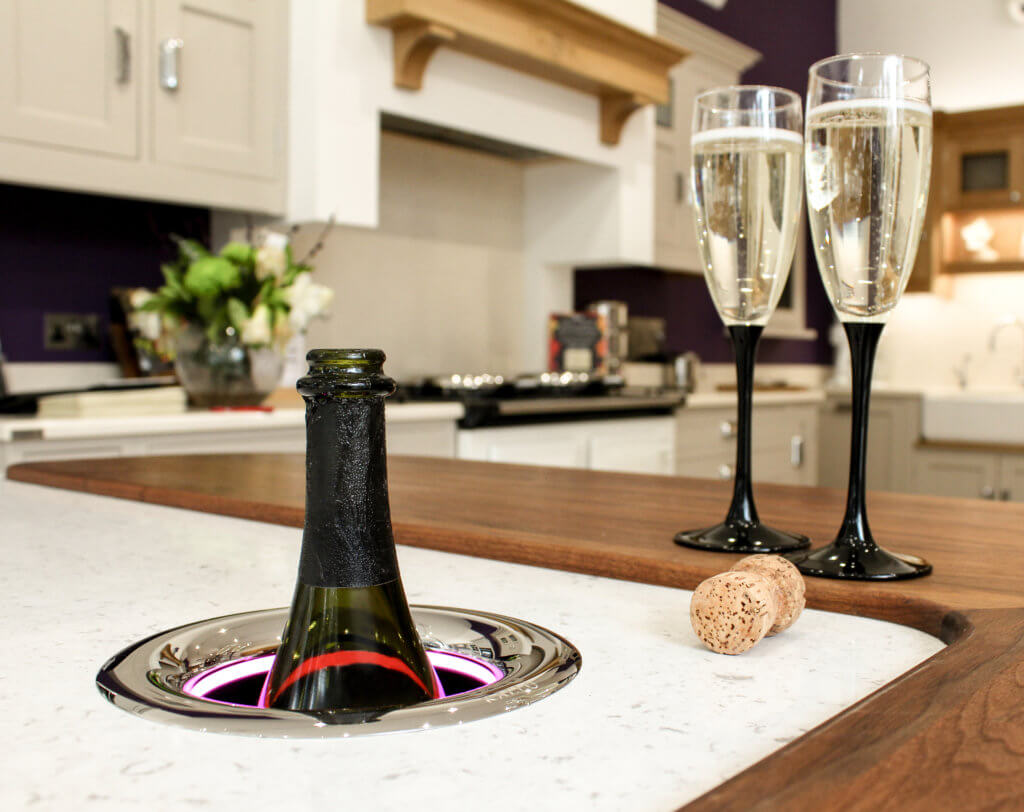 The importance of work surfaces
There are also many practical factors to consider when choosing the best type of work surface for your kitchen. For example, you need to think about:
Durability and resilience: for example can it withstand heat, liquids and general wear and tear?
Maintenance: is it easy to clean, remove stains and keep looking good?
Flexibility of shape: can it be cut to fit with sinks and appliances, could it have a splashback as well?
Does it look good? Can you choose colours and textures, and also the shape and style of the edging?
The best kitchen work surfaces
At Stone and Chrome we always work with either natural stone or beautiful and durable man-made alternatives for our work surfaces. These materials tick all the above boxes and we have some wonderful ranges available, from manufacturers such as Silestone, Classic Quartz, Caesarstone, Unistone and Minerva.
Whichever material you choose when designing your new kitchen, we will precision cut your work surfaces to your exact specifications to ensure the perfect finish.
Let's take a look now at just three of the fabulous work surfaces that could feature in your new Stone and Chrome kitchen:
Silestone is a compound made up of 90% natural quartz. This makes it an excellent choice for kitchens as it is incredibly hard and resilient. It is also easy to clean and maintain, and highly resistant to stains. Silestone is available in over 90 colours and with three different textures : polished, suede and volcano. So you are bound to find the perfect combination for your kitchen!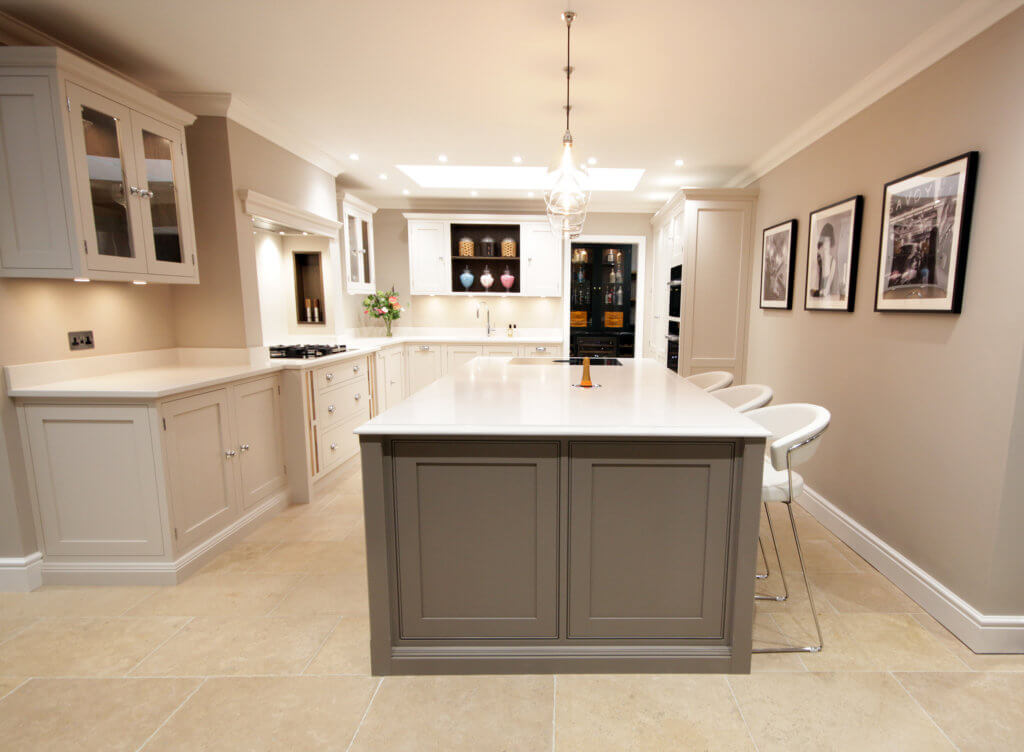 Classic Quartz Stone is composed of approximately 93% quartz, and 7% resin, recycled stone, recycled glass, and aggregates sands. It is a resilient, non–porous surface that needs minimal maintenance to keep clean and looking like new. There are many different colours available, all with either plain, patterned, marble, sparkle or shimmer effects.

Caesarstone premium quartz work surfaces, containing approximately 90% natural quartz, combine practicality with stunning design. These surfaces are highly resistant to both heat and cold, and also very durable against stains, scratches and cracks. There is a wide variety of different colours and textures, including Caesarstone's Metropolitan, Supernatural and Classico collections.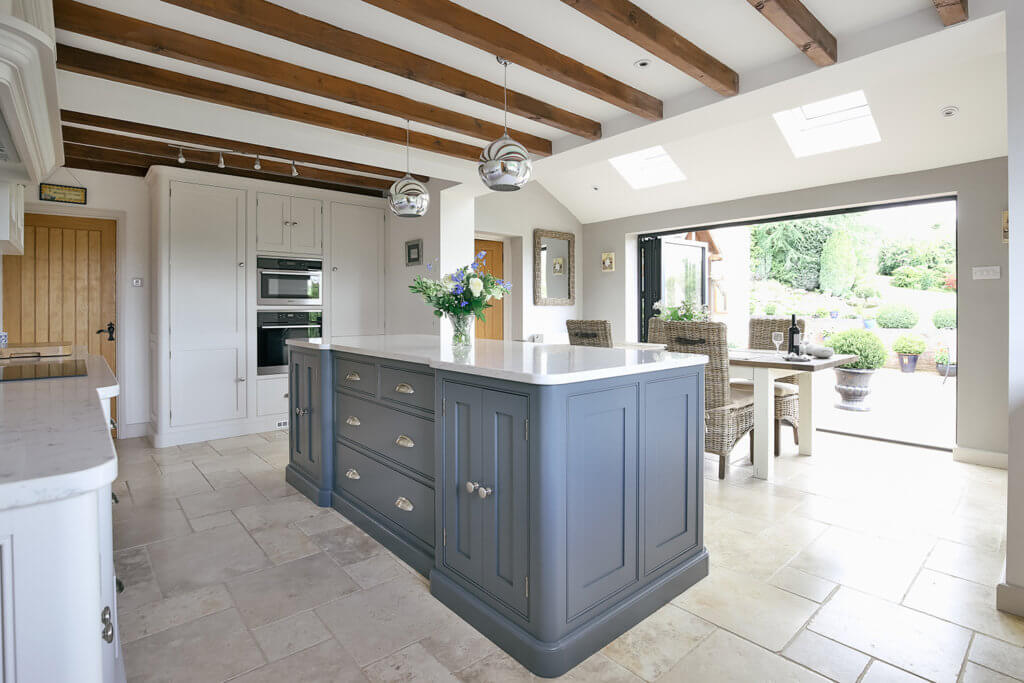 Come and visit Stone and Chrome

The above images and information can only provide a brief glimpse of how wonderful these work surfaces are. We would love you to visit Stone and Chrome's Camberley showroom so that we can show you some examples of these products in person.
So why not get in touch with us to arrange your visit to Stone and Chrome, and take the next step in your journey towards your dream kitchen?