Do you love your kitchen? 
How many of us can answer that question with an immediate, heartfelt "yes"? Chances are there are some aspects you would like to change if you could? Maybe also some features that now no longer meet the needs of you and your family, and others that you really don't like at all.
So if you have the opportunity for a new kitchen, it is definitely an opportunity worth taking. And if you are going to have a new kitchen, our advice would be to get the best kitchen you possibly can. 
Think about it. The kitchen is the hub of the home, and one of the rooms that everyone in the family spends a lot of time in. Wouldn't it be great to have a space that is custom designed for you and your family. And the more luxurious the better! 
Imagine having a luxury kitchen that ticks all the boxes. A kitchen with the stylish design features you love and all the latest state of the art equipment that you really want. One that has comfortable and multipurpose living space as well as clever storage for everything you need. Overall, a kitchen where you actively enjoy every minute you spend in there.
Let's take a look at three of the features you might want to include when planning your new luxury kitchen:
Bright and airy living space
Whatever the size of your kitchen, aim to make it as multifunctional as possible. Kitchens are no longer just about food preparation but also about living, dining and entertaining in style. Make the most of every inch of space to create the heart of your home that you will be proud of.
As well as layout, also enjoy curating your kitchen space so that it reflects and breathes the personality of your and your family. Tastefully displayed artwork can add the perfect finishing touch to your new luxury kitchen, and open shelving enables you to showcase special and meaningful items such as books, ceramics and other ephemera.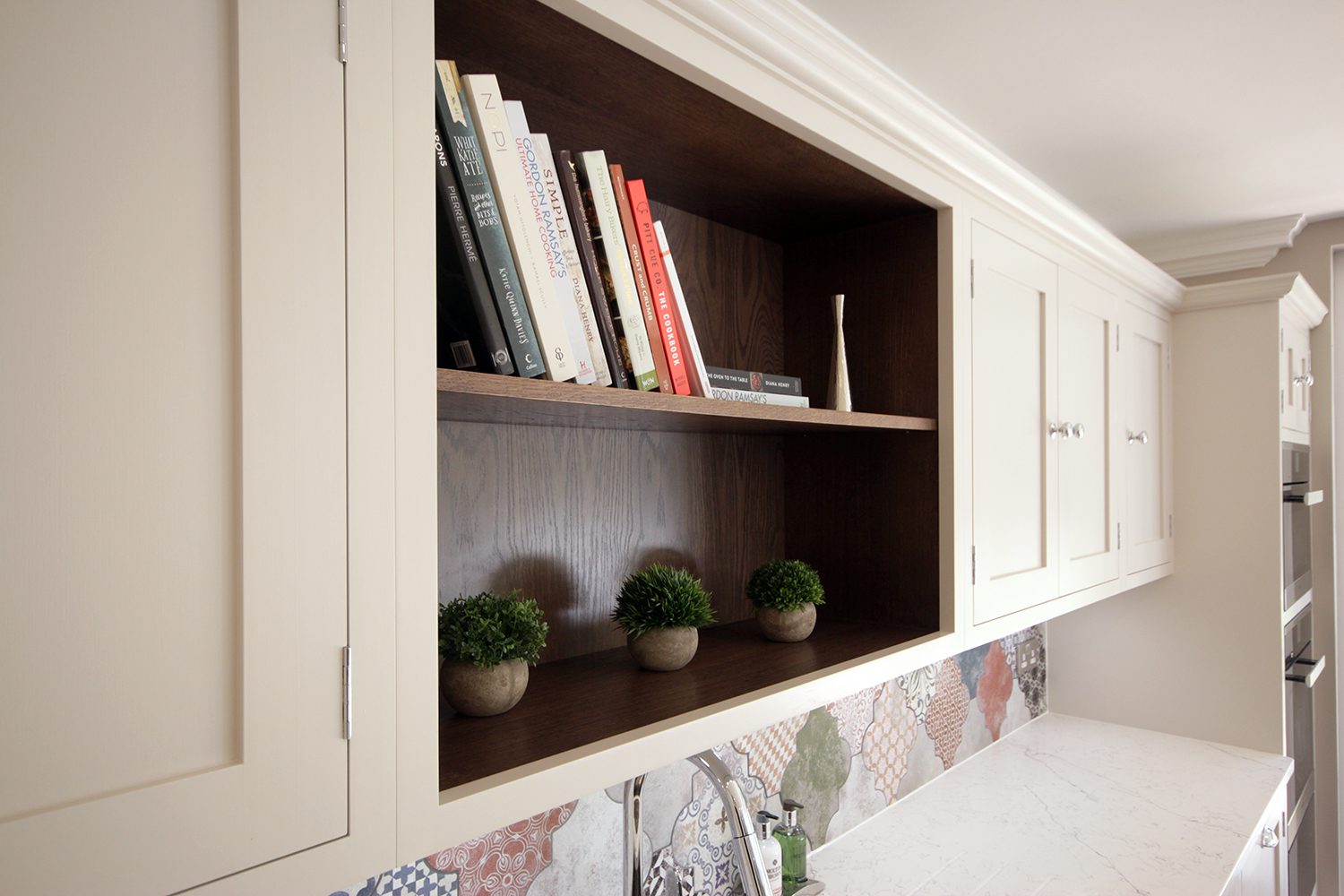 Concealed storage
Apart from the visible, curated storage, a helpful idea for a luxury kitchen is to conceal as much of the other storage as you can. In our recent article Beautiful bespoke kitchen design ideas to inspire you we looked at some of the amazing pantries and larders that Stone and Chrome have created for our clients.
Or you may prefer to install a fabulous standalone centrepiece item, such as our Griffith larder shown below, with bifold doors at each side.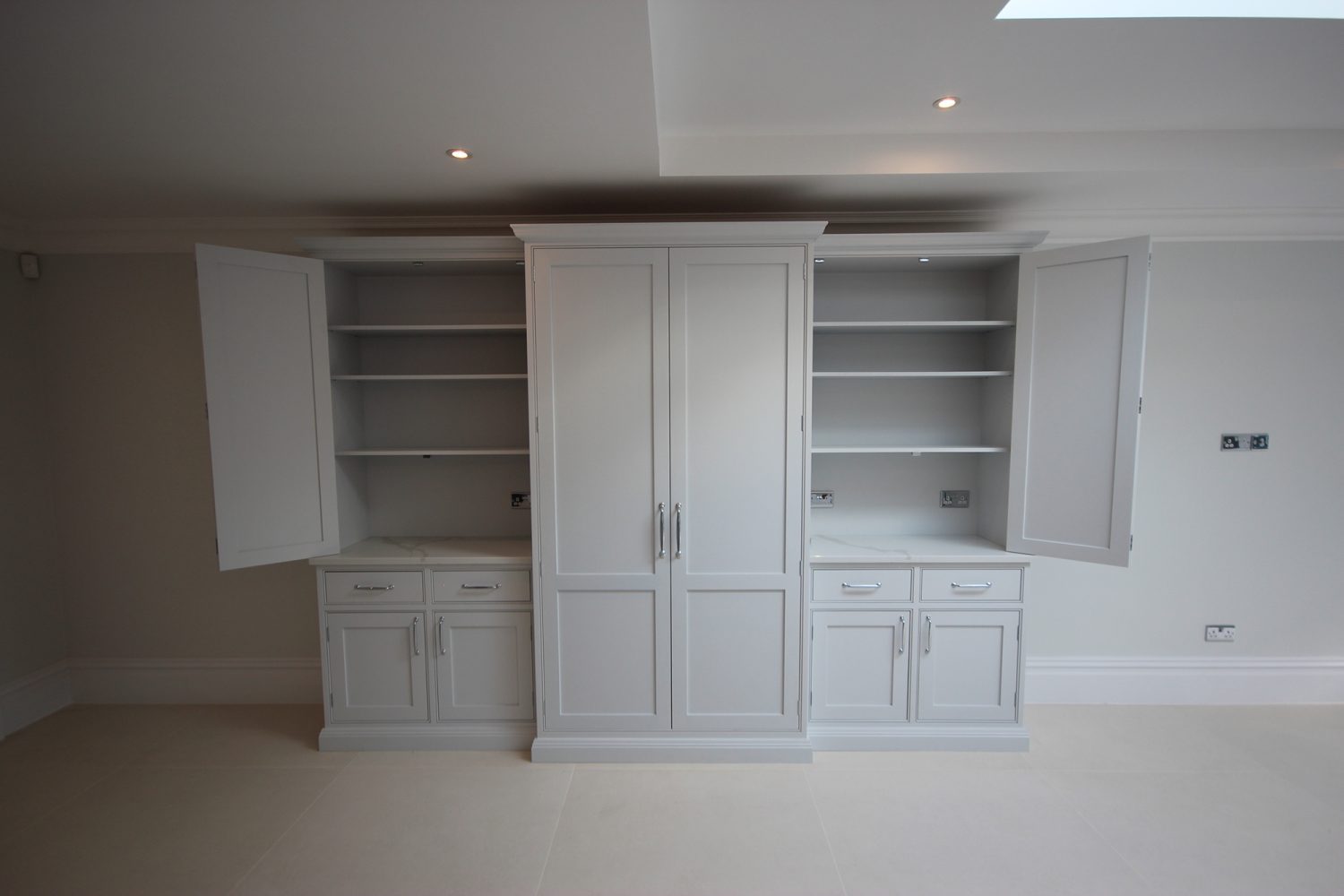 At Stone and Chrome we love creating additional bespoke areas such as utility rooms and boot rooms. Both of these are very on-trend, and will also help to keep the rest of your kitchen clean, uncluttered and beautiful.
Better still, you can combine stylish design with concealed appliances for an even more streamlined look, such as the concealed washing machine and tumble dryer shown below.
Natural materials
At Stone and Chrome, natural materials are both our passion and our speciality. We love natural stone worktops, hand painted wooden cabinets, and metallic fixtures and fittings. To name but a few. 
There is also a wonderful synergy between natural materials and high end, leading edge technology. For example, the Quooker Flex tap – shown below in gleaming chrome – is a high tech tap that provides cold, hot and boiling water from one single tap. The Quooker Flex also has a flexible pull-out hose for extra reach in the sink. 
All in all, the combination of luxury natural materials and the very best of new technology will ensure that not only will your new kitchen look amazing, but it will also be highly functional and a joy to work with.
So if you are in the market for a new kitchen, don't settle for second best. Let Stone and Chrome help you to create a luxury kitchen that really will be a dream come true.
Start by arranging a visit to Stone and Chrome's Camberley showroom, and see the magic start to happen!