Money, time, space. How we always wish for just that little bit more! Well, at Stone and Chrome we can't promise you more money or time, but we can certainly help you with space.
Perhaps the title of this article should actually asked whether you would like a little room in your kitchen. Because that is one of the wonderful kitchen design options that Stone and Chrome can offer you. Which means that as well as our fabulous kitchen storage solutions, we can incorporate a separate room either within or leading off from your kitchen. A room which could just be the answer to all your storage needs.
Let's take a look!
Walk-in pantry
Pantries are really on trend at the moment! During lockdown, many newspapers and magazines featured articles about pantries being a lifeline. The perfect way to store the extra supplies needed when doing less shopping trips during lockdown. Then more recently, images of a hidden walk-in pantry in Canada have gone viral. It has been described not only as a dream pantry in terms of storing kitchen essentials, cooking appliances and food stash, but also the ideal place to hide away from everyone!
We are certainly immensely proud of our very own walk in-pantry, pictured below. Painted in soothing  Farrow & Ball's Studio Green and featuring both our fabulous gin dresser unit and a stylish Caple wine fridge, we agree that it's the perfect place to hide away. 
As well as being an incredibly practical storage solution of course!
Bespoke boot room
Everybody needs a boot room. Although we are currently in the middle of summer, just try to visualise the colder damper months, and all those coats and boots you need to find a home for. You don't want them all cluttering either your hall or kitchen, but need them close to hand.
So we have a couple of ideas for you.
The first is a small bespoke handmade boot room, as pictured below. We can easily fit this beautiful storage facility into an area of your choice. But it boasts a wealth of practical storage capacity including hooks, shelves, cupboards, drawers – and even a comfortable place to sit whilst you wrestle to get those boots on and off. The example below is painted in Farrow & Ball's distinctive Stiffkey Blue and features beautiful satin brass handles from Armac Martin.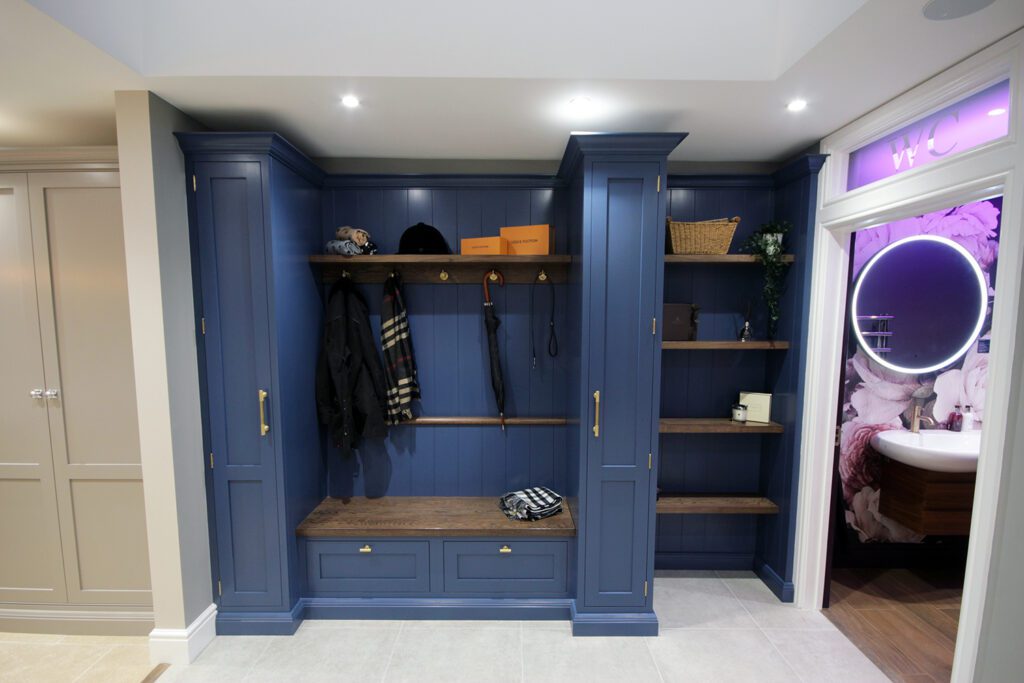 Combined utility and boot room
Perhaps you love the bespoke boot room but just need that bit more space for "stuff"? And perhaps also for  pets as well? Particularly as autumn and winter approach it would be so good to have a separate space for the messier elements of your household!
So take a look at the images below which show our wonderful combined utility and boot room. Not only does this incorporate all the advantages of our boot room but also has plenty storage and working space for practical household tasks such as laundry. The fabulous tumbled limestone flooring is both stylish and durable. Perfect for all those muddy boots. Plus the dogs of course!
You can see more images of our combined utility and boot room in our kitchen gallery.
So if you need a little more room in your kitchen then why not let Stone and Chrome make a little room to help you? Call or email us to make your appointment to visit our Camberley showroom. We look forward to meeting you and helping you create the space that your home needs.