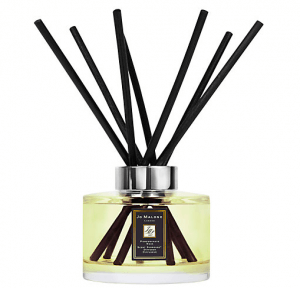 Today's topic is about baths and showers.   But before we address that, just a reminder that we are running a very special offer during the month of October in which you could win a lovely Jo Malone room diffuser!   Don't miss out!    Click here for more details of how to apply.
Back to baths and showers.   One question we sometimes get asked about bathroom design is whether or not to include a bath in a new bathroom.   And – like most answers to most questions – it depends!
Baths or Showers?
People can often be polarised into the bath or shower camp.   But is one better than the other?  Research last year by The Huffington Post came up with the following facts about showers and baths:
Showers are better for your skin than baths (too long lying in a bath can dry your skin)

Showers and baths are equally good at getting you clean

Showers use less water so are more environmentally friendly

Baths and showers can both make you feel good
Based on the above evidence, The Huffington Post concluded that on balance showers are better than baths.  However, the topic was re-examined this May by an article in Man Repeller that indicated not only that baths are still very popular out there but that there may be a growing trend in some quarters to prefer baths over showers.
Stunning Showers
So where does this leave you if you are planning a new bathroom?   If this is not your main bathroom – for example, is an ensuite bathroom or a guest bathroom – you may want to consider leaving out a bath.  This will enable you to make more use of the available space for a high-end luxury shower room or wetroom without trying to cram too many items into that room.
The example below is taken from a gorgeous ensuite tiled completely in Castiel Carrara marble.  The spacious walk-in shower features LED heated seating.  A stunning shower like this is much better than trying to fit in a smaller shower and a bath just for the sake of having one!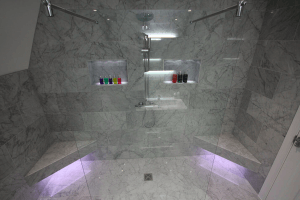 Beautiful Baths
However, it is always good to have a bath somewhere in your home.  Whatever your own personal preferences, remember that at some stage you may want to sell the home that you are in; and if there is no bath at all in the house then you could be at a considerable disadvantage in a buyer's market.   
So if you are refurbishing a main bathroom or large ensuite with plenty of space, then why not consider making the bath the centrepiece of the room?  Whether this is a built-in or freestanding bath you can achieve spectacular results.   We love the example shown below which features a beautiful cast iron bath painted in Farrow & Ball Pavilion Gray, coupled with brassware from Perrin & Rowe.
Whatever your preference for baths or showers – and whatever your bathroom refurbishment needs why not come and visit our Camberley showroom to see what we can do for you?   Our showroom has full sized wetroom, steam room and bathroom displays, fully tiled with natural stone.   You will be able to get a good idea of what kind of products would work your new bathroom and will help to make it the special place you want it to be.   
We also have years of experience in designing high-quality bathrooms and use state of the art technology during the design process so that you can be confident that everything will fit, and can see exactly how the finished bathroom will look.
So do come and see us!  We look forward to meeting you and helping your new dream bathroom become closer to reality.