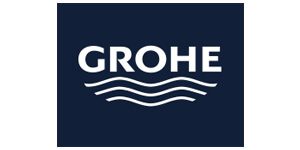 Grohe
Click here to download the range of Grohe brochures.
"There is nothing permanent except change." At Grohe we live by this old adage. For us, the urge for improvement and the rigorous development of innovation is a solidly established and resolutely pursued company principle. Since our foundation in 1936 we've invested tirelessly in new ideas, new technologies and surprising new solutions – always with our Grohe values and our customers' needs firmly in view. We can't help always being a little bit different. And in dynamic times this is our guarantee of enduring market leadership.
Our core competence is producing high-quality taps with design aspirations to match. We have now broadened our aim and put together integrated bathroom solutions for our customers. These are a fusion of our decades of experience in the sanitary sector with outstanding Japanese expertise in ceramic production to create six stylishly co-ordinated bathroom ranges.
Read this brochure and find out more about GROHE's debut as a supplier of exclusive bathrooms. Despite many new aspects, our Grohe company values of "enduring quality", "leading technology", "outstanding design" and "environmental responsibility of the highest order" are the key principles guiding our thoughts and deeds.
Enjoy this new evolution of our traditional strengths – unmistakably imprinted with the Grohe DNA – as we write an impressive new chapter in our success story. on to new shores – for even greater delight in water.