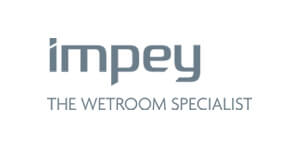 Click here to view and download the Impey range of brochures.
Impey – The Wetroom Specialist
Impey was formed in the late 1990's by the Grave family, and has grown into the UK's leading wetroom specialist. Based in Somerset, Impey pioneered the development of wetroom floor technology and are famed for creating the first wetroom floor former with a built-in gradient, which is used in the Healthcare market as a Level-Access floor and the Retail market as a luxury wetroom.
In May 2010, the family wished to divest the company and it was acquired by Coram International B.V. which is a Dutch based multi-national with interests throughout Europe in the bathroom and showering market.
All products are created by our highly skilled teams of designers, combining innovative designs and the highest quality materials. All backed up by the established and recognised Impey brand:
• The UK's leading wetroom specialist
• Over 250,000 successful installations in the UK
• Lifetime Watertight Guarantee (on selected products)
• Full technical support and training for installations
• Dedicated research and development team
• Certified with Investor in People and to ISO 9001: 2008 and ISO 14001:2004
 Impey Cares
In 2012 Impey launched the Impey 'Cares' scheme to help raise awareness of the difficulties disabled people face in obtaining funding for accessible showering facilities for their homes as a result of government spending cuts. We want to help.
Impey 'Cares' donates healthcare showering facilities to those with mobility issues who have been refused funding through a Disabled Facilities Grant. We have also devised a new Charter calling for increased awareness and action surrounding these issues and for funds to be ringfenced by the government so that people in need actually receive the funds allocated, rather than them being re-deployed to other areas of social care and support.