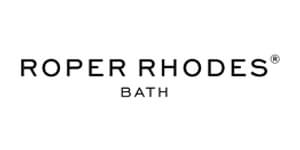 Click here to view the complete Roper Rhodes catalogue.
Roper Rhodes – The Company
Established in 1979 and still a family-owned company, Roper Rhodes has over 35 years experience of creating beautiful bathrooms.
Based in beautiful Bath, a city with a strong association with bathing since Roman times, perhaps our continued successful growth is no coincidence.
The business has a very strong value set too and, through the Roper Rhodes
Foundation, it is a dedicated supporter of charities and the arts.
The Best of British
While our designs draw on influences from around the world, there is always something distinctly British about a Roper Rhodes bathroom. Perhaps it's because our design studios are based in Bath and the strong association we feel with the city. Or maybe it's because we understand the British obsession with the home. But to be honest we feel it's something a little more elusive than that. It's the
unmistakeable feeling of quality and understated elegance whenever you use our products. That's what really sets Roper Rhodes apart and makes us the quintessentially British bathroom company.
Our People
Take nine designers a crack team of marketers years of experience and thousands of original ideas. What do you get? This bathroom book – packed full of beautifully conceived and exceptionally finished bathroom products.
With Roper Rhodes, form and function sit perfectly side by side. All our products are built to last and designed to delight!And it's all thanks to the guys above it's their job (dare we say obsession?) To design bathrooms that are out of the ordinary – and that really stand the test of time