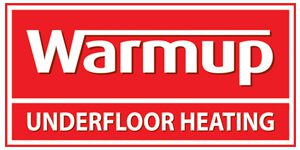 Who are Warmup and what do we do?
Warmup is a certified ISO 9001:2008 UK based manufacturing Plc creating and delivering underfloor heating solutions (electric, hydronic and hybrid – a mixture of both). We have sold more than 2.1 million systems in over 60 countries in over 20 years of trading. We have subsidiary operations in 11 countries and licensed trading partners in all others.
The combination of Warmup's heating wire with fluoropolymer coatings (on the inner wires and the outer protective jacket) and 3iE Energy-Monitor Thermostat, is patented, trade mark protected and world-leading.
We began as, and remain a knowledge and research driven UK business, making proprietary, world-leading products. Warmup has a tradition for quality and innovation. We constantly update and add to our product range to deliver the absolute best products. Warmup is the only underfloor heating company whose products are European compliant, CE marked and accredited by more independent institutions than anyone else in the industry, giving you and your customers security and peace of mind.
Particularly for our trade professional customers, the quality and flexibility of our products, customer support pre and post-sales, technical assistance by telephone 24/7/365 and online tutorials, will help you through each stage of your project. Our Lifetime Warranty reflects our confidence in our research testing and in our operational experience.
We offer the best system for your needs, optimally designed and perfectly commissioned to work in exactly the way we advised you beforehand that it would – for life. Really, that is the Warmup guarantee.