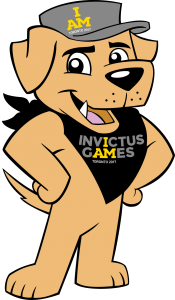 Today the Invictus Games in Toronto draw to a close.  This annual international sporting event is spearheaded by Prince Harry and its aim is "to use the power of sport to inspire recovery, support rehabilitation and generate a wider understanding and respect for wounded, injured and sick Servicemen and women."   Many other organisations – such as Help for Heroes – have also been instrumental in supporting the Games.  The event has been a resounding success and appealed to all ages; including children who were delighted by this year's mascot VIMY – pictured here – a cartoon-style yellow Labrador.  
The Games have been inspirational but once they are over, everyday life carries on as usual for all those who have taken part.  Their wounds, injuries or sickness will have a significant impact on their lives every single day.  Many will need to have had their homes especially adapted in some way to accommodate their physical condition.  One vital aspect of this is the bathroom.
Adapting your bathroom
Many of us will identify with the need to adapt a bathroom to be more accessible for a family member who is for any reason no longer able to use standard facilities.  At Stone and Chrome we would be happy to offer help and advice about how to adapt an existing bathroom – or even create a new one – to make it more accessible for either yourself or your loved one.  
We also believe that bathrooms can be both practical and beautiful.  Just because a bathroom needs to be accessible does not mean it has to look utilitarian!  We offer below a few ideas that you could incorporate into a bathroom that would help to make it distinctive and stylish as well as easily accessible for those with physical impairments
Walk in shower
A walk in shower is easy to get in and out of, and the one below also features heated seats that are LED underlit.  The shower is part of an attic master en-suite which goes to show that we are able to create a beautiful bathroom in whatever space you have available!   We also love our Premium Latte Travertine tiling in this one, which is complemented perfectly by Farrow & Ball Mouse's Back paint.
Wetroom
Seating in the shower can be a real bonus for those who are unable to stand for long.   We created this beautiful walk in wet floor shower with heated seating which would be ideal for anyone with any kind of physical impairment to use.  The entrance walls to the shower are tiled with our travertine split brick and this looks wonderful with our light honed limestone for the floor and bathroom walls.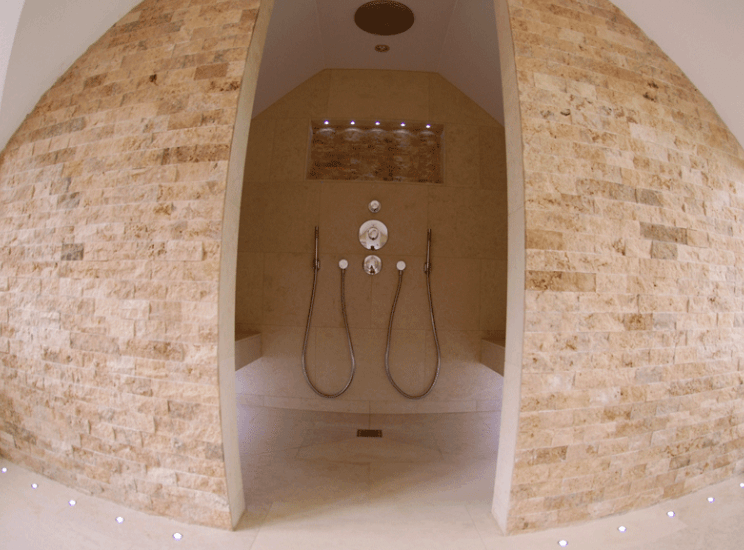 Steam shower
The steam shower shown below is part of a luxury bathroom that believe it or not was once a wheelie bin storage area – and the arched window in the image was once a doorway into the garden.  Steam showers can be of great physical benefit in terms of improving circulation, easing aching joints, and cleansing the muscles.  The shower below again features seating, enabling someone to be comfortable whilst they benefit from the shower.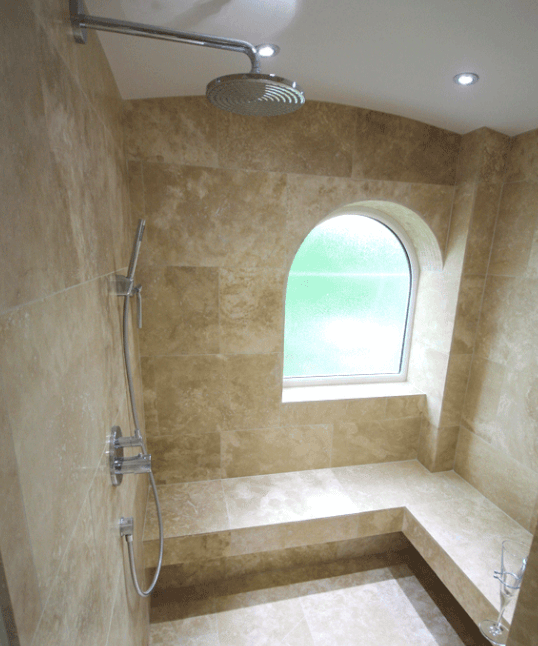 Whirlpool bath
The above bathroom also features a whirlpool bath which can be incredibly therapeutic – helping to soothe aches and pains and stimulate the circulation.  Whilst getting in and out of a bath can be difficult, there are various aids available which could enable your loved one to enjoy the benefits of a whirlpool bath.    
Find out more!
We hope that the above ideas have given you food for thought about adapting or creating an accessible bathroom.  To see some of our bathrooms for yourself, why not make an appointment to come and visit us at our Camberley showroom?   We'd love to welcome you and help you plan your perfect accessible Stone and Chrome bathroom!