So tonight is the night!   At around 9:30pm – in between Gogglebox no less – we will be put out of our anticipatory misery and see the John Lewis Christmas ad on television for the first time.  If you can't wait that long don't worry:  it is  also available on Youtube and on the John Lewis website during today.
This year's theme is a tale of friendship between a seven year old boy called Joe and the noisy monster who lives under his bed – Moz.  This monster by the way is not one to be scared of – so children will love the advert just as much as we adults do! 
The background music – always iconic – is provided by Elbow covering The Beatles song Golden Slumbers.
So why is the John Lewis Christmas ad so popular?  It is not the only big Christmas advert.  Marks and Spencers, Argos and Aldi – to name just a few – also run major Christmas campaigns with entertaining and memorable adverts.  But the John Lewis ads seem to have a particular poignancy that wins hearts and minds in the run up to the festive season.
Find your happy place!
Perhaps it's that the John Lewis ads tap into our childlike desire for the perfect Christmas: that wonderful cosy feeling of being surrounded by loved ones, feeling protected and that all is well with the world.  Although we know that life is often sadly not like that, we allow ourselves to be transported back to that deliciously innocent happy place just for a little while.
As adults who face the daily struggles of living in this increasingly bewildering world, we need to have a happy place to go to when the going gets tough:  a retreat, a safe room.   Perhaps the best gift you could give to yourself and your family this Christmas is to make plans for such a place in your home; somewhere that you can run to when you need to escape for a while and recharge your batteries.    Somewhere that, just for a while, enables you to experience that sense of cosiness that the John Lewis adverts bring.
A new bathroom for 2018?
As you begin the Christmas preparations why not look a bit further ahead, into 2018, and decide to give yourself the gift of a new bathroom during the year?  It really would be a gift that lasts and lasts.  Life does not get any easier, and you owe it to yourself and those you love to make your home a haven where you can all feel protected and can enjoy quality time both together and on an individual basis.
Take a browse through our gallery of beautiful bathrooms to get an idea of the kind of bathroom you could have in your home. Imagine yourself relaxing in a luxurious bathroom such as the one pictured below.  Whether you prefer to bath or shower, to have silence or music or your favourite television programme; the choice is yours.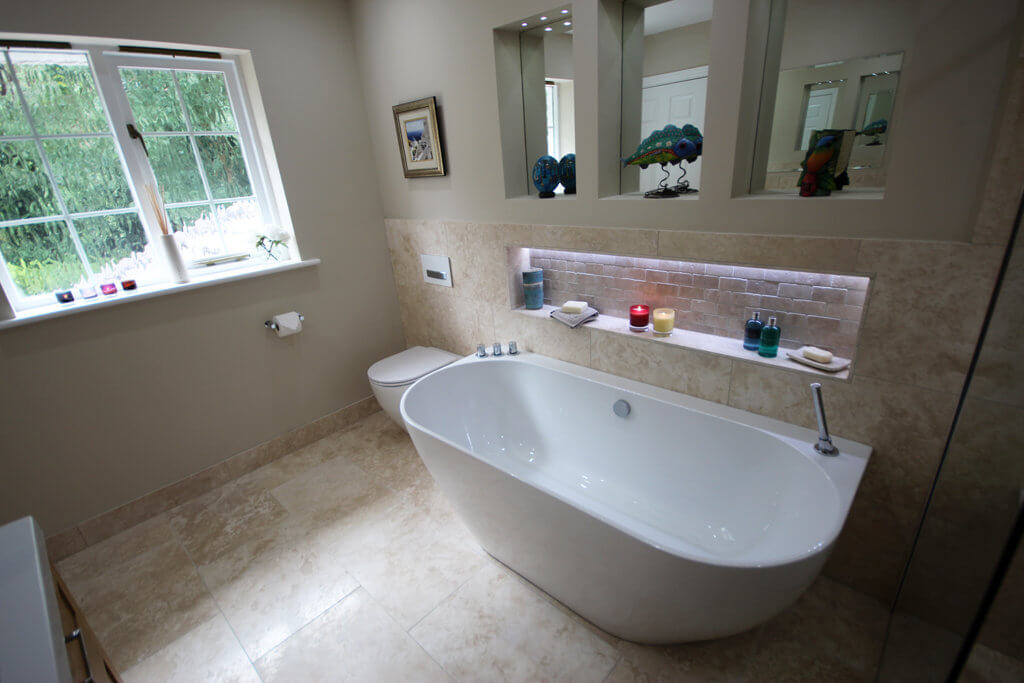 Let Stone and Chrome make it happen!
Enjoy Joe and Moz today!  Then if you want to create a little corner of perfection in your home why not come and visit us at our Camberley showroom?   We have a wonderful range of full-sized bathroom, wetroom and steamroom displays, all fully tiled in our trademark natural stone.  You will be able to see first hand the quality of our workmanship and get a good idea of how beautiful a Stone & Chrome bathroom could look in your home: and how good it would make you feel to spend time in there!
We look forward to meeting you and helping you to make exciting plans for 2018!