In all the recent hype about Black Friday and Cyber Monday you may be forgiven for not realising that today is Small Business Saturday.   
So what is Small Business Saturday?   It's another import from the US : an American shopping holiday held on the first Saturday after US Thanksgiving during one of the busiest shopping periods of the year.  It started in the USA in 2010 as something of an antidote to the ever-growing Black Friday and Cyber Monday.  In contrast to the focus on big retail outlets and e-commerce businesses of last weekend, Small Business Saturday encourages shoppers to support small local businesses.
Why Small Business Saturday?
Small Business Saturday has been running in the UK since 2013. Although it is a registered trademark of American Express it is a non-commercial campaign.  Its aim is simply to highlight the success of small businesses and encourage consumers to support the small businesses in their communities.
There are currently 5.5 million small businesses in the UK.  Last year they contributed over £1.8 trillion to the economy and employed 16.5 million people!   Small businesses harness innovation and entrepreneurialism on a daily basis in these increasingly uncertain economic times.  But to continue to flourish they do need support, and Small Business Saturday is just one small part of encouraging people to that.
Small is beautiful
At Stone and Chrome we are a small business that likes to think big!  We have been established in the Camberley area for over 25 years and have built up a well-deserved reputation for distinction and style.  We use state of the art design techniques to create the perfect bathroom template for your home, then supply and install top quality fixtures and fittings, all finished off with our trademark natural stone.
One of the many strengths of small businesses is that they are able to offer clients a personalised service and Stone and Chrome is no exception.  At every stage of the design, supply and installation process we take the time to ensure that your needs are being met.  We can also create bespoke products to fit your particular space constraints.  In our bathrooms as well as our business, small is beautiful!
The images below show just some examples of our work.  We hope that they convey something of the passion and style that are so important to us at Stone and Chrome.  Whatever your requirements, your budget and your space constraints we can design the perfect bathroom for you.  For more ideas and inspiration why not browse through our gallery here.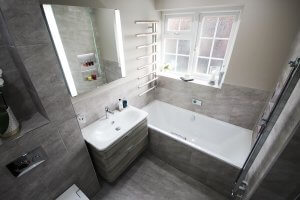 Come and visit us!
Stunning though some of our photographs are, nothing compares with seeing our products for yourself.  So if you are considering a new bathroom in 2018 then please do visit us at Stone and Chrome.  We serve clients in the clients in and around Surrey, Hampshire and Berkshire.  We would love to welcome you to our Camberley showroom, where you can see a range of bathrooms and wetrooms and catch a glimpse of how beautiful a Stone and Chrome bathroom could look in your home.
Christmas Giveaway!
At Stone & Chrome we also have a monthly giveaway, and with Christmas just around the corner we are  giving away a stunning Marks & Spencer Berrington Collection Christmas Hamper worth £150!    The hamper will be delivered free of charge to the lucky winner in plenty of time for Christmas.  The competition is easy and free to enter via Rafflecopter here .  But hurry!  This month's giveaway ends at 12:00 AM Monday 18th December, so don't miss out – get your entries in quick!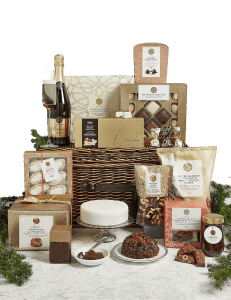 We look forward to meeting you in our Camberley showroom very soon, and showing your support for a small business that likes to think big!