If you're planning a new bathroom for your home in 2022, one option you may be considering is a wet room. But would it work for you?
In this article we explore:
What is a wet room.

The advantages of wet rooms.

When a wet room may not be the best choice for you.
What is a wet room?
A typical wet room has a walk in shower as its main feature. There is no full shower enclosure or shower tray, although there may be a glass screen separating the shower area from the rest of the room.
The image below shows a porcelain tiled family wet room. It features a shower with heated seating and both an overhead shower and a hand shower. There are also two inbuilt storage recesses with LED lighting.
Ironically, the design of a wet room is likely to reduce overall wetness! In older bathrooms moisture and mould can build up and water may start leaking into other areas. But in a well-designed wet room, the floors and walls are specially sealed to stop this happening. Most wet rooms also have a sloping floor to guide water towards a drain into your waste water system.
In the bathroom pictured, the stunning shower area is separated from the rest of the bathroom by a glass screen to keep everything else as dry as possible while the shower is in use.
The advantages of wet rooms
As well as looking extremely stylish and giving you a great deal of flexibility over the style of your bathroom, there are three main practical advantages of wet rooms:
Economical on space
A wet room can be installed in a very small bathroom space. This makes it the ideal choice if you want something that is very contemporary and will improve the ambience of your home, but don't have much space to play with.
The image below shows a small but luxurious family shower room. Not only was the overall space small, but the pillars either side of the shower door were structural and couldn't be moved. Nevertheless we managed to create a fabulous shower room using an Impey wet floor system, accent storage recesses and heated seats. The seats are also underlit with LED's for the perfect finishing touch.
Accessible to all
Another key advantage of wet rooms is that they are accessible to all. So whether you have young children and are looking for an alternative bath time option, or family members with limited mobility, a wet room could be the answer.
The linear walk through shower in the limestone bathroom pictured below allows plenty of space for people to get in and out, with helpers if needed. There is also seating for those who prefer to shower sitting down.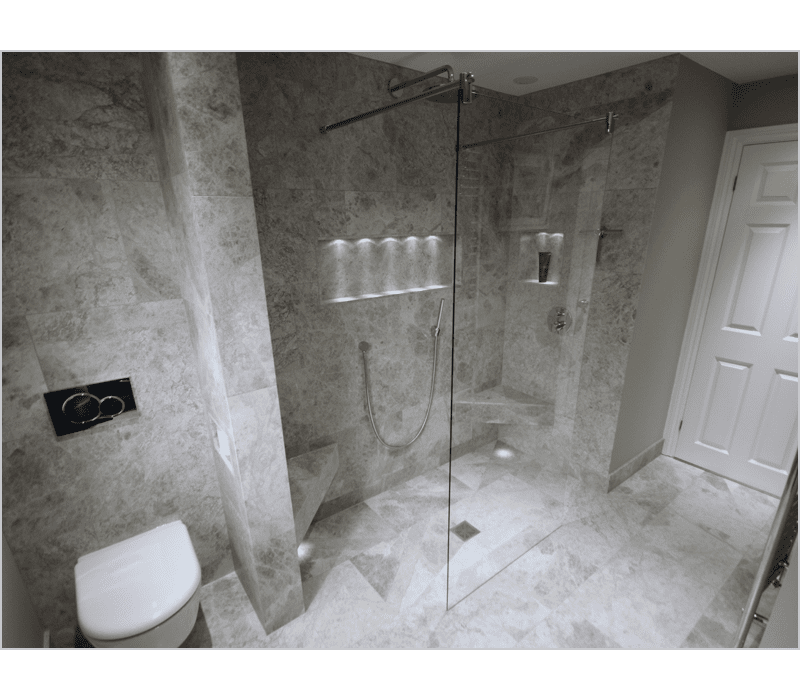 Improves the quality and cleanliness of your home
Wet rooms are much easier to keep clean than traditional bathrooms as there are far less nooks and crannies to worry about. Also the sealing technology and drainage systems that are used to create a wet room will eliminate damp and mould.
Looking at it in more structural terms, a wet room can also help to preserve the value of your home because it increases the waterproofing in your home, making it much less vulnerable to leaks and water damage.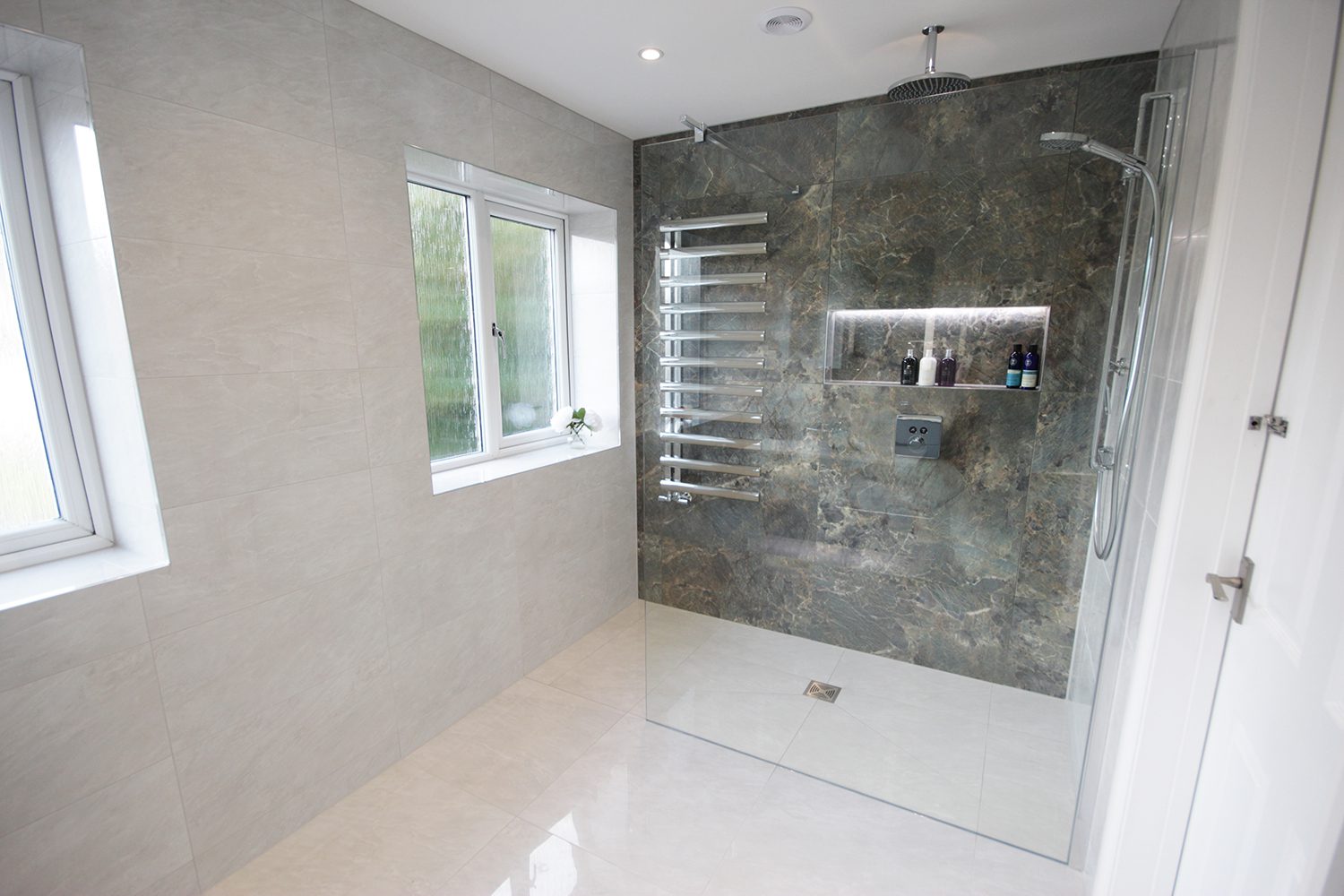 When a wet room may not be the best choice for you
After reading the above, you may be excited about getting your new wet room installed, which is great news! But people do ask whether there are any disadvantages of wet rooms.
The only one that we can really think of is that if you only have one bathroom, you should give careful consideration as to whether you want to transform  it completely into a wet room. If you were to sell your home in a few years'  time, and don't have a bathroom with a bath, this could possibly be off putting to some buyers.
So if you want a wet room as your main bathroom, it may be worth looking at designs that feature a wet area as just one part of a bathroom but still leave room for a bath as well. The example below shows a stunning master en-suite that has a large walk-in linear shower as well as a large natural stone freestanding bath. The best of both worlds! 
We hope that this article has helped you learn more about wet rooms and decide whether a wet room could work for you. To find out more, and see some wet room designs, why not come and visit Stone and Chrome's Camberley showroom? We'd be happy to discuss your wet room ideas, and help you to start planning your brand new bathroom.