Every January in the USA there is KBIS: The Kitchen and Bathroom Industry Show.  KBIS has been running for 50 years and describes itself as " the voice of the kitchen and bath industry".
The show aims to showcase the latest product innovations and trends from leading kitchen and bath brands.  We thought you'd like to see some of the bathroom products highlighted at this year's show in Orlando Florida!
Taps
We're putting this category first because an innovative tap by Kallista won not only the Best of Bath: Gold award in KBIS 2018 but Best of Show!  This 3D-printed Grid tap design is very contemporary and on trend and would give any bathroom a very distinctive and high tech finish.
Another tap that we really like is the one below from Brizo.   It has a rich gunmetal finish which could add an unusual twist to many different styles of bathroom.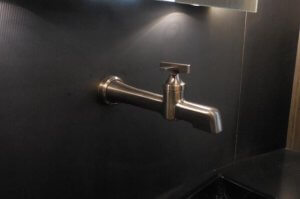 Baths
There were also some wonderful baths on display at KBIS.   The one pictured below is from Toto.  It very much embraces the growing trend for recreating a spa-like feel in your bathroom.  The rounded design of this particular bath would contour to your body perfectly to give you a glorious cosseting experience: just perfect for these cold dark winter nights!
Another bath that we love is the one below from DXV.  It has an inbuilt waterfall component, which would be perfect for massaging tired shoulders at the end of a busy working day.   Like the Toto bath above, it is more than "just" a bath: rather it is part of an overall pampering experience that we all deserve.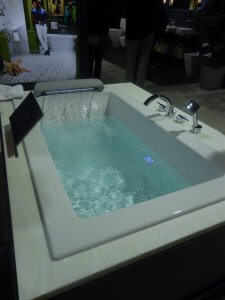 Vanity Units
Regular readers will know that at Stone and Chrome we love our vanity units.  We have featured some beautiful ones in this column – some from other manufacturers and some that we have created ourselves.   The DeKauri range by Consentino takes the vanity unit concept one step further by fully enclosing different bathroom elements to create freestanding bathrooms in a credenza (Italian cupboard).
The images below show open and closed versions of an enclosed bathroom.  It is crafted from 50,000-year-old Kauri wood  and was a real hit at KBIS, winning Best of Bath:Silver.   It also features Dekton surfaces, Fantini Rubinetti taps, and lighting from Juniper Design.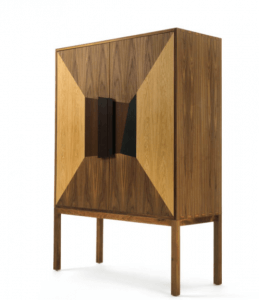 Tops and Tiles
With a Stone and Chrome bathroom, the distinctive finishing is all important.   We use a range of high quality natural products for our tiles and surfaces, so were pleased to see the interest that the following two products attracted at KBIS.
The first image below shows a Neolith's soft Retrostone Terrazzo surface, and the image below that highlights Kelly Wearstler's graphic Gem encaustic tile design.   
The natural colours and composition of both of these items would bring a soothing yet sophisticated feel to any bathroom.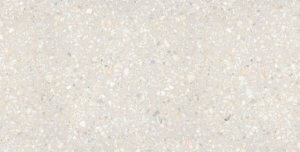 Mirror mirror on the wall!
For those who love their technology we reckon this is a winner!    The image below shows the a high tech mirror from Verdera.   Not only does it look stunning as a mirror in its own right, but it has connected voice-activated features too.  These can sync up with either the related app or your phone or Alexa: or any combination.  This means that you can  adjust your mirror lighting by using voice commands: gaining the best lighting effects at any time of day or night.
So if you are thinking about a new bathroom in 2018 we hope that these new products have given you lots of ideas!   To discuss your ideas and see how  a look at how beautiful a Stone and Chrome bathroom could look in your home why not get in touch with us to plan a visit to our Camberley showroom where you can see for yourself some of our wonderful designs?  We look forward to meeting you!