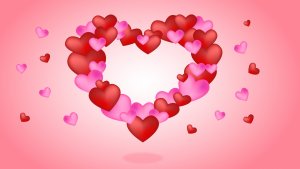 It can't possibly have escaped your notice that it's Valentine's Day this week!   Shops are full of cards, balloons, chocolates, flowers and all the other commercial trappings of this special day.
How did Valentine's Day start?
The origins of Valentine's Day are a little unclear: the Catholic Church recognises at least three different Saint Valentine. However, a common theme is that they were all martyred and all played a significant role in their lives in terms of defending the right to love.
The tradition of celebrating Valentine's Day dates back to the year 496 and is thought to link to the Roman festival of Lupercalia. This took place in the middle of February and marked the official start of spring.  
Valentine's Day and Lent
You may also be aware that this year Valentine's Day falls on the first day of Lent. So if your loved one is planning to give something up for Lent – such as wine or chocolate – then do bear that in mind when planning your Valentine's celebrations!  
Make Valentine's Day last
But in many ways it is very fitting that the two timings coincide. Rather than just declare your love and undying affection on Valentine's Day, why not plan to extend the concept during Lent?  The trend to do positive things during the forty days of Lent instead of – or as well as – giving things up has been gathering momentum over the last few years.  For example, there is now an online community called 40 acts that encourages people to take time during Lent to "give back, do good and live generously".
Something special every day
At the very least, during Lent how about doing a little something special for your loved one every day?  It does not have to be anything expensive or complicated, just a little token of appreciation every day. At Stone and Chrome our passion is for bathrooms, so here are just a few bathroom-related ideas that may help to get you started:
Ensure the bathroom is sparkling clean and totally uncluttered

Stock up the supplies of all their favourite bathroom toiletries

Run them a nice hot bath at the end of a busy day

Light some pretty candles to set an ambient mood

Make sure there are plenty of clean fresh towels available

Bring them a glass of something cold and crisp to enjoy in the bath

Set things up so that they can enjoy music or entertainment that they love

Keep children and pets safely out of the way so that they can enjoy some quality pampering time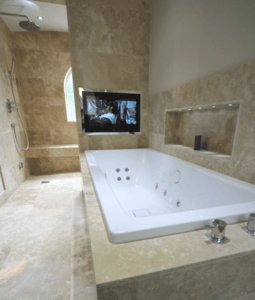 IOU … a new bathroom?
If you run out of ideas then why not write an IOU for something that you know they would really like? It may be something that is not possible right now but that you could plan for, perhaps later in the year. Maybe a weekend away, a special holiday, or some home improvements such as a new bathroom?
If you do decide to have a new bathroom during 2018 then we'd love to help make it perfect.  As a starting point you are very welcome to visit our Camberley showroom. We would be delighted to show you round and give you the opportunity to see first-hand our stunning ranges of bathrooms and wetrooms.  This week we have been busy putting up our new Laufen Bathrooms displays.  The image below shows a Val basin with Base furniture in textured Dark Elm, but there is a lot more to see!
We hope that you have a wonderful Valentine's Day and that you do manage to spread the love throughout the forty days of Lent.