So March is upon us and the snow is here!  Whether it is Beast from the East or Storm Emma or some other weather phenomenon yet to be named, here it is. Travel is disrupted, schools are closed, events are cancelled and there is a general feeling of limbo in the air.
So if you are snowed in why not have a nice relaxing day at home? It is a good opportunity to have a think about how you might improve your home over the next few months. To inspire you, we offer some snow-related ideas for transforming your bathroom!
A bath with a view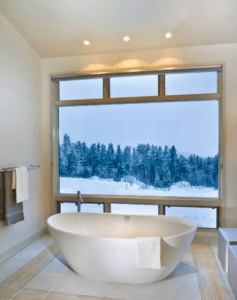 Imagine lounging in a lovely warm bath and looking at the beautiful snowscape outside. The perfect combination! Because, whilst everyone loves the look and the prettiness of snow, it can be rather unpleasant to be out in it for long. Much better to indulge yourself by being able to look at it but be warm and cosy at the same time.
Well we can't always guarantee snowy scenes but you can certainly replicate the experience of gazing out of your window whilst enjoying your bath. The image below shows one of our projects to install a master en-suite. It features a large natural stone freestanding bath from Clearwater Baths and also a large walk in drencher rainshower from Hansgrohe.  his stunning room is perfectly finished off with our bespoke stone surfaces, LED lit storage recess and Premium Silver Grey Limestone tiling.
An igloo hideaway
Where better to hide yourself away during a snowstorm than an igloo! Traditionally, igloos – or snow huts – have been used by different peoples as either temporary shelters or permanent dwelling places. So we thought why not create a shower in the shape of an igloo.
The image below shows a travertine tiled igloo-shaped walk in wet floor shower with heated seating.  What a beautiful place to relax whatever the weather!  
This wonderful master ensuite bathroom also featured another glorious window bath, this time from Castello. Another room with a view!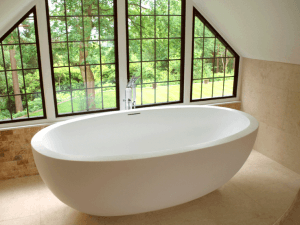 Steam shower
Another tradition of snowy climes is the sauna. Ideal for warming you up after a trek through the snow. Not only that but in countries such as Finland people will sometimes roll in the snow in between sauna sessions to stimulate the circulation.
The wonderful shower in our Castiel Carrara Marble En-Suite- pictured below – bears some resemblance to a sauna. It features ample seating so that you can sit and soak up the steamy atmosphere. The seating is further enhanced by LED lighting. So if you want to roll in the snow part way through, there is somewhere comfortable to come back to!
Wonderful white
Doesn't everything look brighter in the snow!  For those who like bright and gleaming, then a glossy white bathroom might be just the thing for you. Our family bathroom pictured below – is a perfect example of this.  It features a lovely Svedbergs Joy cast marble basin and overall has crisp clean lines for a minimalistic effect. It is simple yet chic.
The potential harshness of the white furniture is beautifully offset with white quartz tiling that complements this bathroom perfectly.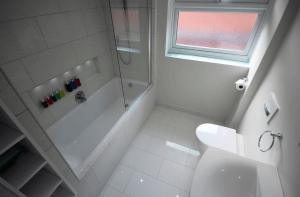 So whatever inspires you this snow day, why not use it as the basis for a bathroom transformation? Once the weather is better, why not come and visit us at our Camberley showroom? We have plenty of bathroom and wetroom displays to show you, and would be more than happy to discuss your bathroom ideas with you and help transform them from a snow day fantasy into an all year round reality.