There is so much bad news around these days that the world can seem like a very dark place. There is always something to worry about, whether it is something real and current, or something that could possibly happen in the future.
But as the latest batch of snow begins to thaw, and spring is hopefully finally on its way, we wanted to stop for a moment and take a look at some of the events and celebrations that have been – or will be – happening in March this year.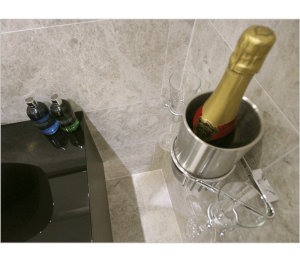 March celebrations
Some of the reasons to celebrate in March are:
International Womens Day (Thursday 8th)

Mothering Sunday (Sunday 11th)

The Winter Paralympics (Friday 9th-Sunday 18th March)

St Patricks Day (Saturday 17th – also the close of the Six Nations)

Good Friday (Friday 30th)
There may well be others that we have missed – and that is not including any personal celebrations that you may also have.
So after the rather flat time of January and February, March could be seen as a time when life begins to pick up the pace again. A time when spring is truly just around the corner and life is for the living. A time when things can start to feel a little more positive.
Mindfulness in March
Many people are interested in the concept of mindfulness, which can help us to enjoy day to day life a little more. Mindfulness involves taking the time to give your full attention to what is happening in the present moment : your body, your mind or your surroundings. It can enable us to become more aware of our thoughts and feelings so that we become more aware of them and react differently to them.
So even if we have nothing particular to celebrate ourselves this March, it is a good time to take time to reflect and make an effort to enjoy the present rather than worrying about the future.
A bathroom for mindfulness
One ideal place where we can take a few minutes specifically to be mindful is the bathroom. A relaxing shower or long lazy bath can both help us to unwind after a busy day. The feeling of water on our skin can stimulate and refresh us, and help us move from work mode into a more relaxed frame of mind.
But if you are feeling particularly stressed then a soothing bath could be just the answer. To gain the maximum benefit from it, first of all make sure the environment is conducive to relaxation: turn off phones and perhaps light some candles to create the gentle ambience you need.
Then enjoy soaking in the bath. Make the most of every moment, focussing on your senses and surroundings rather than letting your mind race back to the things you are worrying about.  Allow yourself the luxury of staying in the bath for a while, enjoying the moment before you have to get back to reality.
A new bathroom?
If you have been considering a new bathroom, then now might be the time to get things moving. Spring is on its way, and is always a good time to start making changes. But also, if you are interested in mindfulness and need a place to retreat to, then a new bathroom could be the ideal way to treat yourself this spring.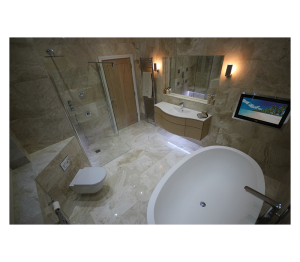 At Stone and Chrome we have a wonderful selection of baths, something ideal for every environment. Whether you prefer a fixed or freestanding bath, traditional stone or something more contemporary and high tech, we are bound to have just what you are looking for.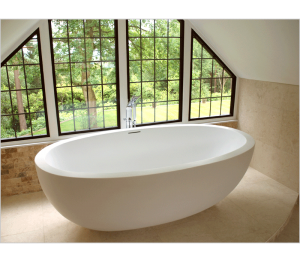 So if you need a reason to celebrate this March, why not come along to our Camberley showroom? We have some fabulous ranges of bathrooms and wetrooms to show you, and would be happy to discuss your bathroom ideas with you and help to turn them from a dream into reality.