Easter is here and hopefully spring is not too far behind! This time of year always feels like a time of new beginnings, in some ways even more so than the New Year. Perhaps because the days are getting lighter and the temperature milder: there is a sense of optimism in the air that makes you feel as if anything is possible.
At this time of year many of us have the desire to either move house or improve our homes. So this Easter why not think about what changes you could make to your home that could tick both boxes? If you plan to move home sometime in the next few years, what are the home improvements that it is still worth spending money on? Changes that will help you to enjoy your home more and that will also hold their value if you do decide to sell.
Here are ten ways that you can improve your home now and still expect to recoup at least some of the money spent if you sell your home in the next few years. Some are expensive so need forethought and careful planning, but there are also things further down the list that you can start doing straightaway and are not a major investment.
If you need more living space of any kind, and have a good-sized garden, then a garden room could be an excellent solution. Whether you need the space as an office, workshop, art or  music studio, therapy room, a den or a guest bedroom – the possibilities are endless. If you also install plumbing and a small en suite bathroom your garden room could be used as a guest bedroom.
The image below shows an example of a small ensuite room fitted by Stone and Chrome, just to show that a beautiful bathroom is possible even in the smallest of spaces.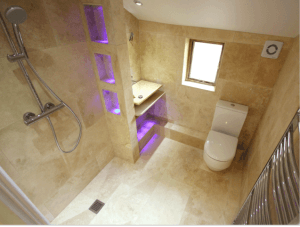 Similar principle to a garden room except that the space is inside your home rather than in the garden itself. A good investment as long as it doesn't take too much space away from your garden. Also check its positioning: if it is south-facing it will need ventilation and shade, but if north-facing room it may need extra heating.
When making home improvements don't forget about your garden. It's easy to let it get overgrown over the winter months so the Easter weekend is an ideal time to start getting it back into shape. Whether you are planning to stay in your home or put it on the market, a well looked after garden is a joy to the eye and will give a good first impression of your home.
This weekend perhaps also take stock of how your home looks from the outside. Does the exterior paintwork need refreshing? Are the pathways and windows in good repair? Do you have a lot of climbing foliage that needs trimming back? Also is it time to repaint or even replace your front door? Some small repairs and changes can make a huge different to the overall impression of your home.
If you are not in a position to create a garden room or conservatory, is there any other part of your home that you might be able to extend? Even a single-storey extension at the side of your home could add more useful space and add value to your home.
A loft conversion is another cost-effective way to gain extra living space that could then be used as a master bedroom, additional living room or an office. It will have more flexibility and add more value if you install an ensuite bathroom. The image below shows an example of a Stone and Chrome attic wet room and bathroom. 
There is always potential to Improve your kitchen. It doesn't need to involve investment in a completely new kitchen, just using replacement kitchen cupboard doors or adding an island for extra storage space can make a huge difference to the appearance and functionality of your kitchen.
A new en suite or second bathroom could add around 5% to the value of your home, according to the Nationwide. At Stone and Chrome we will work with you to create your dream bathroom in whatever space you have available.
You can improve your home quickly and cheaply by making small improvements such as new lighting fixtures and fittings where needed. It is also good to create more storage space – such as fitted cupboards or benches – that enable you to declutter and make the room appear more spacious.
Increasing your home's energy efficiency can save you money and add value to your home. So consider changes such as adding loft insulation and cavity wall insulation, solar-panel heating, a solar water heater.
So enjoy planning some home improvements this Easter weekend. If they include anything to do with bathrooms then do come and visit us at our Camberley showroom.  We have some wonderful bathroom and wetroom displays that could help you decide what you want to change in your home and get things moving.