Yes you did read that correctly!  2018.  In our last blog The Merry Month of May we talked about the Bank Holiday season and how quickly 2017 is passing by!  We were therefore very interested to read home-related predictions for 2018 from the KBIS – Kitchen and Bathroom Show – held in Orlando earlier this year.
Planning for the future
Some people would feel a little uneasy about looking ahead to next year: almost as if you are wishing your life away.  But far from it!   Essentially,  if you are considering updating your bathroom later this year you will want to be certain of still being on-trend next year.   Whether you plan to stay in your current home for some years to come, or perhaps may be looking to market it in the next couple of years, you need to be confident that your new bathroom is going to stand the test of time.
So we bring you five of the KBIS predictions that we think will make a lasting impression.  If you are planning a new bathroom or bathroom refurbishment this year, read on!
Brass fittings
Whilst chrome and satin are timeless, brass fittings are making a comeback and rose gold is also becoming popular.  So if you want something a bit different in your bathroom then think carefully about your preferred material for fittings.  Or you may even decide to go for a brass bath, such as the one pictured below – stone bath with nickel finish – from our Arcade range!
Stone sinks
Hand carved stone sinks stole the show!  They are a definite trend for 2018.  At Stone and Chrome – as our name suggests! – we specialise in stone bathroom products, such as the two Diamine travertine stone bowls shown below.  
Colour
All-white bathrooms are becoming a little dated, and colour is in!   New trends include two tone bathroom furniture, bleached woods, and tasteful use of colour – particularly blues.  The Stone and Chrome bathroom shown below used tumbled light limestone to keep a traditional feel and was then finished in Stone blue paint by Farrow & Ball which gives it a contemporary lift.
Interesting doors
When planning a new bathroom don't forget one of the most important things but one that often gets overlooked: the door!   A key feature from KBIS was the emphasis on "amazing doors".  This makes sense : what is the point of a wonderful new bathroom if it has a boring door which undermines the wow factor!  
We love the doors to this Stone and Chrome ensuite bathroom!   The bedroom was designed by our friends at Figura & Ghinn & Co, and the images below show the lovely recessed door from the bedroom into the ensuite, and how it looks from inside the ensuite.   A bit like stepping through the wardrobe door into Narnia!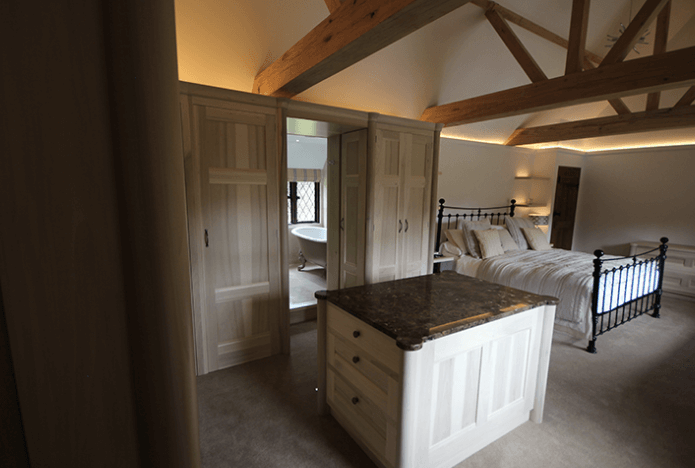 On the Tiles!
Boring tiles are out!   Bathroom tiling for 2018 needs to be full of texture, colour and pattern.  The importance of good tiling cannot be underestimated and was described by one blogger as "the hottest trend at KBIS".  At Stone and Chrome we take great pride in the tiles we use and have a passion for natural products. The bathroom pictured below uses silver limestone and separately switched LED accent lighting for stunning effect.  Its centrepiece is a quartz decopanel feature wall which perfectly offsets the Svedbergs furniture.  Nothing boring here!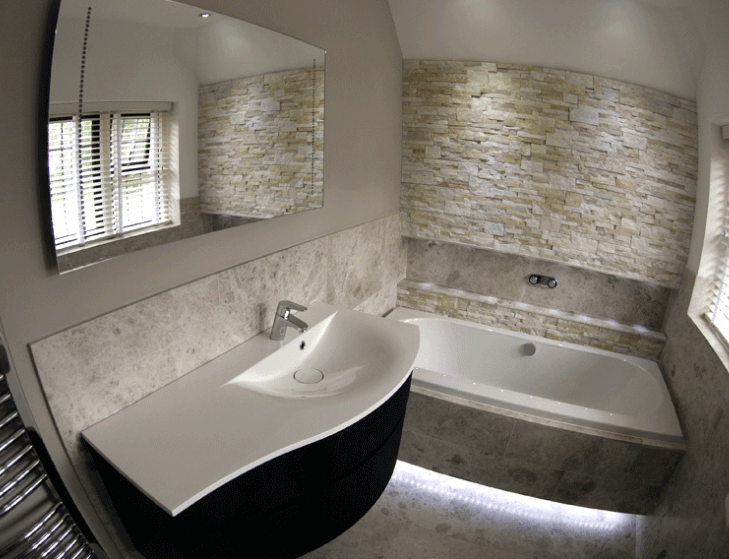 So if you are thinking of a new bathroom in 2017 that will be on trend in 2018 and beyond, then do consider some of the above ideas.  Better still, why not pay a visit to our Camberley showroom to see some of these features for yourself to help you in your decision-making process?  We look forward to meeting you and helping you plan your dream bathroom!