Holiday season is almost upon us.  Whether you are travelling far and wide or enjoying a staycation this summer, keep your eye open for unusual baths!
For many people, a bath is a bath.   But for the more discerning there is a growing trend for a bath to become rather a statement item.  
The Bath Boat!
For starters how about the bath boat pictured above?   This bath was designed by Dutch studio Wieki Somers.  The inspiration behind it came from observing a fisherman floating on a boat one morning. The bath boat aims to recreate the feelings of freedom and being at one with the elements, combined in one stylish product.
Armed with this information we decided to do a little trawl (pardon the pun!) of the Internet to see what other unusual bath designs we could find.  
The Hammock Bath
Next up is the floating hammock bath!  Described by its designer Splinter Works as "the ultimate vehicle for total escapism", this bath is suspended from the walls by stainless steel brackets and does not touch the floor.  It is filled using a floor standing tap.
This bath is primarily designed for use in a wet room so that the waste water can be released through the base into a floor drain.  However it could also be used with a downpipe drain if you were desperate to use it in another setting!
The Tub-E
One of the first unusual baths to become popular in recent years was the Tub-E.  Created by Wild Terrain Designs it is available in either copper or stainless steel.  Access is via a mini spiral staircase.  This is a high tech bath that has embedded LED lighting and a built in heater under the seat.  It can also be programmed to auto fill, auto empty, auto clean, and even add essential oils during the filling process!
Steampunk
For something even les conventional we move right to another end of the design spectrum for this  steampunk bath!    This steampunk bath by Marine Mine is actually made out of an old naval mine. So if you fancy a military theme for your new bathroom then this might be an idea to consider!
Stone baths
Perhaps a little closer to our hearts – and more in our comfort zone! – is this lovely stone bath from Stone Forest.   This free standing tub is made from premium granite with a weathered exterior.  It would look good in a variety of different settings and be a perfect centrepiece for a stylish bathroom whether a contemporary or more traditional design.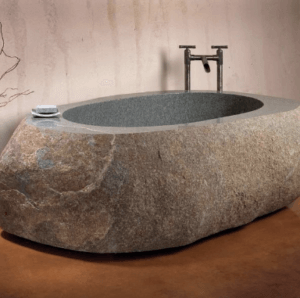 Stone and Chrome
At Stone and Chrome we have a passion for creating beautiful bathrooms of all shapes, sizes and designs!  We specialise in bathrooms and wetrooms or 'wet' shower areas and also in the use of natural stone. We have many years' experience in installing natural stone in bathrooms, and our customers are delighted with its timeless and elegant appearance.
We also love to create bathrooms that include a feature item such as an unusual bath.   The example below shows one of our projects: a master en-suite tiled in our Premium Silver Grey Limestone and featuring a large natural stone freestanding bath from Clearwater Baths.
Whatever type of bath you are looking for – and however you visualise your dream bathroom – why not come and talk to us to see how we can help?  Our Camberley showroom features several full size bathroom displays so that you can visualise exactly how natural stone could enhance your new bathroom.  Get in touch with us to arrange your visit as soon as possible – we look forward to meeting you!