OK we realise that it's been midsummer mayhem recently.  We've had the longest day and midsummer day – which are not actually the same: who knew?! – and then the spell of hot weather last week, which already seems like a distant memory.  We are now about to get into Wimbledon and then, before you know it, it's school holiday time.
So there's lots going on and we're all busy people.  But we wanted to make sure that you haven't missed some of the fantastic new bathroom products with which we've been proud to be associated at Stone and Chrome.
Baths with a difference!
First, the bath!  A couple of weeks ago we tweeted about this fabulous bath by Waters Baths.  
The Loche back to wall bath is described as "a luxurious mix of beauty and practicality …. perfect for a sublime splash or a lovely long soak".  This bath features a simple modern back-to-wall design and has many practical features that make it an ideal yet stunning choice for the modern bathroom.
We were delighted to install one of these beautiful baths recently – though getting it up the stairs was somewhat of a challenge!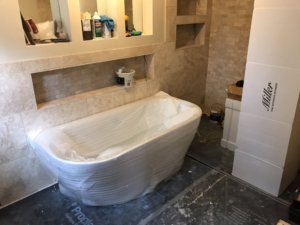 So if you like the look of this bath why not come and have a chat with us in our Camberley showroom to get a real idea of how it – or a similar product – would look in your bathroom at home?
Have vanity units gone out of style?
In our Camberley showroom we also have some beautiful new vanity units.  The term "vanity unit" can conjure up in some people's minds a sense of being a little old-fashioned – rather akin to avocado bathroom suites perhaps.  But far from it!!   As can be seen from the images below, vanity units are completely contemporary and on-trend.
The image below features our new Palermo Bagno Cube vanity unit with basin in a beautiful muted Mocha finish.  It also features the wonderful Hansgrohe UK Talis Select E mixer tap and a Roper Rhodes mirror.
Then the following image features the Catalano Ceramic New Light 800 vanity with Metz finish.  This unit also features the Illusion recessed cabinet, again from Roper Rhodes.
Last but not least have a look at this lovely timeless piece of bathroom furniture.   Featuring Perrin and Rowe brassware, it has a Travertine surface and is painted with Farrow and Ball London Stone.  
All of the above vanity units have an elegant neutral look that both complements and underpins the elegance of the furniture and fittings.
At Stone and Chrome it is a constant delight to have connections with such a wonderful range of suppliers and a distinctive and stylish product range.  Whatever your bathroom dreams and aspirations you can be sure that at Stone and Chrome we will be able to source the perfect products to meet your needs.
Stone and Chrome – whatever your budget
But be assured that we are not just exclusively providing high end bathrooms for large budgets.
Whatever your need – whatever size your space – and whatever the size of your budget, we can help!  Pictured below is a design we have prepared for a simple shower room in a rental property.
The design was created using Virtual World 4D software and features products from Laufen Bathrooms and Hansgrohe UK.  It is minimalist yet elegant, and we're sure you'd agree would not look out of place in the most prestiigious of homes yet neither is it over the top for a rental property.
Whatever your bathroom needs, do come and visit Stone and Chrome to see some of these beautiful designs – and many others – for yourself.  We appreciate that these are busy times and that you are busy people – so even more reason to let Stone and Chrome help you to get it right first time!