Today is a big day for Britain!  Not because we are hosting the men's tennis singles final at Wimbledon, nor because we are hosting the British Grand Prix at Silverstone.  No!  The BIG news of today is that we get to find out who is the 13th Doctor Who!
When Doctor Who first began in 1963, no-one could have predicted its success or that it would still be going strong over 50 years later.  In 1963, the blue British police box was a common sight on the streets of Britain.  So it was a natural choice for it to be chosen as the Doctor's time-travelling spaceship, the Tardis.  Whilst the exterior may seem a little alien in itself to younger viewers, it is the inside of the Tardis that has always intrigued people.
Bigger on the inside!
Because of course, the Tardis is bigger inside than it looks from the outside.  Bewildered companions of the Doctor have for years entered the door expecting only a small dark dingy interior but instead have found a huge bright airy space, full of high-tech equipment and all kinds of facilities.
Is your bathroom like the Tardis more like a traditional police box?  Behind that bathroom door does there lie a cramped and gloomy interior or a bright shining space that you actually enjoy spending time in?  
Small can be beautiful
No matter how limited the size of your bathroom, there is a lot that can be done with the space available.  The image below shows a stunning shower room that we created in a small and limited space.  Because the bathroom was an awkward shape we created a bespoke shower door for the spacious walk in shower.   We also used the staircase below as an opportunity to create a seat rather than seeing it as a problem.  Anything is possible with Stone and Chrome!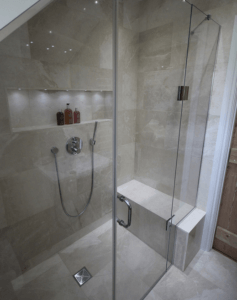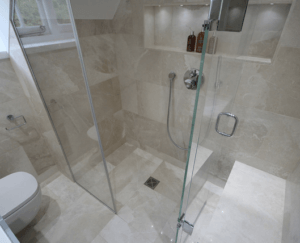 Top Five Tips for small bathrooms
If you are creating a bathroom in a limited space here are our Top Five Tips:
Use every inch of space to its full advantage.  Just as we created the seat in our example here, be creative about what you can put where instead of writing it off as a lost cause

Use glass – and mirrors – to full effect.  You can see how effective the glass doors are here in terms of reflecting light around the room and creating an illusion of space

Build in storage space.  This shower room features a recessed storage shelf in the shower that enables you to store your bathroom products without the bathroom looking cluttered.

Let there be light.  One of our trademarks at Stone and Chrome is LED lighting which brings light and warmth into the room and also adds something of a magical touch.

Go for quality.  Just because a bathroom is small does not mean you can scrimp on the quality of the fittings.  Quite the opposite in fact: high-quality fixtures and fittings will make small beautiful!  In our example, the bathroom is tiled in our Premium Italian Botticino Marble.  The Palomba WC is from LAUFEN Bathrooms and the Vista vanity basin unit from Roper Rhodes Ltd, whilst the brassware is from Hansgrohe.
How Stone and Chrome can help
So no matter how small the space you have to work with, it is possible to create a bathroom that is more like a Tardis than a police box!   Why not let Stone and Chrome help you do this?   Our Camberley showroom has a wonderful display of bathrooms and wet rooms featuring a variety of high-quality brands, some already well-known and some yet to be discovered.  We also have on display our own bespoke range of solid wood bathroom furniture.   Get in touch with us to arrange your visit – we would be delighted to help you transform your bathroom!