In our last blog, we awaited with eager anticipation the announcement of the new Doctor Who.  We now know that she will be Jodie Whittaker.  But will the fact that the Doctor is a woman make a difference to the role or the running of the Tardis we wonder?  
Our last blog looked at how to make your bathroom Tardis-like by using every inch of bathroom space.  But, inspired by the new female Doctor, we've been musing about whether men and women have different tastes in bathrooms.   Is there such a thing as a typical female or male bathroom – or is that notion completely outdated?  
So we've taken a little wander around the wonderful world of the Internet and have come up with various ideas about the ideal bathrooms for males and females.  All to be read with the proverbial pinch of salt!  But let's take a look …
The Typical Male Bathroom
A large, spacious shower – preferable to trying to fit in a bathtub and shower into the same space.

Multiple shower heads are good – for example, a rainfall and handheld shower head.

Plenty of surface space – for all the essentials.

Shower benches – so that they can enjoy a long hot shower without having to stand for too long.

Good lighting, such as LEDs – ideal for that early morning shave.

Concealed storage – to hide away the clutter!
So if you are a man looking at a bathroom with all the above features, then Stone and Chrome can definitely help!  The first image below shows a slate ensuite with wetroom, featuring a luxury walk in shower and heated seat.    Below that is our Castiel Cararra marble ensuite with its spectacular walk in shower with multiple shower heads and subtle LED lit heated seating.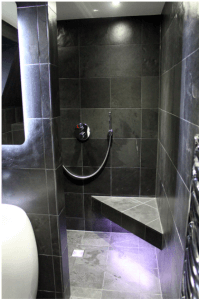 Both these bathrooms are so distinctive and alluring that we're sure it won't just be the men that love them!   However, let's take a quick look at the kind of bathroom that women supposedly prefer …
The Typical Female Bathroom
Again, a luxurious shower is a good starting point – with a shower bench if possible.

A beautiful bathtub – as large as you can fit into the space.

Stylish storage around the bath – so that everything is within easy reach.

Towel warmers – to ensure a nice warm towel at the end of your shower or bath.

Windows – to let in the summer breeze and sounds of nature.

Open shelving – to add your personal touch to the bathroom.
Again, Stone and Chrome can help here.  We have chosen the two bathrooms below that tick all the above boxes, and more besides.
The first image shows a beautiful en-suite bathroom that is tiled in Premium Nazareth Tumbled Marble which gives the bathroom an elegant and timeless appearance.   The whole room is subtly enhanced by recessed ceiling chromotherapy lighting.  The stunning Svedbergs Oval cast marble bath is a perfect style for the room and features the ilux automatic bath filling system.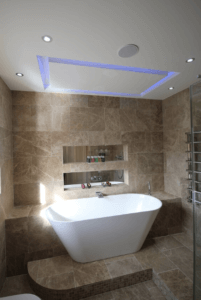 The two images below are of a stunning master ensuite: notice the wonderful windows!   This bathroom really does have the best of both worlds.   The beautiful Castello bath just by the windows, then this incredible walk in wet floor shower with heated seating.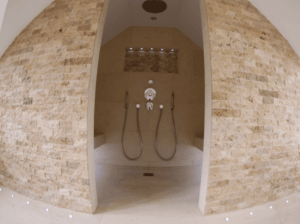 So, which would you choose?   Whether you are male or female we hope that there's something that you like.   You may have to compromise with your on what your ideal bathroom might be: but with bathrooms like these, we think you'll be happy anyway.  If not, then how about creating two separate bathrooms so you have one each?!
Why not take that next step and come to visit our Camberley showroom?  You can then see some of our designs for yourself and start to get a clearer picture about the kind of bathroom that is right for you.  Get in touch with us now to fix an appointment, and we look forward to meeting you soon