So yet another football season is upon us!  Football is rather like marmite: you either love it or hate it.  For some of us the new season is an exciting time, full of potential new opportunities – a little like that back to school feeling.  For others it's a case of same old circus, even if some of the clowns have changed.
Whatever your views on football, why not make the most of your bathroom this football season?   Let's look at the bathroom benefits for three groups of people:
Football players

Football supporters

Foot

ball avoiders
Football players
Whether you are a highly paid professional, a keen amateur, or just enjoying kicking a ball around with the kids, playing football will take its toll physically.   After a tough game of any description, your body needs a bit of pampering and soothing to get back into top condition again.  Aching muscles, bumps and bruises and sheer physical exhaustion are all par for the course after a game of football.   
So why not enjoy the healing power of water and enjoy a long hot shower?   A large walk in shower or wet room is ideal to allow free movement and a good old stretch: we love the double entry linear walk through shower pictured below, which even has seating should you be overcome by the after effects of your game!
Football supporters
You are the salt of the earth!  Those of you who go to live matches are prepared to face the elements, and in the UK these elements are often a little unkind.  Occasionally you may swelter in unseasonal heat, but it's more likely – especially during the long winter months – that you return from watching the match very cold and possibly also very wet.  Also, standing for a couple of hours in those conditions is likely to leave you stiff and achy.  
What you need is some hydrotherapy and fast!  Our recommendation for you is a soothing steam shower.  The steam will warm you through and through, and will also release endorphins in your brain which will relax you mentally and emotionally – whatever the result of the match!
The image below shows a huge steam shower room, which comprised part of a luxury master en-suite. As well as a brilliant steam shower, this bathroom also features heated seating with LED lighting.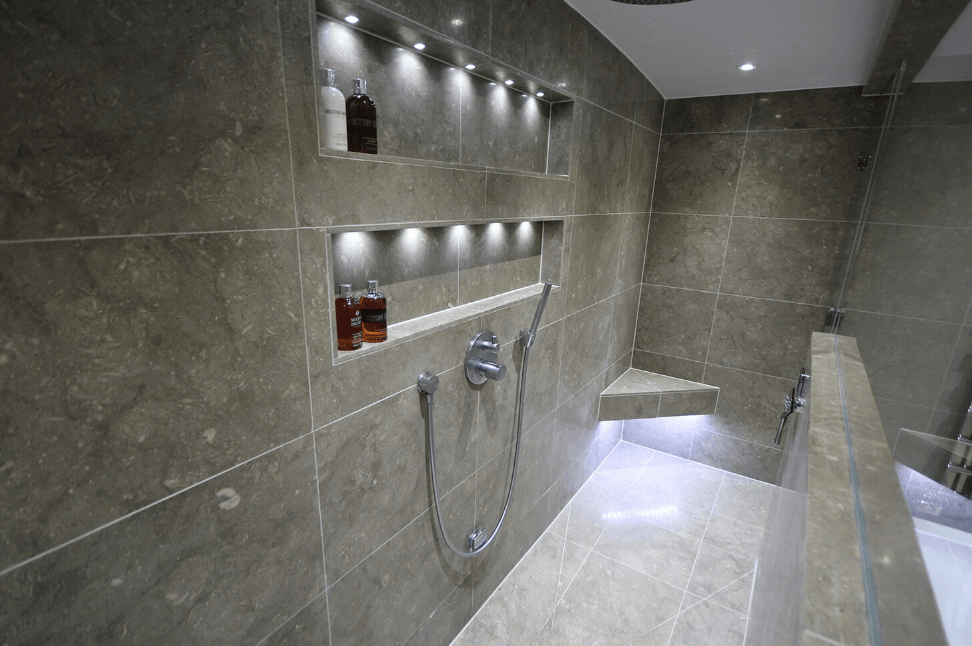 Football avoiders
Instead of dreading the football season, celebrate it as an opportunity to get some alone time from the football supporters in your life.  If they are watching the match on television rather than getting out of the house then why not hide away in your bathroom?   At the very least you can enjoy a nice long bath with all your favourite lotions and potions, but there are various ways of enhancing your experience even further.  If you have a whirlpool bath you can enjoy a wonderful massage while you soak; you can also find baths with LED chromatherapy lighting for the ultimate in relaxation.  As you can see from the luxury bathroom pictured below, you may be lucky enough to have your own television to watch something decent from the privacy of your own bathroom whilst everyone else is yelling at the match downstairs.  Bliss!  All that you need to top it off nicely is a glass of something cold and fizzy …….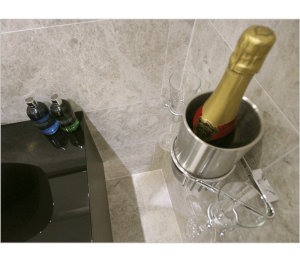 If your bathroom isn't quite up to scratch in terms of supporting this new football season then how about a little family outing to Stone and Chrome?   We welcome all the family to our Camberley showroom and would be delighted to show you round our stunning displays of bathrooms and wetrooms.  We can help you design a brand new bathroom that will be suitable for football players, fans, and avoiders alike.  And with Stone and Chrome, you can always be confident of being on the winning team!