The clocks have gone back, the evenings are dark, and half term, Halloween and Bonfire Night have become memories rather than events to look forward to. It can feel like a rather dismal time of year: a kind of waiting area in the run up to Christmas.
But this year let's view it in a more positive light. Literally. We can take inspiration from the recent fireworks and look ahead to the sparkling lights of Christmas. Also the wonderful Hindu Festival of Diwali – or Festival of Lights – has just come to an end.
With all that in mind, what can we do to bring a little more light into our lives as autumn slips into winter?
Well let's start with the bathroom. At this time of year it's the favourite place for many of us. What better than taking on board the concept of hibernation, and locking ourselves away in the bathroom for a blissful time of pure indulgence!
At Stone and Chrome we understand the importance of getting the perfect ambience to relax you in your bathroom, and finding the right type of lighting is an essential part of this.
So let's look at various types of bathroom lighting that will set the tone for a wonderful bathroom experiences.
Ceiling and wall lighting
Bathroom lighting is always a bit of a dilemma. Too bright, and it can make everything look a bit clinical and make it hard to relax. But too dim, and you can't see what you are doing at those times when you need to. There are ways round this. For example you may choose to have ceiling lighting with a dimmer switch, LED lighting distributed across the ceiling, or wall lighting – or any combination of these. But there are various ways that you can adjust the intensity of the light in your bathroom as needed.
At Stone and Chrome we are experts in bathroom lighting and will be able to recommend the ideal lighting solution for your particular situation. We love the combination of ceiling LED lighting and wall lighting pictured below, which helps to create just the right ambience for this luxury attic bathroom and wetroom.
Recessed LED lighting
We do love the flexibility that LED lighting can bring to a bathroom! So much so that it has gradually become one of our trademarks. As well as being excellent for ceiling lighting – as we saw above – it can also be particularly effective in recessed storage areas. It provides both the practicality of additional lighting in such areas and also becomes an attractive feature of the bathroom in itself. A stunning example is the independently switched LED accent lighting surrounding an inset heated mirror as shown below, which adds a luxurious touch to this classic master ensuite bathroom.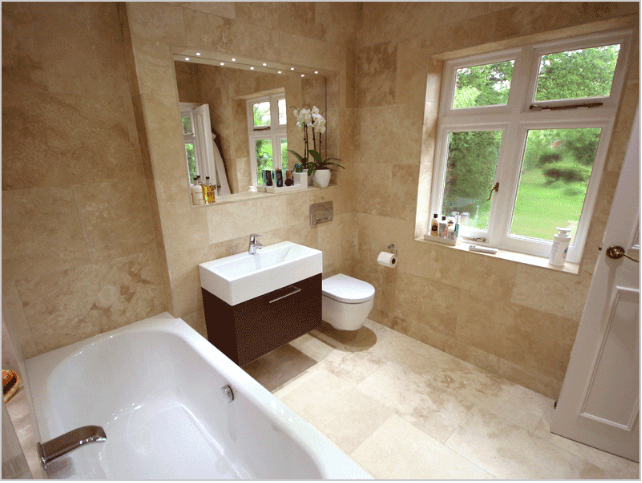 Chromatherapy lighting
The lovely lighting pictured below is chromatherapy lighting. This is a system of built in coloured lights that cast shimmers of colour across your bath for a truly holistic bathing experience. You can either bathe in constantly changing colours or select one that fits with your current mood. The theory behind chromatherapy is that each colour has a unique energy vibration pattern and can bring balance to our physical and emotional wellbeing. It is thought by some to have a similar effect to acupuncture.
Whether or not you believe in this deeper meaning of chromatherapy, it is certainly wonderful to be able to lie back and luxuriate surrounded by the colours of your choice.
Candlelight
For many people there is nothing more soothing – not to mention romantic – about a warm candlelit bath on a cold dark night. Just add in your favourite music or film, and perhaps a glass of something special, for the ultimate indulgent bathing experience.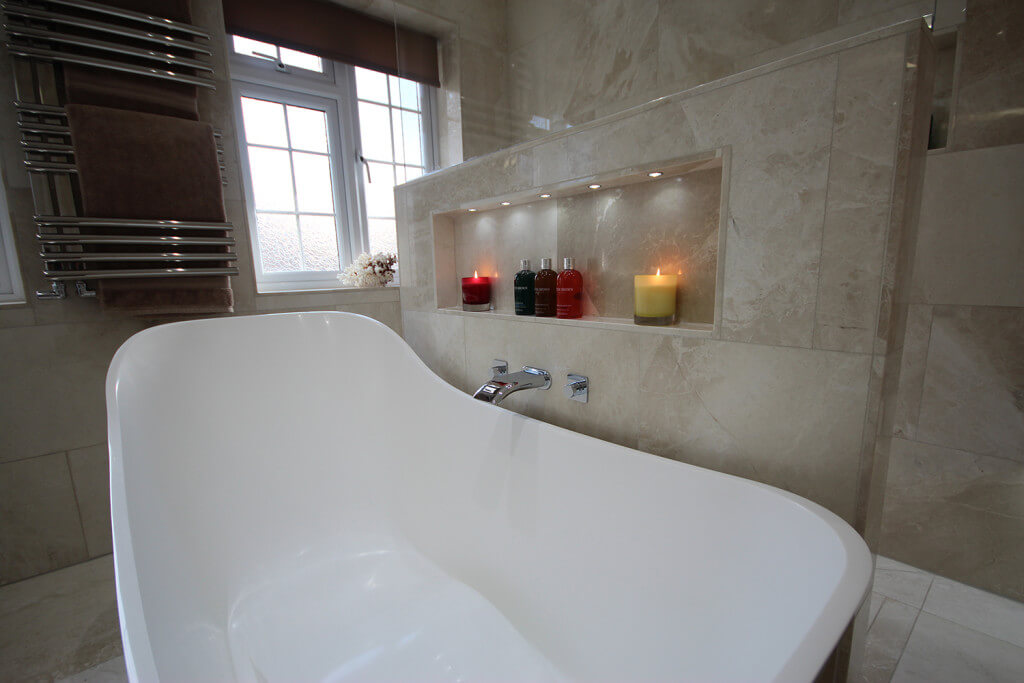 Whatever your preferred bathroom lighting this winter, Stone and Chrome can help you achieve the ambience you are looking for in your bathroom. Why not pay us a visit at our Camberley showroom to see some examples of our wonderful bathroom designs, and start planning your perfect bathroom experience.