So we are now into the triple Bank Holiday Season! Hot on the heels of the long Easter weekend it will be May Day next weekend then of course the Spring Bank Holiday at the end of May.

Many of us choose to spend time at home over Bank Holiday weekends, rather than face the crowds and the traffic. It can be much less stressful just to relax and chill out within our own four walls – especially when we have glorious weather like last weekend.

The room that visitors see most of

But when you do spend time relaxing at home – and particularly if family and friends are visiting – you realise the importance of the smallest room in the house: the downstairs cloakroom. It is one of the most-used rooms – and also the only room in which visitors spend time on their own. But what do they see when they look around your cloakroom? Is it a room that you are proud of or is it perhaps time to give it a bit of a facelift?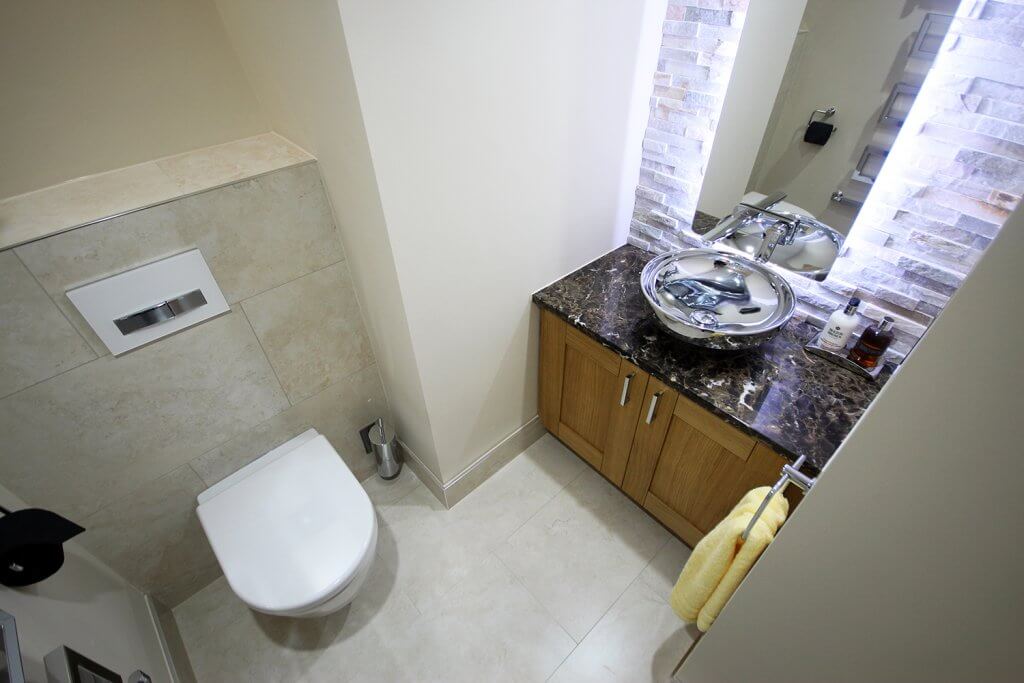 The benefits of a downstairs cloakroom

If you don't have a downstairs cloakroom then having visitors round can make you realise how useful it would be to have one. Rather than people traipsing up and down stairs it would make things so much easier. It is also kinder and more practical if you have family members who struggle with stairs.

A downstairs cloakroom can also add value to your home. Most buyers now want at the very least two toilets in the home. So even if you do not have an ensuite or additional bathroom, a downstairs cloakroom could be a real asset if you are planning to sell your home in the near future.

Small can be beautiful

It is easy to fall into the trap of thinking that because a cloakroom is so small, it will always be functional rather than stylish. But remember the old saying that small can be beautiful. At Stone and Chrome we can create a beautiful result in any sized space. So let's take a look at two cloakroom examples to inspire you!

The cloakroom pictured below shows how we can make the most of small and awkwardly shaped spaces. Despite it being a tricky L-shape, we incorporated two quirky features into the design of this cloakroom that both became talking points! Firstly the Serpentine radiator from Radox which saves space and looks fantastic. Then the amazing Vitra Water Jewels chrome bowl which just looks wonderful. Combined with a wall hung rimless WC from Laufen, and finished off with a beautiful split face tile and backlit mirror, we reckon this cloakroom is pretty special.

This cloakroom also shows how we can make the most of every inch of space. The main feature is the stunning Laufen Palomba Menhir freestanding basin, which combines perfectly with the Geberit WC frame and rimless WC from the Laufen Pro range. The cloakroom also features bespoke mirrored storage units and stunning accessories from the Nakar range at Bathroom Origins. It is tiled in our Premium Avorio Zanna honed marble for the perfect finish.
So with Stone and Chrome small really can be beautiful! So why not let us help you transform the smallest room in your house this spring? Whether you want to install a new cloakroom or improve the one you already have, start by arranging a visit to our Camberley showroom where we have a range of stunning wetroom, steamroom and bathroom displays, fully tiled with natural stone. We can help you plan the perfect downstairs cloakroom for your home.