The Apprentice is back on our screens again, and over the next few weeks the latest bunch of contestants will be put through their paces in the hope of becoming Lord Sugar's latest business partner.
If you are thinking of having a new bathroom in your home then you need to go through a similarly thorough process to make sure that you hire a company that will deliver a result that you are delighted with. Many of us do not do this and end up disappointed, frustrated or angry.
So we've put together a few steps that you need to follow to ensure that you are making the best hiring decision for your bathroom company:
Do your research – know what you want
If you are considering a new bathroom then it is essential to go into the hiring process with a clear idea of what you want. This will help you to find a company that can install the bathroom of your dreams. If you pick a bathroom company that you can trust, they will work with you to help you firm up your ideas into a design that you are truly happy with.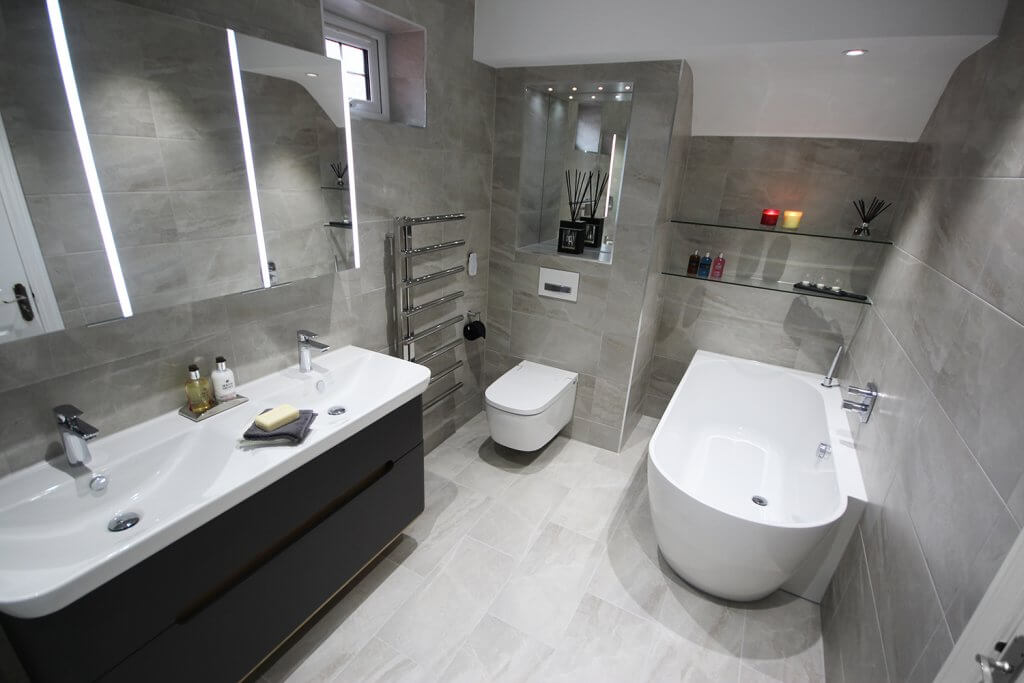 Beware a company that tries to change your ideas into something completely different but more convenient for them! Look for a company who will use their expertise to help you to achieve the kind of thing that you want, in the most professional way possible.
Look at work they have already done
You need to have the confidence that the company you hire is really up to the task, and has done similar jobs before. So make sure you get good solid evidence about their experience and at the very least see pictures of their past jobs. But don't just rely on this evidence, or even on online reviews. Even better if they can put you in touch with past clients so you can speak to them directly about their work: this also indicates that the company builds up good lasting relationships with their clients.
Do they have the feel good factor?
Listen to your instinct on this one. It is really important that you feel comfortable with the company and their fitters. Remember that these people will be in your home for the duration of the job, which could take some considerable time. There will be times when you need to leave them unsupervised in your home. So weigh this up carefully: do you feel at ease with them, are they reliable and punctual, are they easy to get hold of and then polite and helpful? If you have any niggling doubts, then you may be better look elsewhere.
Don't just go for the lowest price
Because your bathroom is such an important job, it's definitely worth getting at least two or three different quotes for the job. Make sure that the quotes cover everything –  for example labour, materials, subcontractors and waste removal -so that you can compare quote accurately. Whilst cost is important, don't necessarily base your decision on the cheapest cost alone: experience and reliability are also key factors that you should look out for.
Establish a payment plan
Once you have decided on your bathroom company, it is important to agree a clear payment plan for the work. It is best to have a written contract so that there is no potential for dispute. Some level of deposit or upfront payment is reasonable to cover initial costs, and some companies may ask for payment in instalments throughout the job, but do not agree to a complete payment up front. There should always be a balance to pay at the end of the job, when you know whether or not you are completely satisfied. Also be wary if you are asked to pay large sums in cash, as most companies should accept either cheques or bank transfers for larger amounts, which also allows you to keep a record of the transaction.
Will they meet building regulations?
This should go without saying really, but do check your company is familiar with building regulations and will sort out any required certifications and approvals for you. In particular, electrical work – such as adding a new circuit or installing a power shower – must be carried out by a qualified electrician, and most major electrical jobs in the home must be certified for their safety. This means that they either need to be approved by the Building Control department of your local authority or carried out by tradesmen who is qualified to self-certify their work.
Check whether there will be ongoing support
Despite all the best laid plans, there can often be complications either during the installation process or after completion. So it is important to choose a company that have a good record of post-sales support, and will be able to return to the installation if needed to help with any issues that may arise after the work is completed. This is another area that is worth discussing during your hiring process.
Good luck with choosing the right bathroom company! At Stone and Chrome we like to think that we tick all the above boxes but why not come and decide for yourself? So schedule a visit to see us in our Camberley showroom to discuss your requirements in more detail. We hope that you like what you see and that we might hear those much coveted words "You're hired!"