How much do you love your bathroom? If your instant reaction to that question is anything less than completely enthusiastic, it can be a really good indication that it's time to think about a new bathroom!
But if you are planning a new bathroom, have you considered a bespoke bathroom? In this article we take a look at what that means, and what are the advantages of a bespoke bathroom.
What is a bespoke bathroom?
The word bespoke has been around since the early 17th century. It evolved from the old English verb besprecan into bespeak, which means "speak for something". The term bespoke is used to describe something that is one of a kind, and has become associated with the concept of luxury.
So a bespoke bathroom is a bathroom that is not only one of a kind, but it is also luxurious.
Which all sounds wonderful, but do you really need a bespoke bathroom?
The advantages of a bespoke bathroom
A new bathroom is a major commitment, in terms of time, effort and money. You want to make sure that the end result is really worth it. So it is definitely worth considering a bespoke bathroom: one that is designed for you and you only. One that meets the needs of you and your family. One that you love.
Let's look at some of the advantages of a bespoke bathroom.
Your bathroom meets your specific needs
There is no point having a new bathroom unless it completely meets your needs. Whilst there are many lovely bathroom designs around, you need to make sure that the bathroom you choose is right for you.
For example: 
Do you prefer a bath or shower, or both?

Does your bathroom need to be child-friendly?

Does anyone in your family need additional help to access the bathroom?

Would you like additional features in the bathroom such as TV or hifi?

What amount and type of storage do you like to have in your bathroom?
By working with a bespoke bathroom designer you can make sure that your bathroom really does tick all the boxes that need to be ticked. Good enough is not good enough! You deserve the best.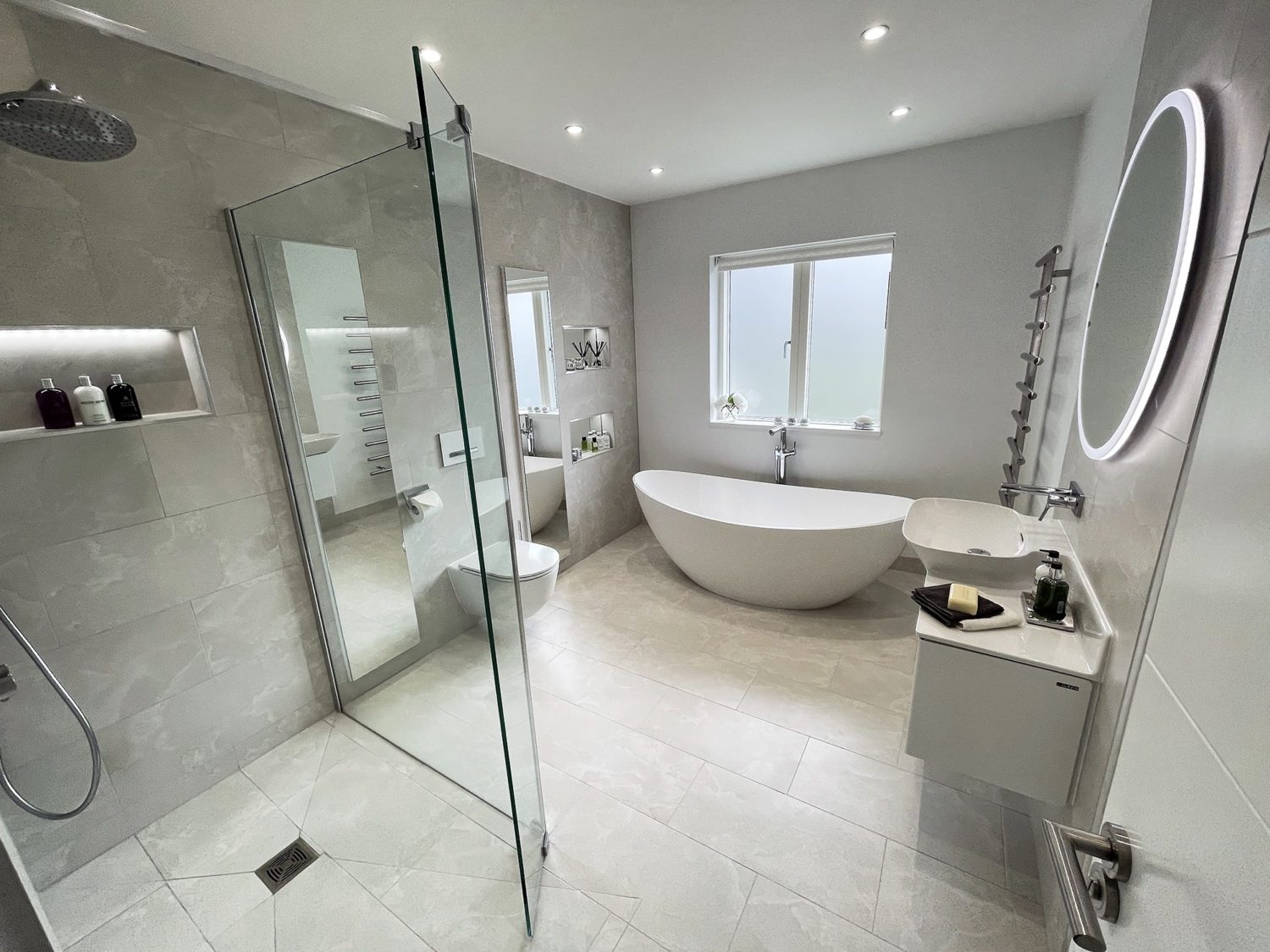 You make the most of every inch of space
Many bathrooms don't function as well as they could because the space has not been used to its full potential. If you install a standard bathroom suite you will be limited in terms of the sizing of the bathroom furniture, and will most probably have to make do in terms of what fits where. This can lead to a considerable amount of dead space. Space that could have been put to better use.
You get the exact look that you want
Last but not least, you can choose exactly how your bathroom is going to look. We all have different tastes. Some people like bathrooms where everything matches. But others prefer a bit more variety, perhaps with one or two showcase items. By having a bespoke bathroom you can mix or match to your heart's content. It's completely up to you, there are no restraints.
How to make your dream bespoke bathroom a reality
If you want to have the bespoke bathroom that is best for you, the first thing to do is to find an expert bathroom designer you trust. Why not come and say hello to us at Stone and Chrome? Our Camberley showroom is full of examples of our bespoke bathroom design. And we'd love to sit down with you over a drink to talk through your ideas and see how we can help to make your dream bespoke bathroom a reality.
You can book your appointment to visit Stone and Chrome online, or give us a call on 01276 61000.
We look forward to meeting you soon.