Small can be beautiful! This applies just as much to bathrooms as anything else in life.
But it's easy to fall into the trap of assuming that you can only have a really luxurious bathroom if it is large and spacious. This is simply not the case.
In this article we look at how to make the most of whatever bathroom space you have. So that however small your bathroom, it is as beautiful as it can be.
There are three ways that we recommend you can do this.
Open up your bathroom
This is probably the first thing to look at if you are really unhappy about the size of your bathroom. Where is it located in your home and would it be possible to extend it in any way? If not, have you considered adding another, larger, bathroom somewhere else in your home and perhaps converting the existing bathroom to a cloakroom or shower room?
In the example below, we installed a luxury bathroom and wetroom in an attic! So there may be possibilities to create your dream bathroom in an unused portion of your home.
Convert your bathroom into a wet room
But if there are no options to extend your existing bathroom or convert another space, that's fine too. At Stone and Chrome we are expert at creating beautiful bathrooms in rooms of any size or shape. One idea that you may want to consider is removing the bath, and converting the space into a fabulous wet room instead. 
The image below shows a wonderful master en-suite wet room, featuring a walk-in linear shower with heated seating and LED lighting. Every inch of space in this bathroom is used to good effect, with stunning results.
Install some clever storage solutions
To make the most of your bathroom space, you need to consider not just the bathroom furniture and fittings, but also storage. Any bathroom looks better when it is uncluttered, but this is particularly important for smaller bathrooms. 
At Stone and Chrome one of our specialities is clever bathroom storage solutions. Let's take a look at a couple of examples:
Concealed cupboard
Sometimes you want to keep your storage a secret. The image below shows a tall inbuilt storage cupboard which forms part of a stylish family shower room. The cupboard is cleverly concealed: from the outside, it looks like a mirror. So in that respect it adds both light and further functionality to the room. But inside there is plenty of shelving for toiletries and bathroom supplies, keeping everything away and out of sight.
Recessed shelving
Another option is to make a feature of some of your storage shelves and curate them in such a way that they add a touch of flair to your bathroom. You can see one example in the above image, above the toilet to the left of the basin. We also like the two examples below. 
They are both from luxurious en-suite bathrooms. The first from a stunning warm and inviting master en suite, which also features a freestanding bath. The second is from a master en suite in luxury travertine. Notice the use of LED lighting to highlight the recessed storage areas.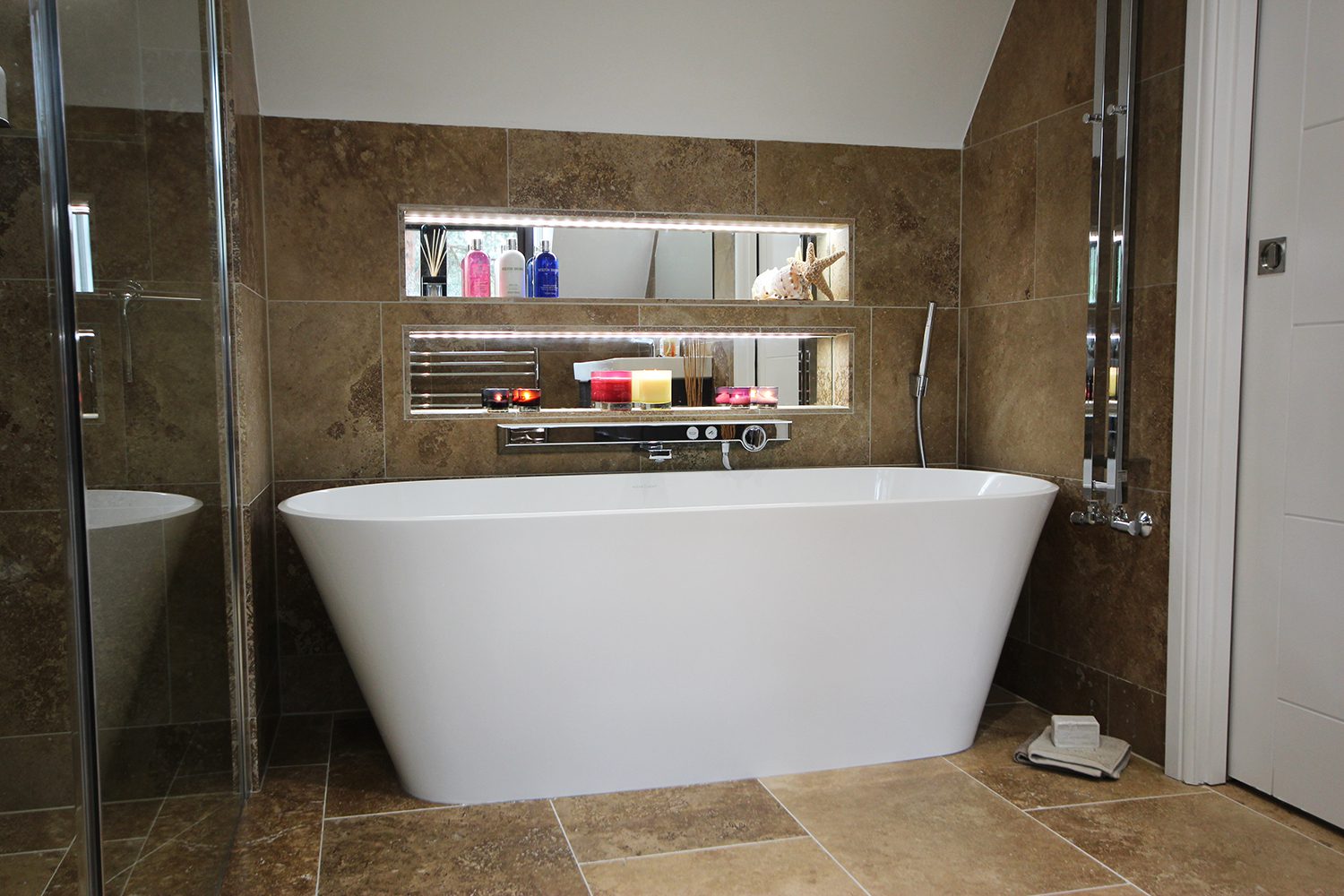 So, however limited the size of your bathroom space, there is a lot that you can do to ensure that small is beautiful.
At Stone and Chrome we would love to help you achieve this. So why not take a look through our gallery of bathroom images, then come and visit us in our Camberley showroom? We can talk through your ideas and start helping you to design the best bathroom for the space you have available.
We look forward to meeting you soon.