So here we are again. August Bank Holiday weekend.
It's always a poignant time of year. In many ways it signifies the end of summer. Although there is hopefully still some lovely sunny weather to come, mornings and nights are already growing darker. There is that definite autumn nip in the early morning air.
But the August Bank Holiday weekend also means that it's almost time for the big Back to School. Of course, this year, Back to School is very different from normal. Until very recently, the pandemic has cast doubt as to whether schools would be able to reopen fully in September. And even though this now appears to be happening, pupils will return to a very different school environment from the one they left back in March.
Pupils of all ages have also now had months of home schooling, with varying degrees of success. Our article Kitchen Design for Home Schooling shared tips about how to make this more effective. It also stressed the need to have a suitable place in your home for children to do their school work.
Bespoke kitchens for family living
Having that place for your children to work is as important now as ever. Once they are back at school there will be homework and projects for them to do at home. You will need to do all you can to help them get back in the routine of getting school work done. You also need to keep an eye on them to ensure that they don't get distracted. 
An open plan kitchen is an ideal environment for children to work in, especially if it is large enough for them to have their own designated area. It means that you can get on with the things that you need to do, but also be available to help your child as needed. Establishing this routine also means that should any further lockdowns or school closures happen, your child will have a familiar place to work.
We love this kitchen below which has different areas so that every member of the family has their own space to get on with the things they need to do. This amazing handmade in-frame shaker kitchen features a vast living and dining space, with room for everyone. This is surrounded by stylish cabinetry painted in Farrow & Ball Skimming Stone, and an island painted in Farrow and Ball Charleston Gray. There is also a secret walk in pantry for additional storage space.
Stylish storage solutions
Another aspect of going back to school is the sheer amount of "stuff" it generates! You will probably have been very busy for at least the last week or so gathering together all the uniform, equipment and stationery that your child needs for school. And are already wondering where on earth to put it all: knowing full well that your child will bring a load more home with them every day.
Well, Stone and Chrome can help!
As well as designing and installing stunning kitchens and bathrooms, we are also able to create beautiful hand made furniture. One of our latest projects was to design and supply furniture for a whole house. Pictured below is a beautiful bookshelf we created for the lounge. It features rich walnut shelves and is painted in Farrow and Ball Wimborne White.
Another storage solution that we are very proud of is our fabulous bespoke handmade boot room. See image below. It's a bit like the Tardis: small but featuring an incredible collection of storage solutions including cupboards, drawers, shelves and hooks. In fact, everything you need to stow away all that school stuff and still look elegant! Our boot room is painted in Farrow & Ball's Stiffkey Blue and finished off with stylish satin brass handles from Armac Martin.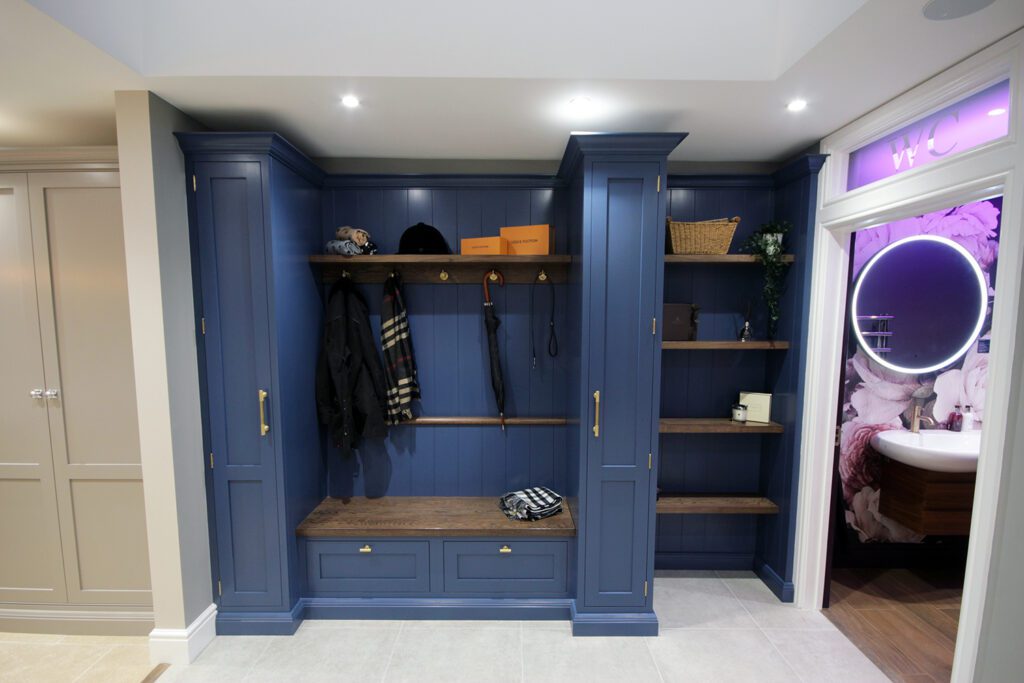 Come and visit Stone and Chrome
So make the most of this weekend, whatever your plans are. And once the children are back at school, why not head along to Stone and Chrome's Camberley showroom to start planning how you can adapt your home to the needs of your growing family? We look forward to meeting you!