It seems ironic now to look back at many of the TV programmes, vlogs, blogs, articles from the beginning of 2020. There was a sense of optimism in the air: not just a new year but also a new decade. Sentiments along the lines of "let's see what 2020 will bring" were all over the place.
Which is a pretty good way of describing what did then happen in 2020!
But we still have around 30% of this strange year left. So to see it out in style, why not start planning how to improve your home over the next few months?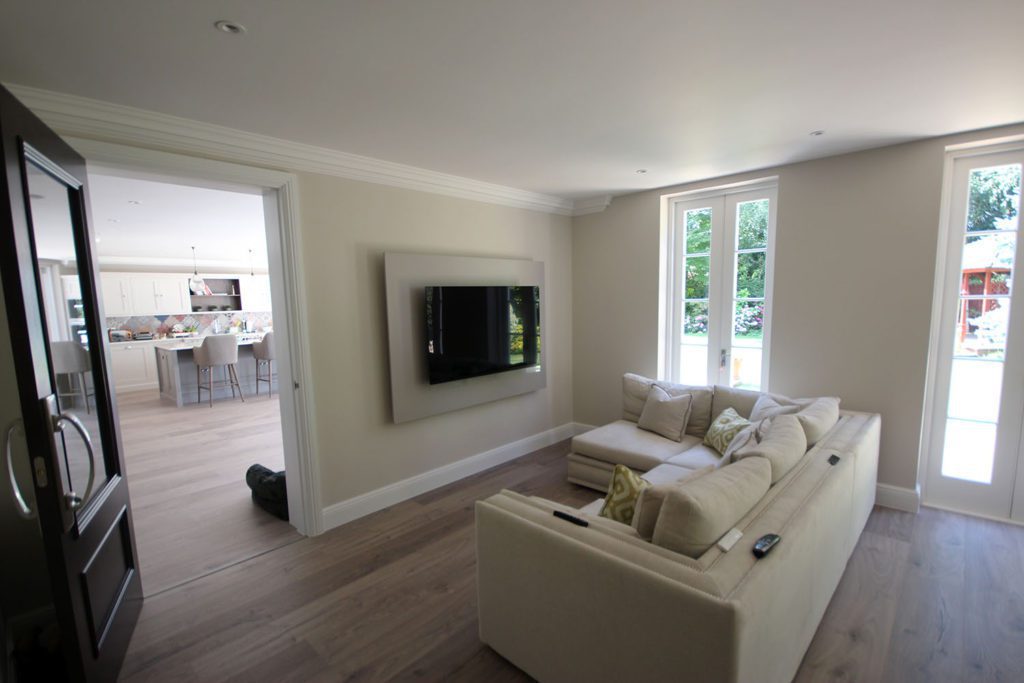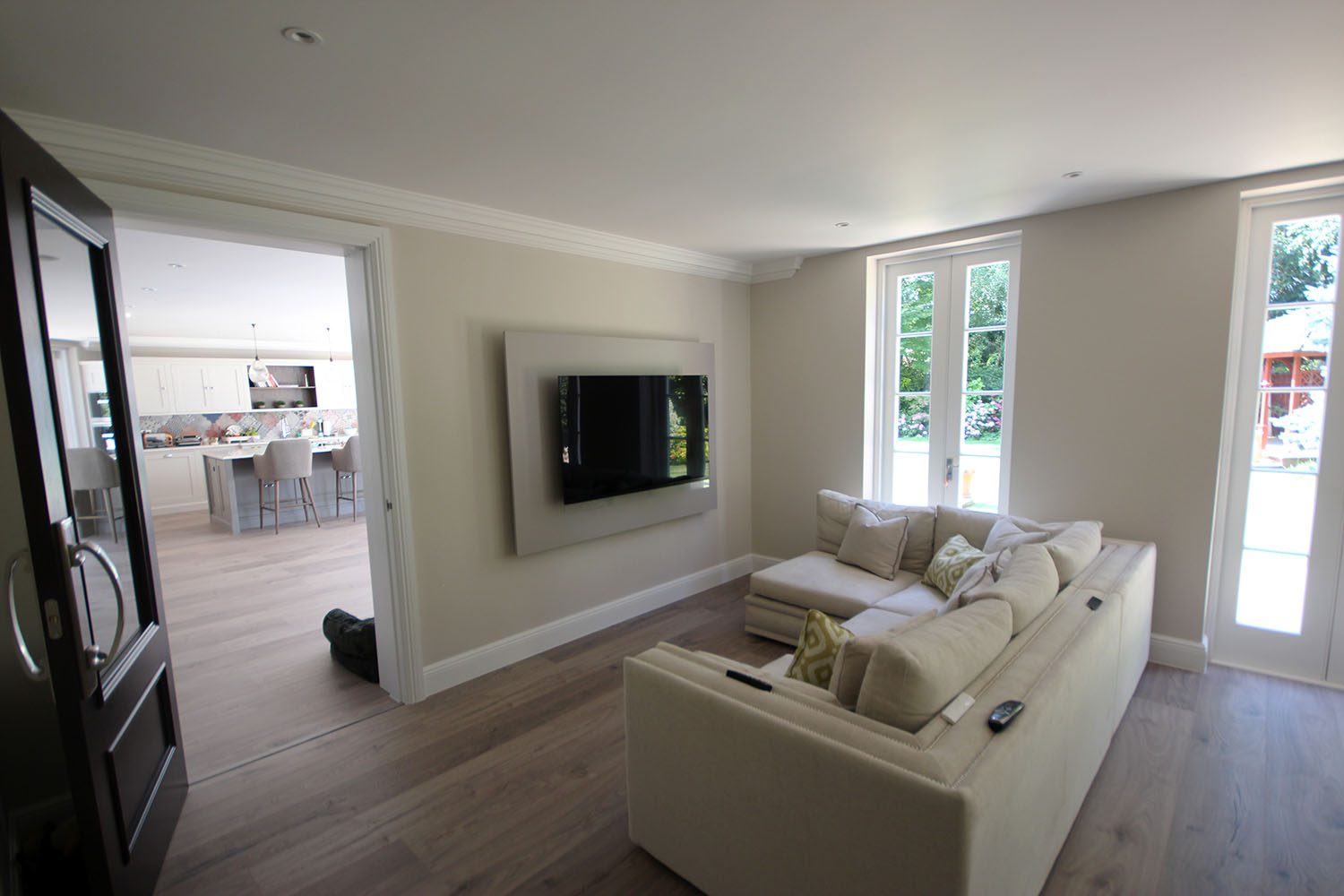 Your home: move or improve?
According to the Nationwide, house prices are making such a good post-lockdown recovery that in August they achieved their highest monthly rise for over 16 years. It described the recovery in the housing market as being "unexpectedly rapid". 
There are various reasons for this, including delayed demand from lockdown and also the stamp duty holiday on many properties. And, of course, things could change at any time depending what else happens over the next few months. 
So if you have been considering selling your home then now could potentially be a time to do this. But even if you are planning to stay put for the foreseeable future, making some improvements could not only add value to your home but also enable you to transform it into a more stylish, functional and enjoyable place to live.
So what are the best home improvements to make, both for your own benefit and to add value to your home in terms of its potential saleability? 
Let's take a look at some of the most popular kitchen and bathroom features that you should consider.
The best bathroom improvements to make
Three of the things that many buyers will look for are:
A bath
Even though most people these days seem to shower rather than take a bath, buyers are likely to be put off a property if it does not have a bath at all. So if you are planning to install a new bathroom or improve an existing one, then do bear this in mind. We love this fabulous Breeze bath from Waters Baths of Ashbourne that we recently installed in a master-en-suite. 
Separate shower cubicle
Another popular feature is a separate shower cubicle rather than a shower over the bath. This is one of Stone and Chrome's specialities! We particularly love the example below which we installed in a compact family bathroom. It features a Merlyn frameless square shower enclosure with brushed black brassware from JTP.
Downstairs toilet
Most people buying a family home now expect a downstairs toilet. It is an incredibly useful feature, particularly if you have a large family and/or do a lot of entertaining. During social distancing it has also been particularly helpful to be able to allocate dedicated bathroom facilities to visitors. So why not consider installing or improving your downstairs cloakroom?
If you are short of space, don't worry. Small can be beautiful, as demonstrated perfectly by the two images of the stylish ground floor cloakroom shown below. It features a Geberit frame and cistern with a Laufen Pro rimless wall hung WC, perfectly complemented by a gorgeous Breeze bowl from Waters Baths of Ashbourne. The perfect finishing touch is provided by this fun quirky wall covering, brushed brass brassware from Just Taps and a bespoke recessed mirror with mirrored sides.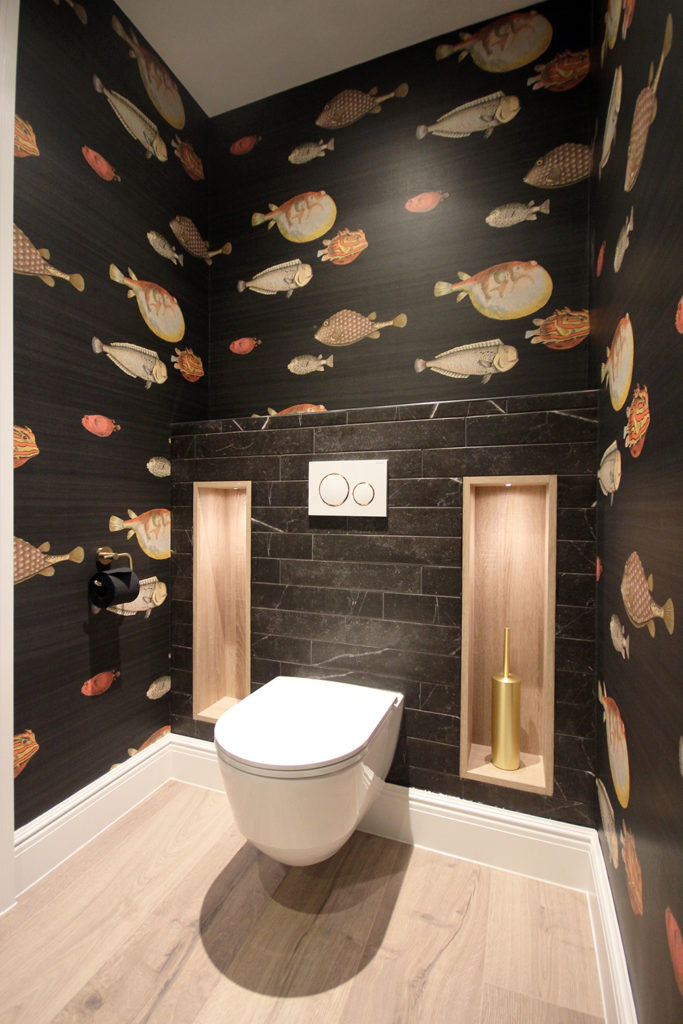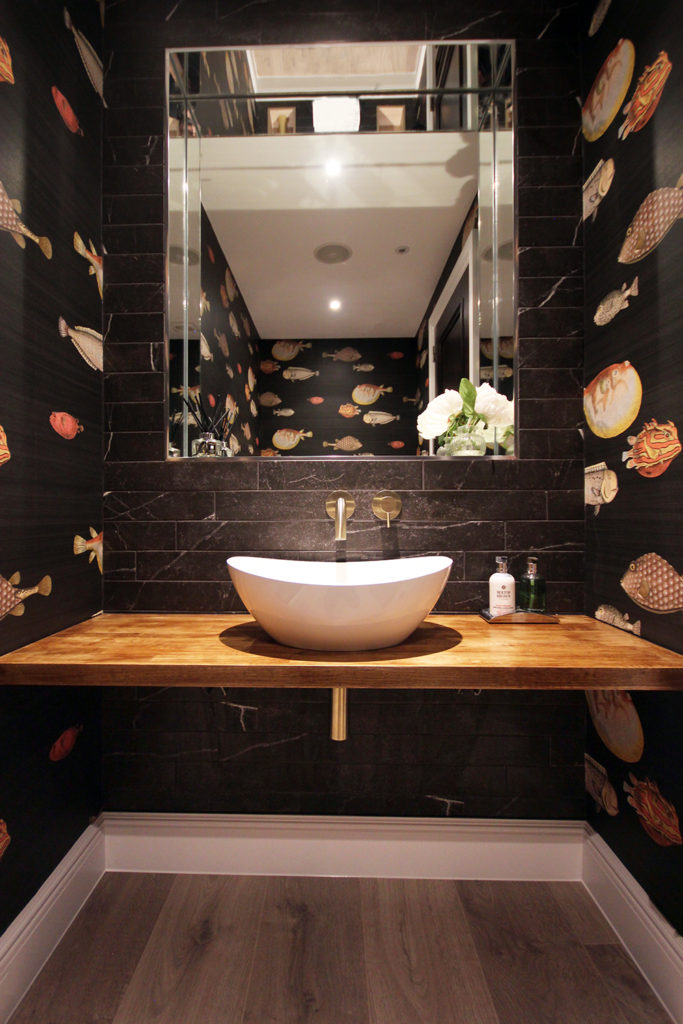 The best kitchen improvements to make
Three of the things that many buyers will look for are:
Storage space
You can never have too much storage in your home, and the kitchen is no exception! With a bespoke Stone and Chrome kitchen, we can transform every inch of space into a stylish storage solution. As well as kitchen cupboards above and below the work surfaces, you could also consider additional full height cupboards such as the tall housekeeper cupboard shown below. Whatever you choose, it will be perfectly hand finished with high quality paint from the supplier of your choice, such as Farrow & Ball Calke Green as shown below.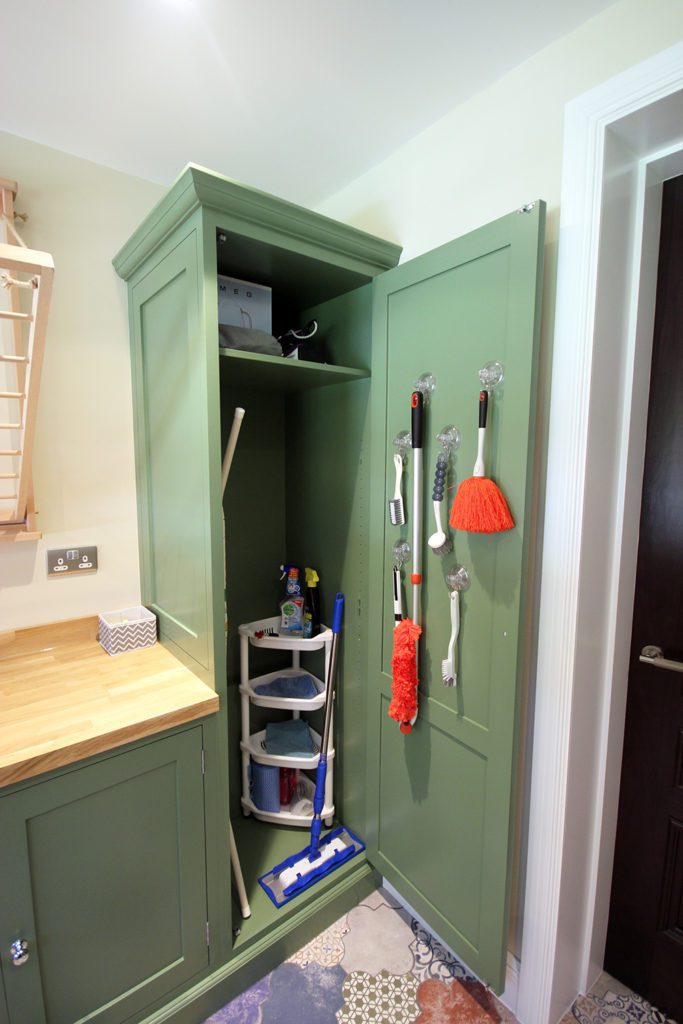 K
itchen island
Of course, one way of adding storage capacity is a kitchen island. You can customise what you want to include in your island, even perhaps a wine fridge as shown below. An island can also provide additional seating and is a great place for guests to congregate and socialise.
Stone work surfaces
Stone work surfaces are very on trend at the moment, and at Stone and Chrome we are delighted to work with several quality suppliers of high end worktops, including Caesarstone, Classic Quartz Stone and Silestone. One of the most popular materials for work surfaces is quartz. As one of nature's hardest materials, it is incredibly resilient and very easy to clean and maintain. It is also available in a wide range of colours, patterns and finishes. We love the example below in which we used a We used a classic carrara type quartz work surface with matching upstands and window sill.
Come and visit Stone and Chrome
So why not make the most of the rest of 2020 and start planning how to improve your home? Start by browsing our galleries of Stone and Chrome kitchens and bathrooms.  Then do get in touch with us to arrange a visit to Stone and Chrome's Camberley showroom where you can see some fabulous examples of kitchens, bathrooms and wetrooms to help you start bringing your plans to life.