Stone and Chrome are best known for our fabulous handmade kitchens and bathrooms. But did you know that we can also design, build and supply home office furniture?
And our handmade home office furniture is something very special. As you would expect from Stone and Chrome, every piece of furniture is lovingly constructed from natural, sustainable materials, and then given the perfect finishing touch. Which means that you get the bespoke home office that you need, and the quality you deserve.
So, given that we are now being encouraged to work from home again if at all possible, perhaps it's time to get your home office sorted? Let's take a look at how Stone and Chrome can help.
Design your home office
First things first. Let's design your perfect home office. Depending on the space you have available, and the main things that you need to use the room for, we will work with you to design the room that is just right for you. We love the creative nature of the office layout shown below. In particular, the asymmetrical shelving is perfect for housing a variety of work and personal items, that give the room great character and make it an energising place to work.
Also note the length of the desk so that it can easily accommodate two people working side by side. But only if you are generous enough to share your home office!
Sustainable home office furniture
Taking a closer look at the construction of the office shown above, you'll see that we continue to source our wood from well managed responsible forests. We believe strongly in using sustainable materials so that we help to preserve our forests for future generations. The worktops and shelving shown here are made from solid oak, and the cabinetry is constructed from marine birch ply carcasses and solid tulip wood doors.
Not only are our materials sustainable, but the quality shines through to make this a truly stunning home office. The room is given the perfect finishing touch with Farrow and Ball paint. We used All White for the furniture and Skimming Stone for the walls. 
Work and relax in your Stone and Chrome home office
If you are going to be working at home long term, you really need flexible space in your home office. Not just a desk and shelves, but different areas to work so that you get a bit of a change of scenery. And of course life is not all about work. Even during the working day, there will be times when you need to take a break and sit and relax for a while.
So why not incorporate a more relaxed seating area in your home office if you have the space? The office we have just been looking at is big enough to house a small comfy sofa which could be just what you need to regroup for a while.
If you have a larger space – for example an L-shaped room – then why not consider installing a larger sofa and Smart TV? This would create an area that is not only a relaxing place, but which would also enable you to keep in touch with the rest of the office online.
Rest assured that your Stone and Chrome home office will be the envy of all your colleagues!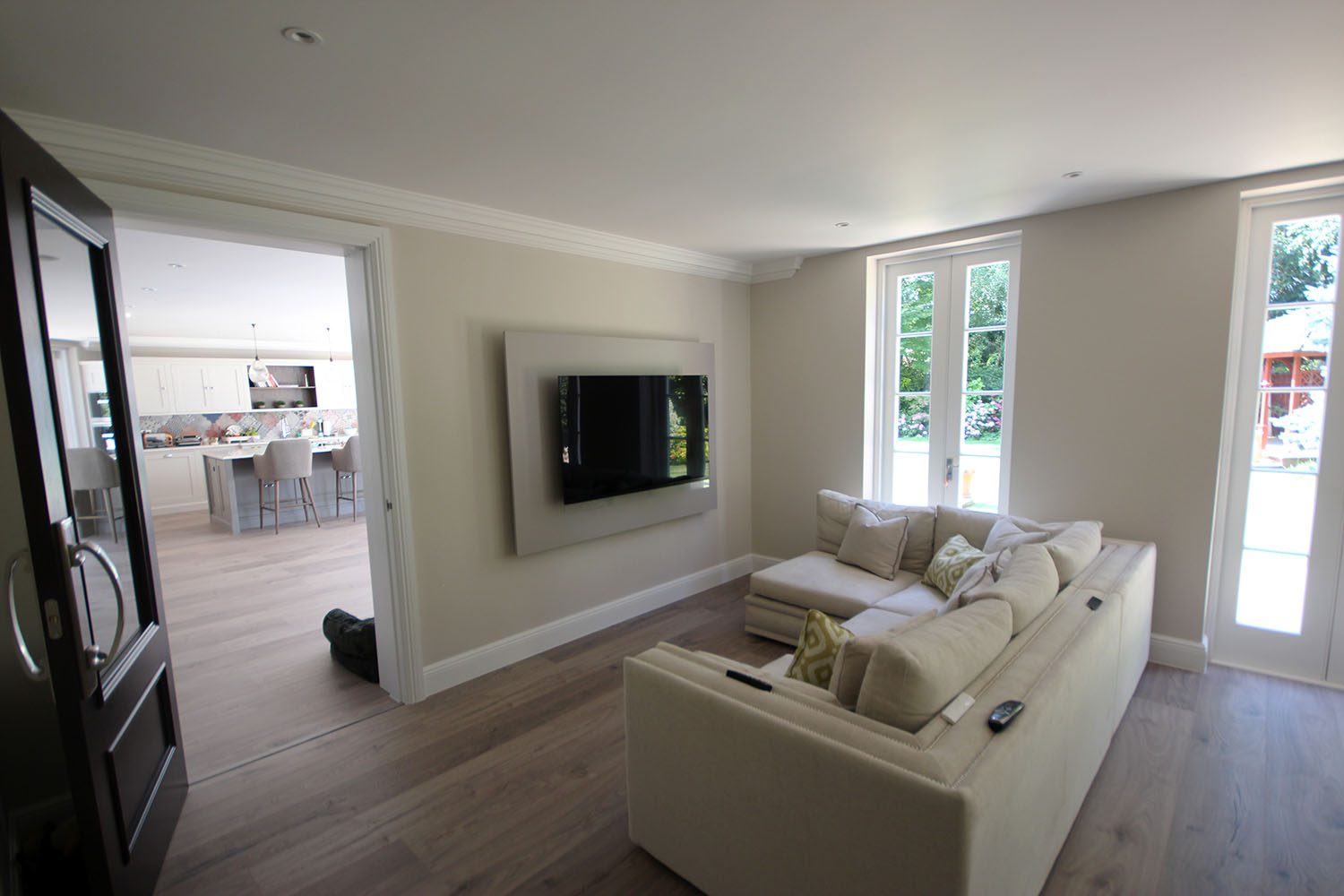 So, if the time has come to invest in a seriously good home office for working from home, come and see us at Stone and Chrome. Our Camberley showroom has stunning examples of our handmade kitchens and bathrooms, and we can also talk you through how we can help you to create your perfect home office for 2020 and beyond.