At Stone and Chrome we love colour. In an earlier article – Colourful Kitchen Designs – we explored the way that different colours can transform the look and feel of your kitchen, or indeed any room in your home.
But recently we've also been discovering the beauty of monochrome. A simple black and white combination can look truly stunning and help to achieve a distinctive and minimalistic ambience. So in this article we want to show you a few examples of just how good monochrome can look, to give you another option to think about for your new kitchen or bathroom.
You can use monochrome in different ways in your bathroom or kitchen, depending on the look you want to achieve. 
Completely monochrome
The first way to use monochrome is to redo your kitchen or bathroom completely in blacks and whites. Let's look at a couple of examples.
The first is this stunning monochrome themed bathroom that we have just installed in our Camberley showroom. It features a fluted glass wetroom panel from Drench Showers and beautiful matt black brassware from Hansgrohe. The overall effect is chic and stylish. If you want to see the full impact of this magical monochrome then do get in touch to arrange a visit to our Camberley showroom sometime soon.
We also love this luxury black slate porcelain bathroom. This stylish yet practical family bathroom features an Ebb single piece offset bath from Waters Baths of Ashbourne, a stunning Focus shower tray from Acquabella, and a gorgeous Palace basin from Laufen. 
The bathroom is tiled in Porcelanosa Ona Natural tiles, and the texture adds depth to the room. It also features LED lit recesses and mirror which further add to the ambience of the room. These clever finishing touches mean that although the black and white colour scheme is dramatic, there is still a richness and warmth to the room that makes it very inviting.
If you don't want the full monochrome effect in your kitchen or bathroom then another effective way to use monochrome is to feature it in just part of your room.
The beautiful spacious barn conversion handmade in-frame shaker kitchen pictured below is light and airy, and painted in a soft neutral grey palette. But a segment of the kitchen features the monochrome look, with a beautiful Aga range cooker in black, and a white island with black seating.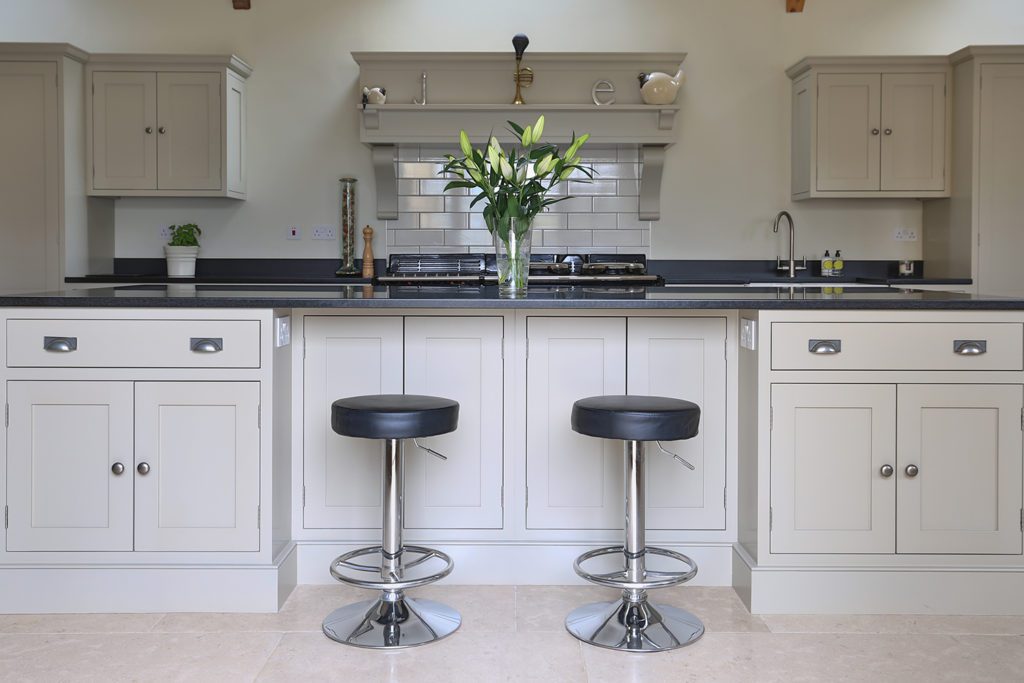 So even though the immediate impression of this kitchen is not monochrome, the above images illustrate how monochrome can be used very effectively as a distinctive feature within a larger space. This is definitely worth considering if you have a large kitchen or bathroom space available and want to include some variety in the design.
The grey alternative
If you like the monochrome look but don't want anything quite as stark as black and white, then why not consider grey instead? Take a look at this gorgeous contemporary family bathroom in which we have created a serene space, tiled in stunning porcelain marble tiles.
The bathroom features a beautiful Flo bath from Waters Baths of Ashbourne, Merlyn Arysto offset shower enclosure, and a Miller London double washbasin with shaker style vanity in grey.
The main two colours used are grey and white, so the overall effect is somewhat softer than classic monochrome but just as distinctive and stylish.
Grey is also a popular colour to use in kitchens, as illustrated below. The image below is from a large handmande in-frame shaker kitchen which features a fabulous L-shape run of cabinetry including an island and a secret pantry. The island is painted in Farrow and Ball Charleston Grey, which complements the Skimming Stone shade of the main cabinetry, but could fit equally well with black and white monochrome features as we saw above.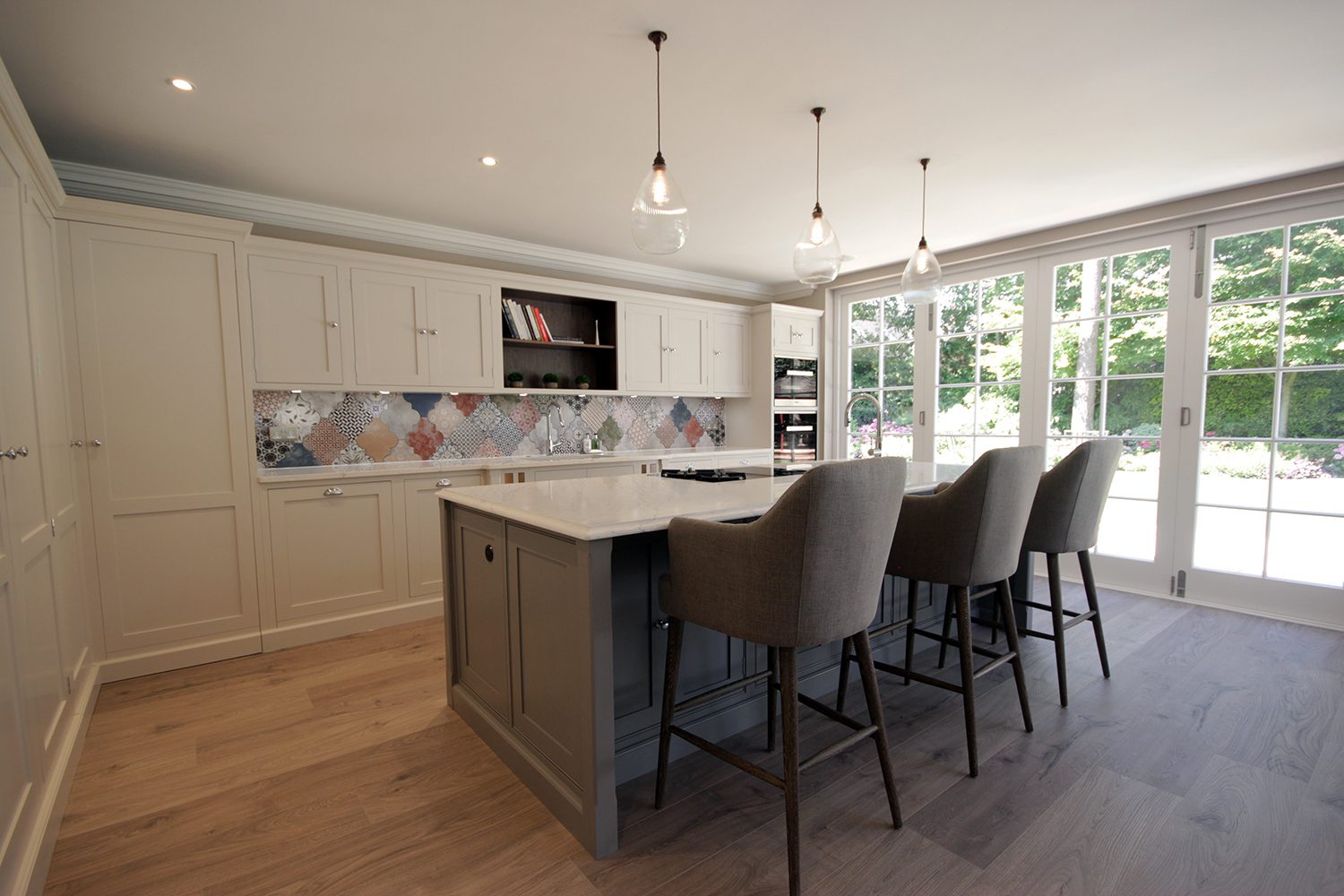 So if you feel like adding the monochrome touch to your home, the first thing to do is come and visit us at Stone and Chrome to see some examples for yourself. We can then help you plan the perfect black, white or grey combination for your home.