Black Friday has been and gone for another year. This year, of course, it was very different because of Covid-19. Most shopping was done online due to the closure of non-essential shops during the second lockdown. This has resulted in an estimated 10% fall in overall retail sales as compared with Black Friday 2019.
If you missed out on shopping yesterday, many businesses are continuing their Black Friday sales throughout the weekend and into Cyber Monday. So there is still time to bag a bargain.
But when shopping for bargains, you need to be a little cautious. Whilst there are genuine bargains and discounts to be had, if you buy something just because it's a bargain – and it's not what you either want or need – you are throwing your money away.
The same could be said when you are in the market for a new kitchen. It's very easy to be enticed by offers and apparent bargains. But unless you are very confident that you are going to end up with exactly what you really want, and are not going to have to compromise in any way, you could be making a false economy.
Let's take a look at what happens if you decide to have a Stone and Chrome kitchen.
Your kitchen design
One of the key reasons that a Stone and Chrome kitchen is so special is our design process. With our exceptional attention to detail, nothing is overlooked. We have the highest quality technology and 3D design software in our Camberley showroom. This means that we can ensure that the kitchen is exactly as you want it before any build work begins. 
You will be able to be involved in the design process by seeing the design on our large TV in our design hub. So, right from the start, you will know that you are getting the kitchen you want.
Our workshop will then produce line drawings of your kitchen, which they then use as the basis of more detailed designs with all the information they need to make your dream kitchen a reality.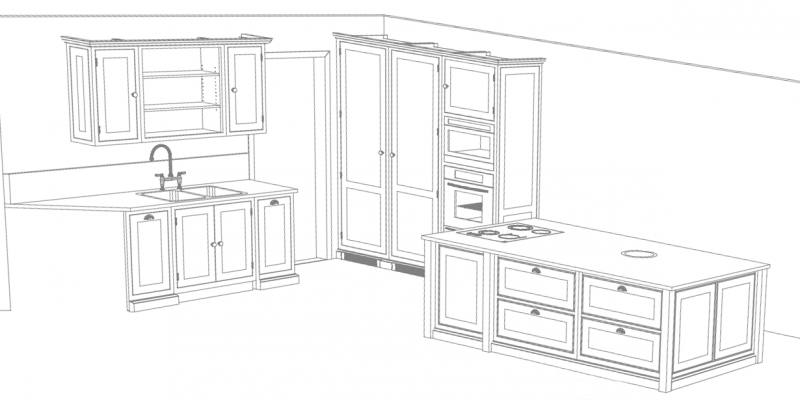 For kitchen appliances, we work with a small selection of industry-leading brands who we trust to deliver the quality your new kitchen deserves. These brands include:
1810

Armac Martin

Bora

Buster and Punch

Caple

Fisher & Paykel

Franke

Insinkerator

Kaelo

Miele

Neff

Perrin & Rowe

Quooker
Your kitchen build
A Stone and Chrome kitchen is a hand built kitchen. It will be carefully constructed in our UK workshop through a perfect combination of traditional joinery methods with modern machinery. The result is a stunning high quality finish with beautiful dovetail joints and precision construction. 
Our workshop also has its own spray booth. We will spray your kitchen and then apply the final coat with a brush by hand. This gives your Stone and Chrome kitchen its distinctive look and authentic appeal. We can paint your kitchen in any colour palette of your choice. We use a range of different manufacturers including Farrow and Ball, Mylands, Paint and Paper Library and Little Greene.
Your kitchen installation
Because we construct and paint your kitchen in our workshop, the installation in your home will usually take around 5-7 days. This includes the templating and fitting of natural stone worktops, from manufacturers such as Silestone, Classic Quartz and Caesarstone. If you opt for timber worktops these can be installed in a day.
Your kitchen's life
A Stone and Chrome kitchen is a kitchen for life! Our kitchens are built to last. Every aspect of our kitchens is made from solid timber. Our carcasses are made from birch plywood, and our doors, frames and mouldings from accoya and tulip wood. This makes our kitchens incredibly strong and durable. 
We are also big on sustainability! All our sustainable timber is sourced from well managed responsible forests. And for every kitchen we install we also have a tree planted on your behalf, just to play our part in giving something back to the environment. 
How much does it all cost?
With a Stone and Chrome kitchen you are paying for quality. You will get the best quality design, build and installation, and your whole kitchen creation process will be carefully managed from start to finish by an expert project manager to ensure that everything goes smoothly for you. 
Our costs vary from £10k-£40k depending on the size of your kitchen and whether you are having cabinetry only or a complete kitchen. A complete kitchen includes not just the bespoke cabinetry, but also mid-range appliances, bespoke handles and taps, quartz stone work surfaces and VAT.
For further details see our costings page.
So if you are considering having a new kitchen for your home, you want to make sure that you are getting the quality of design, build and installation that you need and deserve. Start off by arranging to visit us at our Stone and Chrome Camberley workshop, and we can start to help you plan the best kitchen for you.