Christmas is coming and, even though things will be very different this year, it's possible that you might be having guests to stay during the five day Christmas window.
Particularly this year, it will most probably feel very strange having other people in your home. And almost straight away you remember that whenever you have overnight guests, you really wish you had another bathroom. 
An en-suite is particularly useful when you have guests. Whether it's in your own bedroom or the guest bedroom – or even both – an en-suite ensures privacy and convenience for everybody.
After the year we've had, it's good to plan some positive things to look forward to in 2021. So why not consider creating  a new en-suite bathroom, or updating an existing one? Imagine how much easier it would be to host guests if you had that facility. Not to mention the fact that you get to enjoy it for the rest of the year as well.
Does an en-suite bathroom add value to your home?
But you may be wondering if it's really worth spending money on an en-suite. Yes it would be great to have one, but is it a wise investment?
The answer is yes. Apart from all the benefits to you, your family and your guests, an en-suite could also add around 5% to the value of your home. So if you plan to sell your home in the foreseeable future, it is worth doing for this reason as well.
Over 70% of estate agents agree that an extra bathroom could help to sell a house. There is a desire amongst home buyers for extra bathroom space, and if a home has four or more bedrooms then they expect it to have a minimum of two bathrooms. And a house with three or more bathrooms definitely has a sense of superiority about it, which can then be reflected in the asking price of the property.
But it's also about quality not just quantity. Home buyers are looking for a touch of luxury: a place where they can really relax and feel pampered. So when adding or updating an en-suite bathroom, don't cut corners. Sometimes less is not more, even in a small space.
Let's take a look at a recent en-suite bathroom project from Stone and Chrome.
This stunning en-suite has a disguised entrance built into our bespoke fitted wardrobes.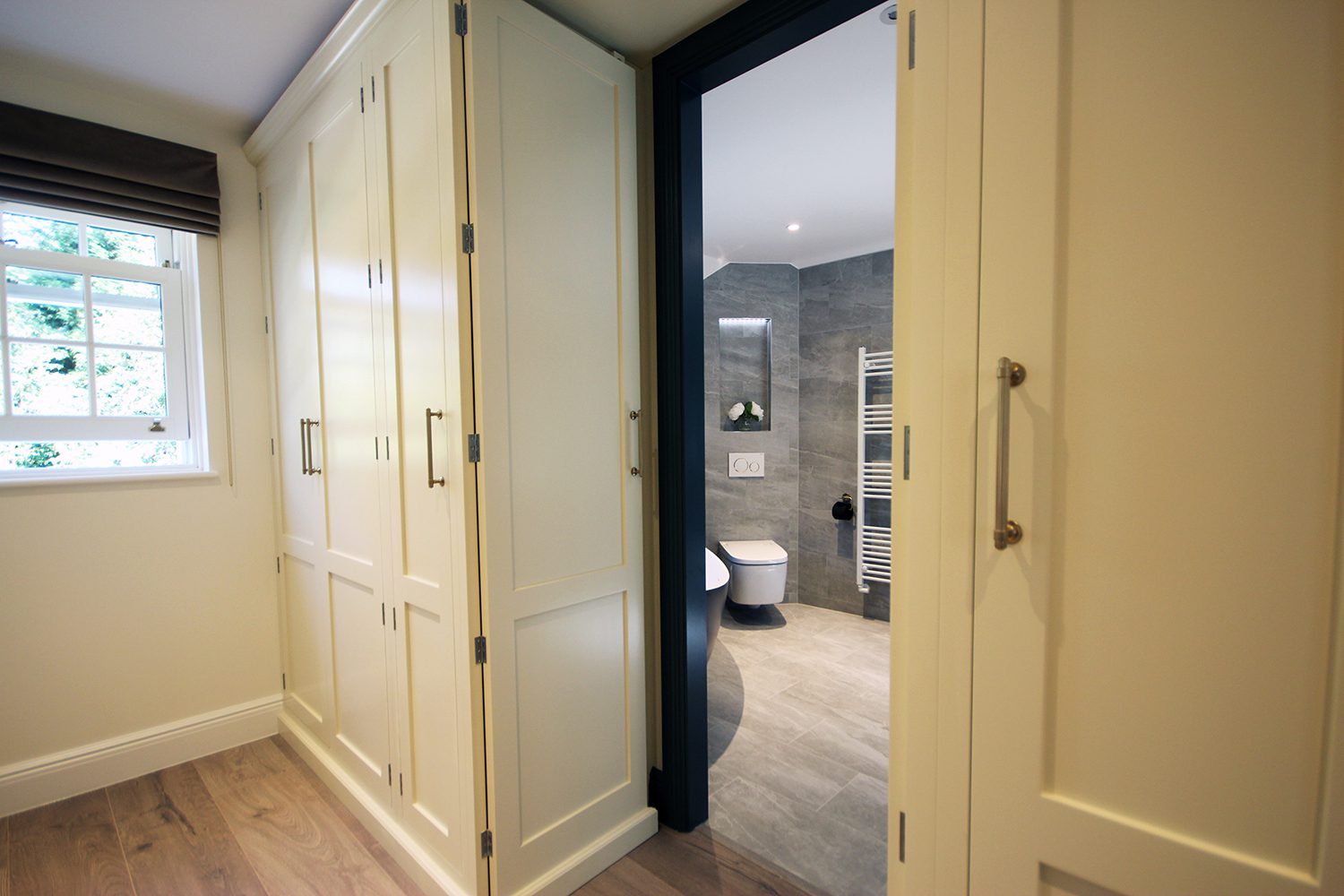 Once you enter the en-suite, you are met by the striking combination of brushed brass brassware, deep blue Hague Blue paint from Farrow & Ball and Cashmire Oyster tiles from Minoli.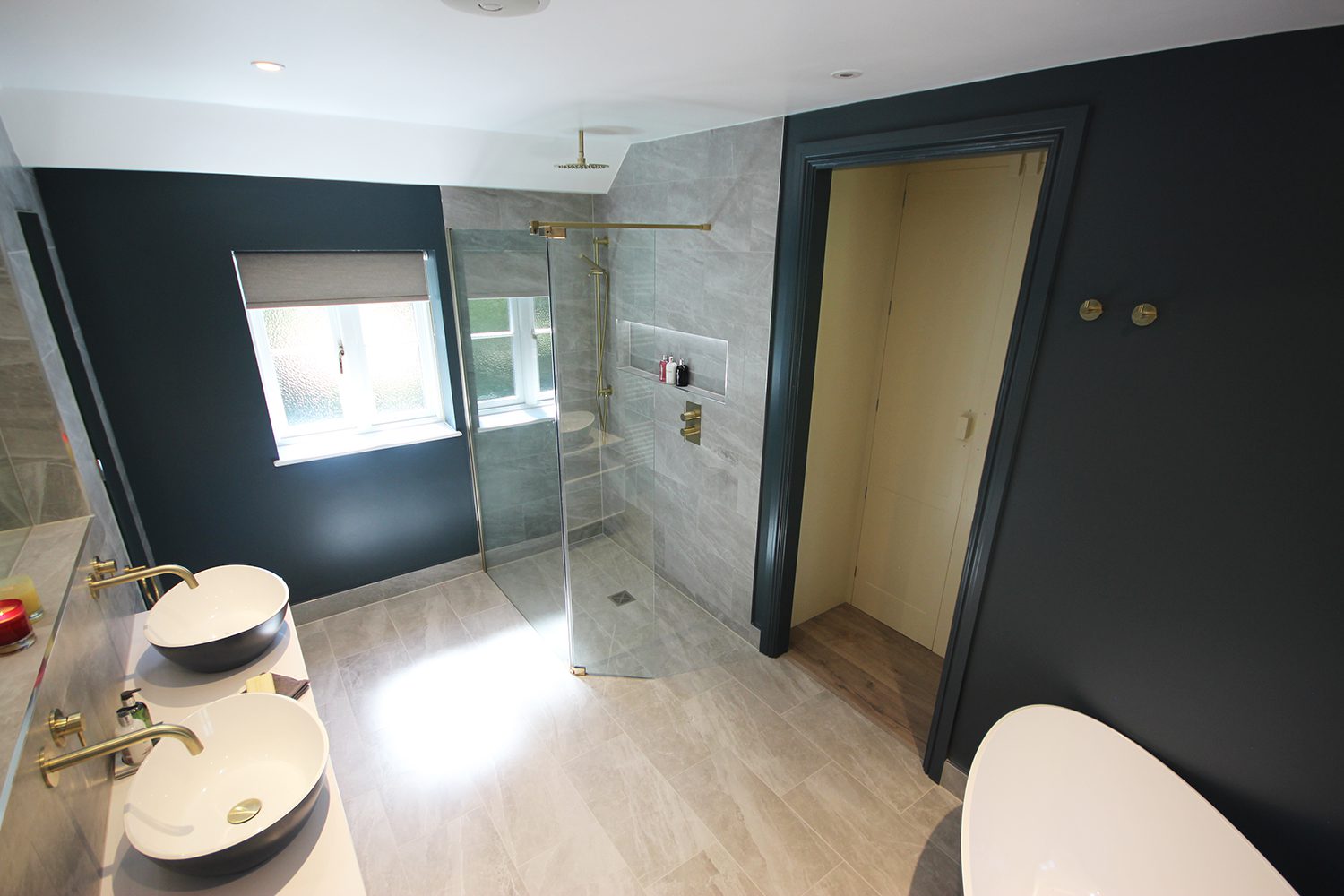 This beautiful bathroom features a generously sized walk in wet floor shower, with glass and fittings from Kudos and an Impey wet floor system. The shower has both an overhead shower and a handshower on a riser rail.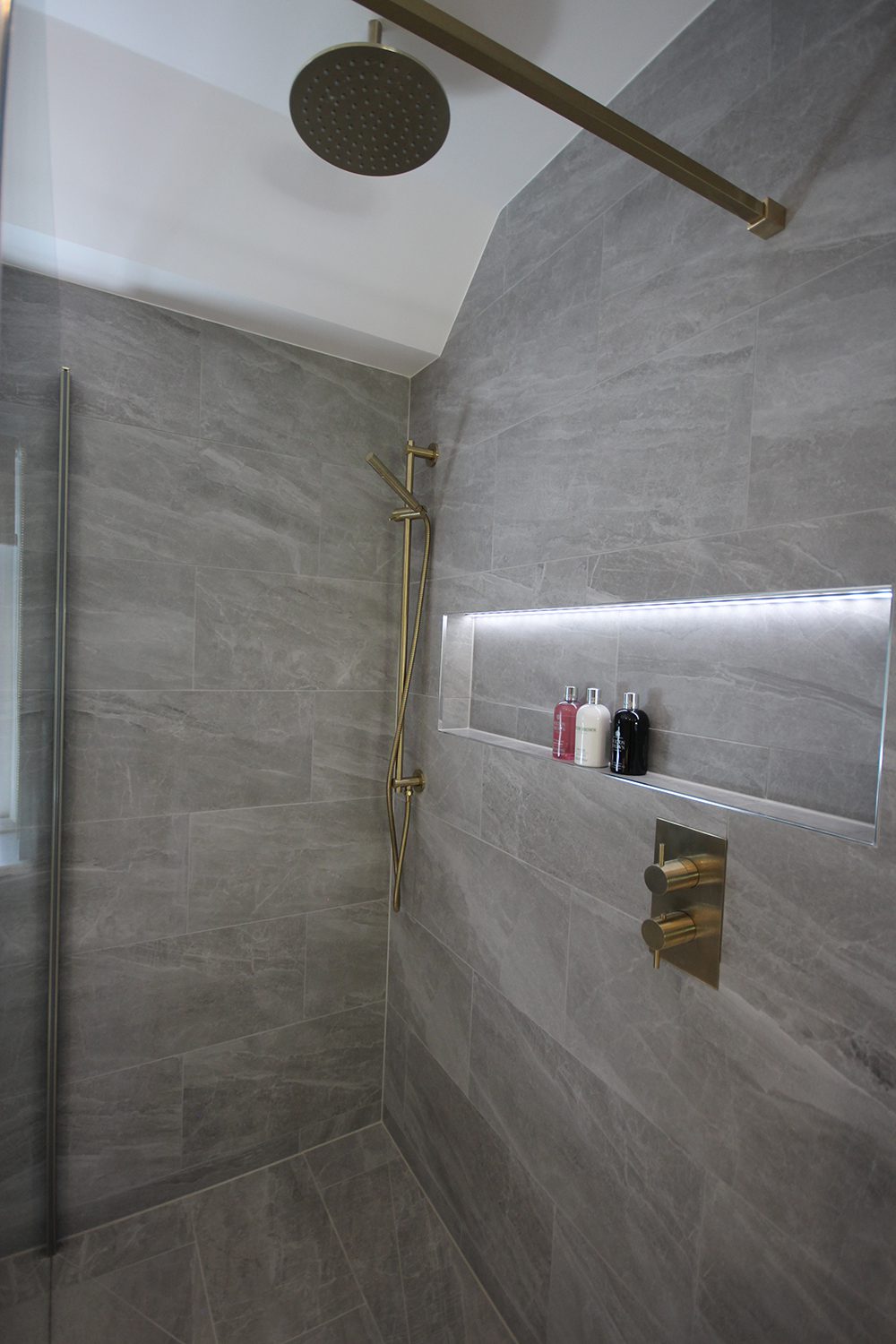 If you prefer a bath, then just take a look at this gorgeous Breeze bath from Waters Baths of Ashbourne. 
The above image also features the stylish Vitra V-Care washlet WC, with Geberit frame, cistern and flush plate.
We also love these double basins mounted on a floating solid surface and enhanced by brushed brass wall-mounted mixer taps. As you can see, this en-suite also has plenty of storage space in the form of the drawers underneath the basins, and a tall recessed mirror storage cabinet. So it is practical as well as beautiful.
This wonderful en-suite bathroom is just one example of how Stone and Chrome could help to transform your home during 2021.
You can see more of our beautiful bathrooms in our bathroom gallery here, and our handmade kitchens in our kitchen gallery here.
To get things moving, why not pay us a visit at our Camberley showroom? We would be delighted to meet you and to help you plan how to improve your home during 2021. Make your appointment now so that you can get 2021 off to the very best start!