In our last blog Right Royal Bathrooms we speculated on what Harry and Meghan's bathrooms may look like, and also looked at some current popular trends in bathrooms.
But this also got us thinking about all the little extras that we like to have in bathrooms: the bathroom gadgets!  What are the essential "extras" that you really want in a bathroom? What things would you miss if they weren't there? What is your ideal gadget that you would love in a bathroom but are not sure if anyone has invented yet?
So in this article we are going to take a look at a few of the weird and wonderful gadgets that are available for the bathroom of 2018. We will feature more in a future article.
Who knows: perhaps there is something that you really do want or need but you just didn't know it existed!
Toothbrush charger
Whenever you visit the dentist you will be told that using an electric toothbrush is much better than brushing your teeth manually. But many of us have found that it can be a real hassle keeping electric toothbrushes charged. It seems that you have a choice of either having messy cables in the bathroom to reach to the plug, or you have to keep taking the toothbrush elsewhere to charge. Both can act as disincentives to using the toothbrush, many of which therefore sadly end up getting thrown away.
But no more! We are now stocking this sleek and stylish toothbrush charger. Created by Proofvision, it was launched at the KBB show in March and is fully compatible with Oral B and Braun electric toothbrushes. The unit fits flush into the wall and can replace unused shaver sockets.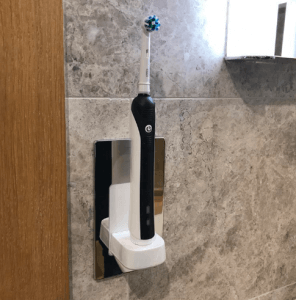 As you can see the toothbrush charger blends into the bathroom decor and also gives you somewhere convenient to put the toothbrush itself. Definitely worth considering – and will make your dentist happy too!
Intelligent mirrors
In our earlier blog Bathroom Trends to Watch in 2018 we featured the Kohler Konnect smart Verdera mirror, which incorporates voice-activated features that sync up with the app, your phone, and Alexa. This enables you to adjust the mirror lighting using voice commands.
Other models of smart mirror are beginning to come onto the market too. For example the Phoenix Play Music Bluetooth Mirror – pictured below – which has bluetooth connectivity and a built in speaker so that you can enjoy music in the bathroom from your phone or other device. This mirror also has a sensor-triggered heated demister to clear condensation as soon as it begins to appear.
The old saying "mirror mirror on the wall" begins to take on a whole new significance!
Sound and vision
Of course once you start thinking about entertainment in the bathroom you may want to make this bigger and better than just a bluetooth mirror! At Stone and Chrome we can supply bespoke remote controlled sound systems designed specially for bathrooms.  For example you could install ceiling mounted speakers that can support inbuilt DAB radio and connect to devices such as iPods, iPhones and iPads through either bluetooth or docking station.
We also supply a range of bathroom television options.
Rest assured that these amazing technological developments are completely safe to use in bathrooms. All you need to worry about is what to watch or listen to!
So if you like any of the above gadgets why not come and talk to us at Stone and Chrome? We create beautiful bathrooms using innovative and high quality products that we either create ourselves or obtain from our list of trusted suppliers. We will be able to help you to create the bathroom of your dreams – with the gadgets that you now realise you need!