You can't fail to be aware that this week has seen the state visit of President Donald Trump. Love him or loathe him, he has certainly made his presence known.

But long before the President became centre stage, the word "trump" has been in common usage in the world of card playing. It means either a higher value card or a winning hand. The phrase "coming up trumps" also reflects the meaning of someone or something being successful – particularly when they have had to overcome various odds to do so.

So as summer approaches and we are almost halfway through 2019, does your bathroom come up trumps? It's at this time of year – when the sun begins to shine – that you realise it is perhaps beginning to look a little tired.

It doesn't help the situation that if you take a holiday sometime over summer you are likely to be staying somewhere with a sparkling clean bathroom, perhaps with more space and better facilities than yours at home. It can feel like an anti-climax coming back to a bathroom that doesn't really meet your needs.

So what can you do to ensure that your bathroom has that essential winning streak?  One way to start is to get some ideas for how wonderful a bathroom could look. So let's take a look at some of Stone and Chrome's current favourite bathrooms:
If you live in an older property then you may be under the illusion that a contemporary style bathroom will not fit in. But take a look at the beautiful bathroom pictured below. We recently created this amazing bathroom in an older listed property. It has a clean minimalistic feel but works really well in the home.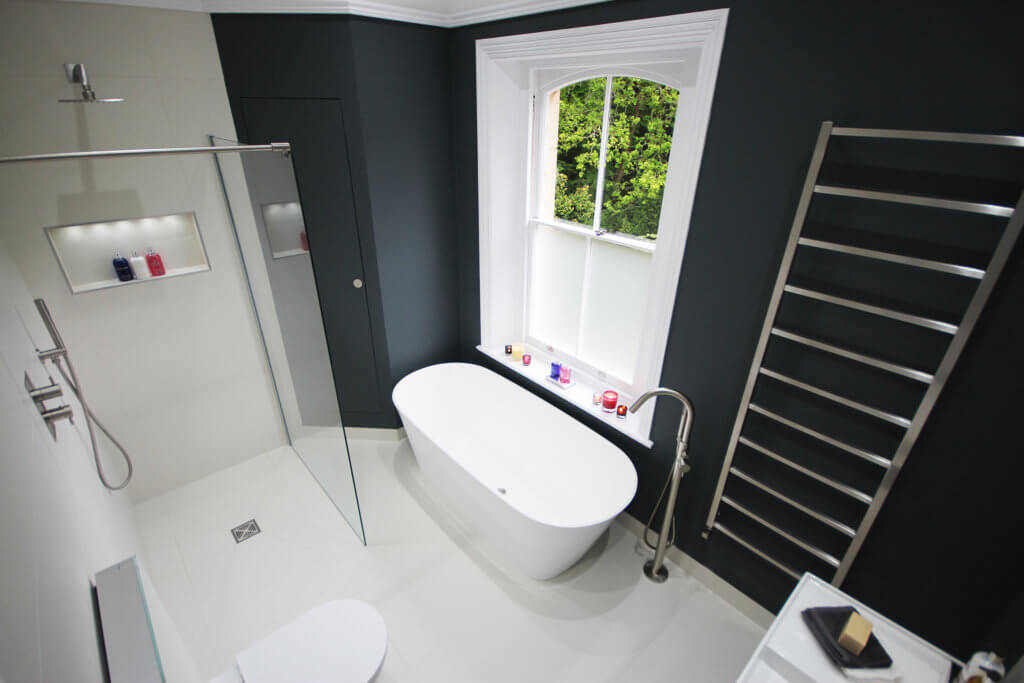 The bathroom features a wonderful Vetralla freestanding Quarrycast stone bath from Victoria + Albert and a Laufen Kartell basin. To keep the room clear and uncluttered we installed an LED lit recessed mirrored storage unit. This sits proudly above the basin to enable the beauty of the basin to be fully appreciated.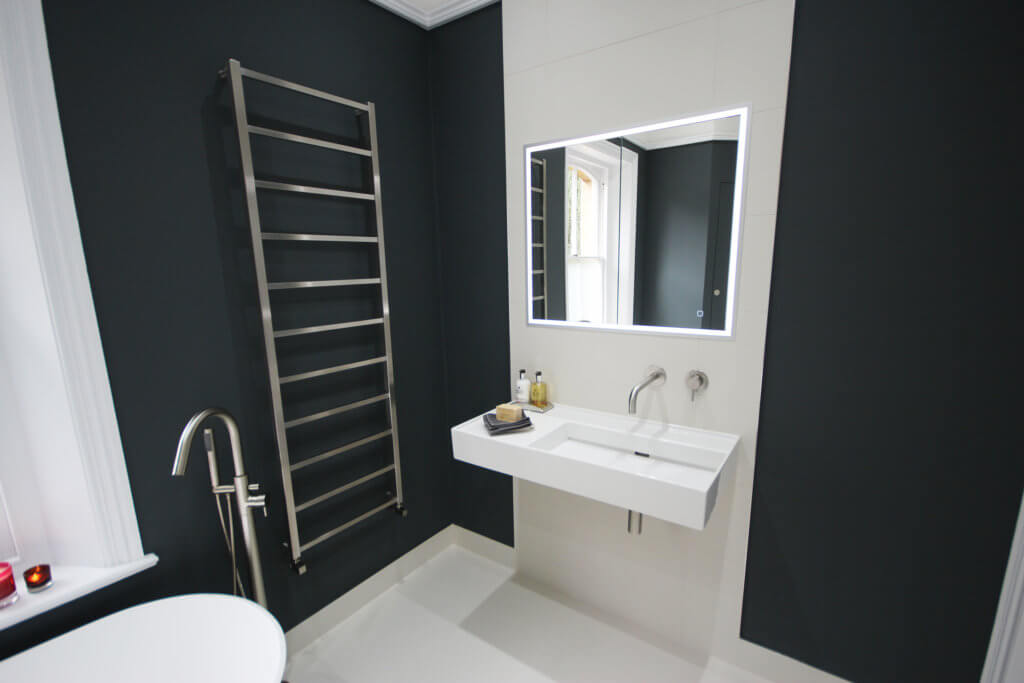 All the brassware in the room including the towel rail is brushed stainless steel, and the room is finished off perfectly with off white tiles and black and white paint.

So if you are going for a look that is simple yet dramatic, then perhaps something like this would work in your home.
Still on the black and white theme is this lovely serene bathroom that features a gorgeous soft grey shaker style double basin vanity and a beautiful Flo bath from Waters Baths of Ashbourne. For those who prefer to shower, it also has a stunning Merlyn Arysto offset shower enclosure.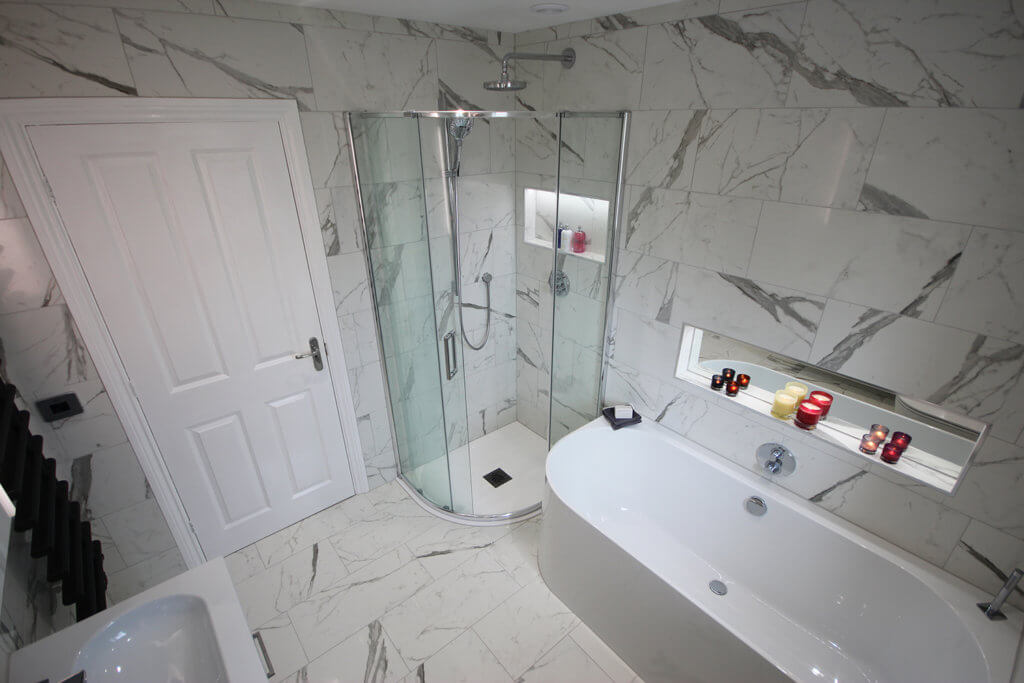 The bathroom also has a mirror backed LED lit recess that provides storage with style. The bathroom is tiled in our premium statuary porcelain marble tiles.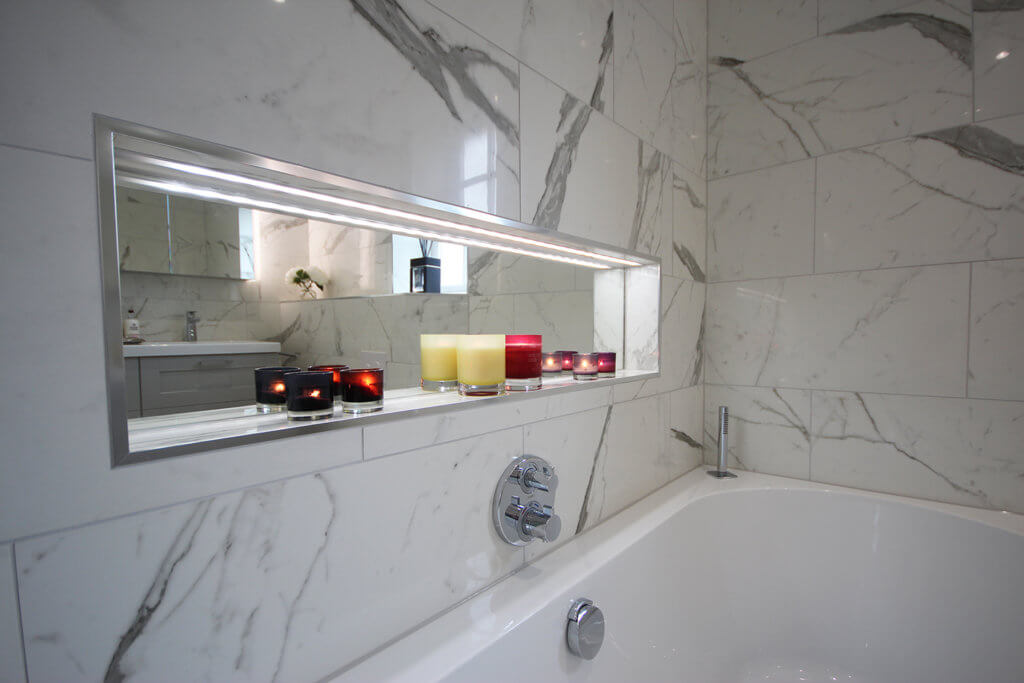 If you are looking to install or refurbish an en-suite bathroom then take a look at this lovely en-suite pictured below.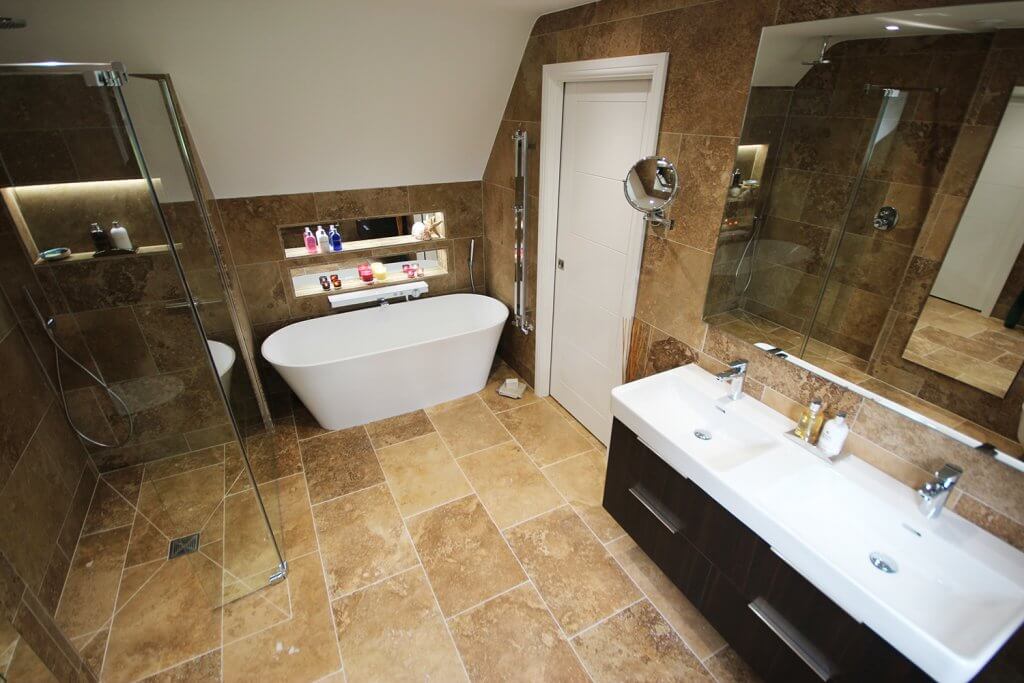 As you can see this is a very generously sized en-suite. It features a large walk in shower and a distinctive Vetralla freestanding bath from Victoria + Albert. It also has a Laufen Bathrooms double washbasin with dark elm four drawer base unit and a rimless Laufen Bathrooms Pro wall hung WC.
The bathroom features our trademark mirrorbacked LED lit storage recesses alongside the bath and also goes one step further with a bespoke full-length recessed mirrored storage cupboard to clear away the clutter.
The whole bathroom is given a warm and inviting finishing touch by our Noce Travertine stone tiles.
So if you want your bathroom to come up trumps this summer then why not pay a visit to our Camberley showroom? Take a good look round our stunning bathroom and wetroom displays, and start imagining how a new bathroom could transform your home.
We look forward to meeting you soon!