In our last article we looked at The Power of a Shower. Today we look at the other side of the debate – The Beauty of a Bath.

As we saw last time, the bath versus shower debate always provokes a strong reaction! Fans of baths claim that not only is lying a bath one of the most relaxing experiences ever, but it also can improve your health, help you to breathe easier, benefit your muscles, joints and bones and boost your immune system.

At Stone and Chrome we love both baths and showers and perhaps the ideal bathroom is one that features a high quality example of both – such as the image below. What better than to be able to choose which luxurious experience fits your mood after a hard day's work?

Whatever your bathing preferences, there is no doubt that a premium quality bath will add both value and saleability to your bathroom.
So let's take a look at some different types of bath and consider how they would fit into your home.
This gorgeous and pampering Vetralla 2 freestanding bath is from Victoria + Albert. It is a key feature of a warm and inviting ensuite that we recently installed. We also referred to this generously sized master en-suite in our last article The Power of a Shower. The client was delighted with the warm and inviting feel we created with our Noce Travertine stone tiles.. Why not take a look at the whole project here.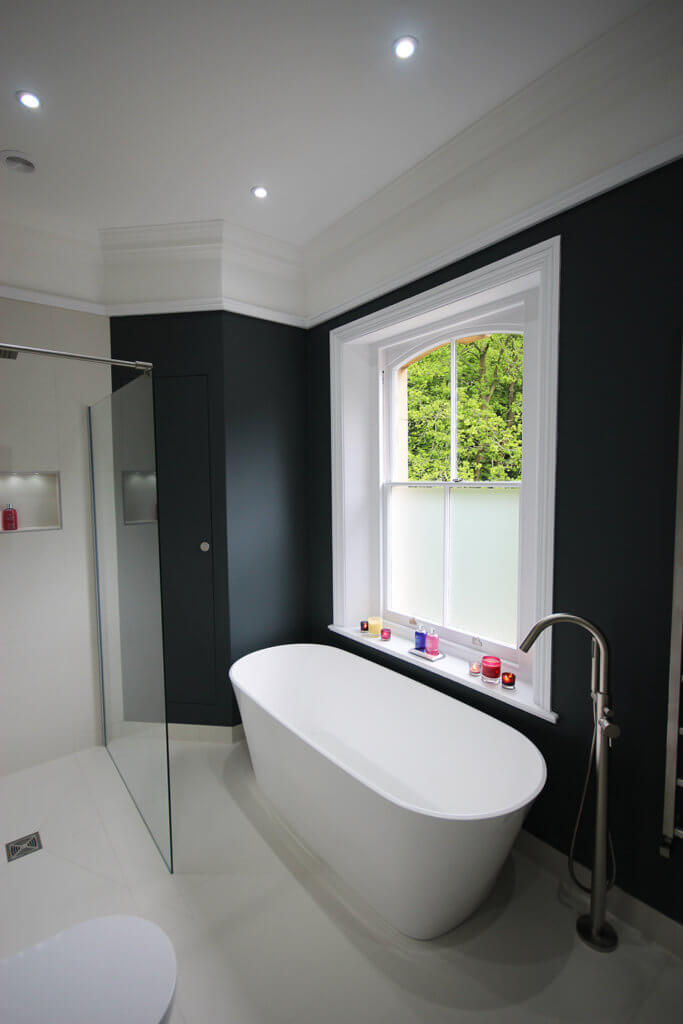 Ok – so we couldn't choose between these two wonderful examples of free standing baths so we included both! The beautiful bathroom above is in an older listed property. As above, the Vetralla 2 freestanding Quarrycast stone bath is from Victoria + Albert. The client wanted a very simple bathroom with clean lines and we reckon we pulled it off! Take a proper look at the whole project here.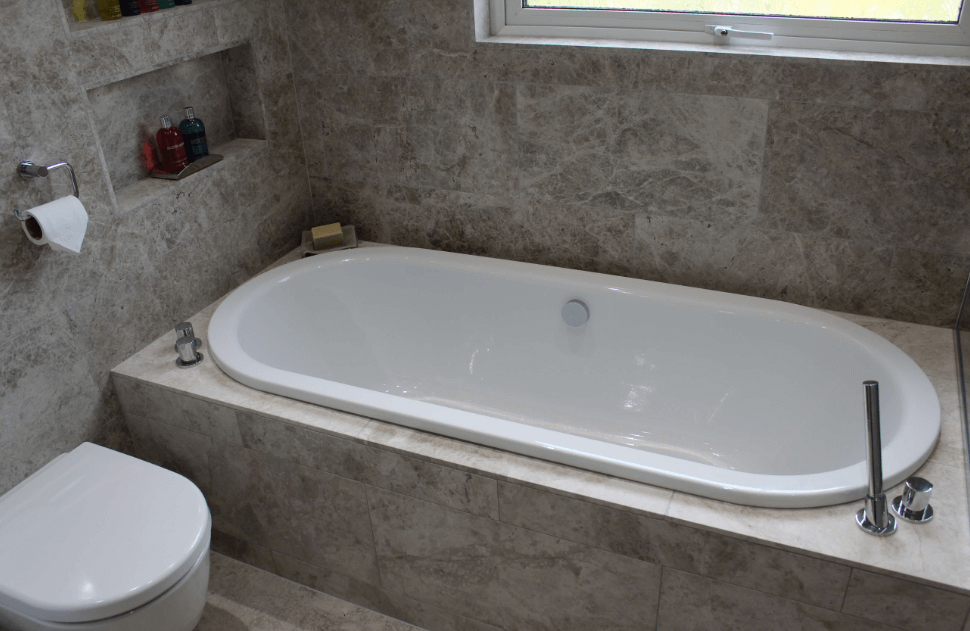 If you prefer a more integrated bath then how about this one? We love this super steel enamel bath from Bette, which is the centrepiece of a stunning contemporary bathroom that we recently installed. This stunning bathroom also features gorgeous LED lit storage recesses. The Premium Silvery Grey Limestone tiling adds the perfect finishing touch.
Who said that baths can't be high tech?! Surrounded by multimedia for the ultimate relaxation experience, This fabulous bath is a Kaldewei Conoduo steel bath. It has a powerful 16 jet whirlpool system and also an integrated filling system.
It also features a state of the art LED chromatherapy lighting. If the term Chromatherapy is new to you then just be aware it involves using a range of coloured lights to create different effects when you bathe.
This amazing bath was part of a luxurious bathroom and steamroom: take a look at the steam room and whirlpool bath here.
We hope that the above has given you a some ideas and inspiration for baths that you may want to bring into your home.

If you would like to take a closer look at some of our baths then why not pay a visit to our Camberley showroom? You will be able to see at first hand some of our some of our beautiful bathroom and wetroom displays, and will hopefully get ideas and inspiration for your new bath.

We look forward to meeting you soon and helping you to either install a new bathroom or upgrade an existing one – and to enjoy the best bathing experience ever!