Well done England! Yes we would have loved to see you get into the World Cup Final – and hopefully win it! But Gareth Southgate's team have done tremendously well and brought a sense of celebration and unity to the country. Even non-football fans (see our last article Football's Coming Home) have been drawn in!
We are sure there are greater things to come from this inspiring manager and hardworking young team. According to BBC Sports correspondent Phil McNulty: "Southgate and his players have conducted themselves superbly and offered enough to take renewed optimism into the next phase of England's development."
But, as when anything comes to an end, there is now a sense of anti-climax. It seems to be part of the human psyche to need things to look forward to. When there is nothing nice on the horizon we feel flat.
Enjoy the summer
So today is the day for making some exciting plans for the next few months. Perhaps you already have something coming up: after all we are about to hit school holidays when most of us are forced to spend double to go away on holiday 😉
Apart from any holidays you have planned, summer is also a good time to get family and friends together for a celebration – any cause will do! People tend either to have a bit more free time in the summer or to be more willing to travel in the lighter evenings, so give it a try. It is always worth making that  little extra effort to see people who are important to you.
Plan for the autumn
Summer is also a really good time to plan what you want to do to your home over the next few months. If you are having a holiday sometime soon then hopefully you will return feeling refreshed and ready to start some new projects. If you have been travelling you may well also have some fresh ideas for how you want your home to look.
If a new bathroom is on your agenda then do come and visit our Camberley showroom. We have some wonderful displays of bathrooms and wetrooms for you to enjoy. They will inspire you to bring your bathroom dreams to life and start creating the bathroom you always wanted.
To get you started, take a look at some of our wonderful designs below:
Dream bathrooms from Stone and Chrome
The first image shows a stunning soft art deco style master en suite bathroom. This bathroom features bespoke push drawer furniture, painted in Farrow & Ball Purbeck Stone and finished with an Italian Carrara marble surface. The bathroom is also tiled in our luxury Italian Carrara and Nero Marquina marble. As well as the beautiful roll top bath, the bathroom features a large drencher overhead shower and smaller gym style shower.
You can see the full portfolio for this bathroom project here.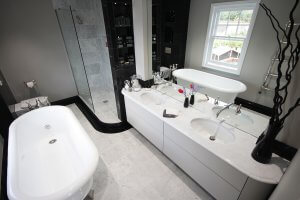 The image below shows a beautiful family bathroom. This gorgeous bathroom features a freestanding Dusk2 bath and Laufen sanitaryware – including a Val basin and Space vanity in light elm. It is perfectly finished off by wall and floor tiling in our Premium Italian Botticino marble.
You can see the full portfolio for this bathroom project here.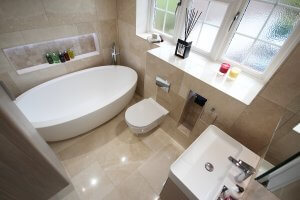 The above images feature just two of the many beautiful bathrooms that we have created for our happy customers. To view more of our dream bathrooms why not browse through our full gallery here? Then do come and visit us: we would love to help you to create a dream bathroom of your very own.
Whatever you do this summer – and whatever you plan for the autumn – we hope that you find something to look forward to. To quote Winston Churchill :
"Now this is not the end. It is not even the beginning of the end. But it is, perhaps, the end of the beginning."