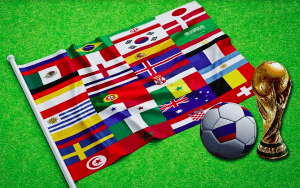 Or maybe not?! It cannot have escaped your notice that England are playing Columbia tonight. Those that love football and are enjoying the World Cup will be avidly watching every step. But what about those who do not really enjoy it, and are simply not interested?
Well, for non-football fans the World Cup is an ideal opportunity to make the time to do something just for you. The kind of things that you don't normally get round to doing because you are busy pleasing everyone else. So here are our Seven Secret Escapes for non-football fun during the World Cup.
Watch a film
If you have access to a television that is not being used to watch football, you can experience for once being in control of the remote! Even better if it's the bathroom TV for a bit of extra indulgence!  
Otherwise why not head off to the cinema? You can be sure of getting a good seat!
Shop till you drop
On a similar theme, why not head out on a sneaky shopping spree. Presumably the normal crowds will be glues to the match so you can go to any of the big shopping centres that offer late night shopping and have the place pretty much to yourself!
A treat to eat
One of the other great things about large shopping centres is that they have lots of lovely places to eat and drink: so why not make the most of it while you're out and treat yourself. At this rate, you may find that others are suddenly not so interested in the football any more!
Get in training
If all this indulgence is making you feel guilty then try a bit of exercise. In fact, why watch others racing around a football pitch when you could spend the time getting fit yourself? Parks, pools and gyms may well be nice and empty tonight so go along and make the most of it.
Spoil yourself with a spa treatment
If you fancy something a little more cossetting, then why not organise yourself a spa treatment? Either head off to your local salon organise a night of indulgence at home. If you are lucky enough to have a luxurious bathroom then so much the better. You can enjoy a steam shower or how about a long soak in the bath, with a cheeky glass of champagne to keep you smiling!
Be creative
Many of us complain that we never get the time to indulge our creative side, so here it is! Whether you dream of writing a novel, long to paint a picture, or would love to have a go at making your own clothes: here's your chance! If your creativity is on the foodie side then how about as the England team slog it out in Russia, you get some practice in the kitchen? Whether you love to bake cakes, or want to try out bread making or perhaps some complicated new savoury dish, tonight is your opportunity to do just that without constantly being interrupted.
Muse on music
Oh the freedom! You can hide yourself away somewhere in your home and put on the music of your choice without anyone complaining! Or maybe you're a closet guitar or piano player but never get the chance to have a quick go. Right now, when no-one else is listening, is that chance!
For complete bliss, how about running a lovely hot bath and soaking in it while you enjoy your favourite music.
By now you're probably beginning to realise that the World Cup is actually a good thing: even for non-football fans? As long as everyone else is absorbed in the matches, you have the freedom to do your own thing.
So by now you're also probably hoping – even more than the rest of your family – that England stay in for a lot longer. Which would also give you the chance to use some of your newfound time to start planning some major home improvements! If this might include a new bathroom then once the dust has settled then why not come and pay us a visit at our Camberley showroom. We look forward to meeting you!