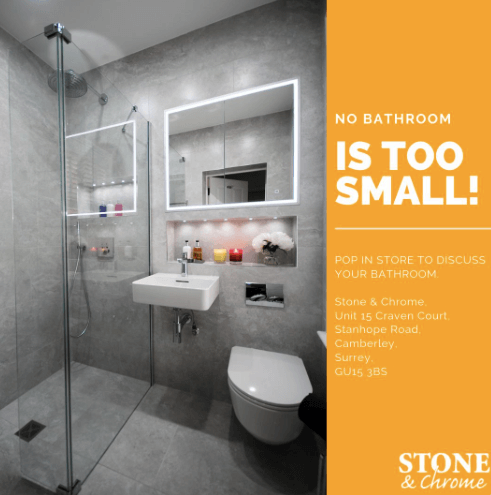 Those readers who also follow us on Twitter will recognise the above sentiment! At Stone and Chrome we often hear people say that their bathroom is so tiny, it doesn't need designing. But in fact design is the key to ensuring that small really is beautiful.

Design is the key
When you are limited on space, it is even more important to make the most of every inch of that space. Skilful design can help you to do this. At Stone and Chrome we use the latest computer aided design software so that when a bathroom is being designed you can see 3D images of what it will look like on completion. You have the reassurance of knowing that everything will actually fit in your small space!

Never settle for second best
Many people also fall into the trap of thinking that if they have a small bathroom they will be limited in terms of the range of products available for that bathroom. But at Stone and Chrome we can supply wonderful ranges of bathroom furniture and products for all shapes and sizes, including creating custom sized items specifically for your bathroom.

In our recent article The Smallest Room in the House we looked at ideas and examples of cloakroom design. On which point, we are very proud of the new client cloakroom in our Camberley showroom!
But let's now take a look at some examples of small bathrooms – some not much larger than a cloakroom – that we think are beautiful.
This stunning shower room was not only small but also an awkward shape. To overcome this we created a bespoke shower door for the spacious walk in shower. The shower also featured a seat which is not only a fabulous feature in itself but also disguises the staircase below! 
The bathroom – which is tiled in Premium Italian Botticino Marble – also has a gorgeous Palomba WC from Laufen and Vista vanity basin unit from Roper Rhodes. It is perfectly finished off with the trademark Stone & Chrome touch – LED lit storage recesses.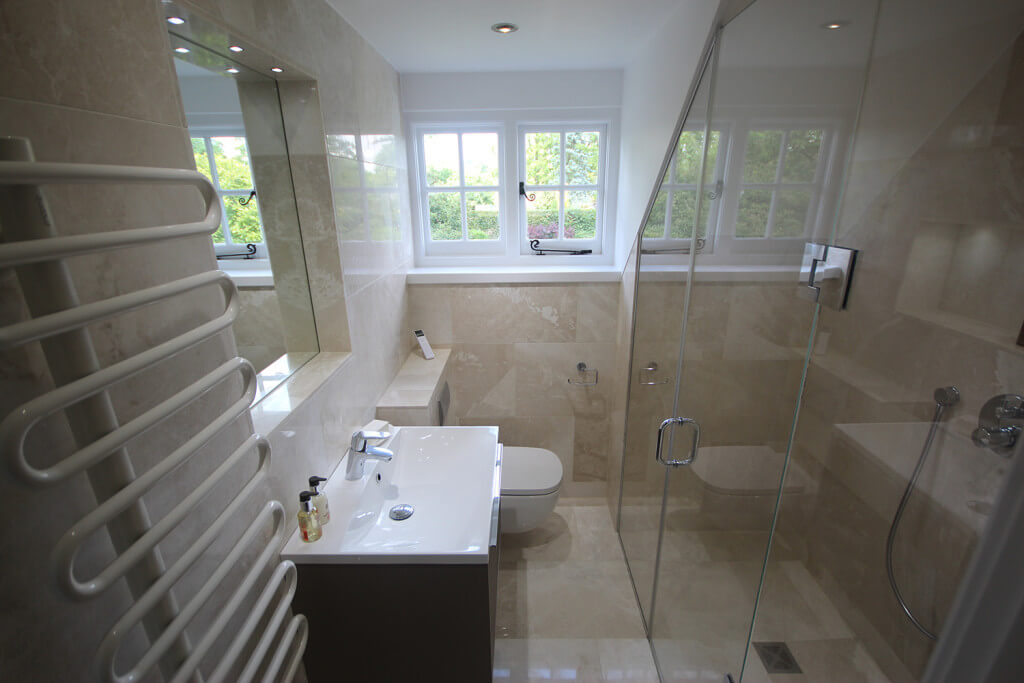 This luxury family shower room offered us a challenge! The two pillars either side of the shower door are structural and couldn't be moved. So we decided to incorporate this into the design by putting the Roman Decem shower door between them and creating a luxury shower space within. The shower itself is used the Aqualisa HiQu shower system with a remote control which activates the shower before entry. The shower seats are heated and underlit with LEDs for a truly luxury finish.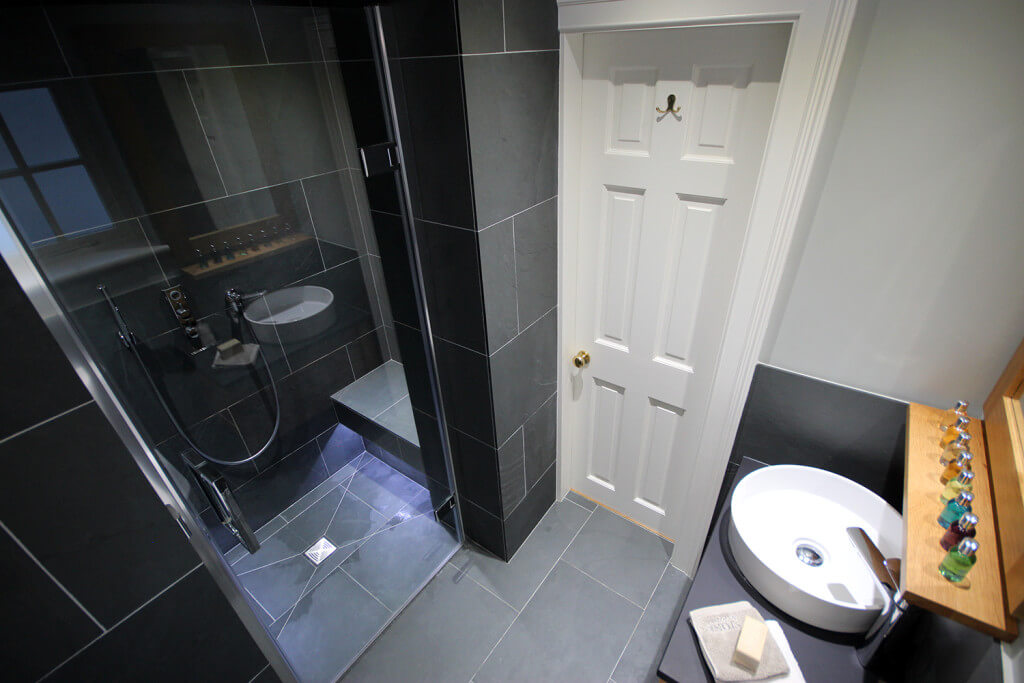 We also love the combination of the gorgeous solid oak Venice wall mounted vanity unit from Stonearth and Kartell basin from LAUFEN Bathrooms with our own slate surface. Using natural stone in our bathrooms is one of our specialities, and the room is also tiled in our calibrated amazonas grey riven slate.

Come and see us!
The above are only two examples of the wonderful bathrooms that we can create in the smallest of spaces. But we hope that they have encouraged you to think big about your own small bathroom.

The two key factors in making your small bathroom beautiful are skilful design and top quality products – both of which Stone and Chrome can offer. To find out more, why not come and visit our Camberley showroom? We have some gorgeous wetroom, steamroom and bathroom displays to show you which should give you ideas and inspiration about just how good your small bathroom can look.

With Stone and Chrome, no bathroom is too small!